This post is sponsored by NOW Foods via Mamavation.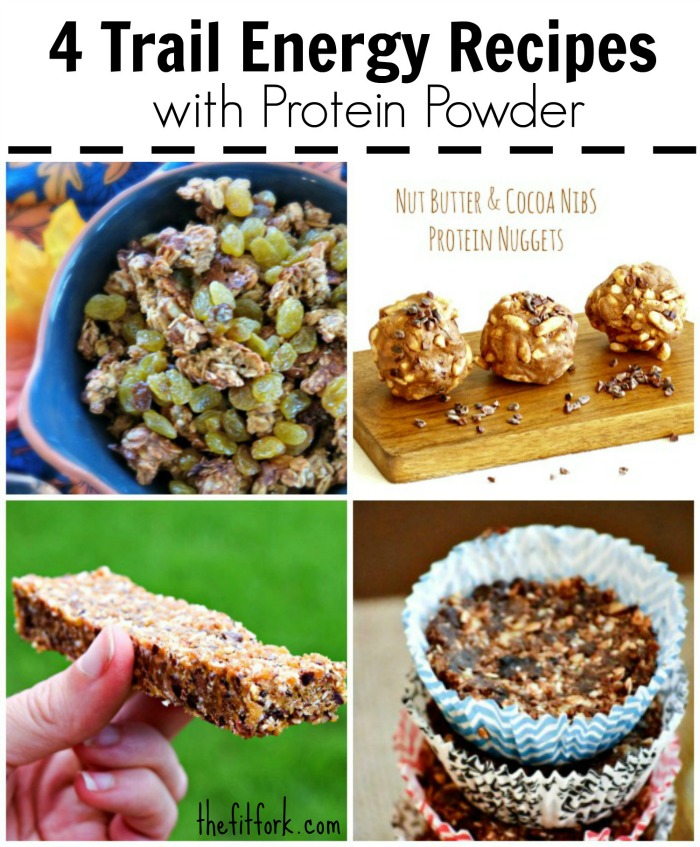 I'm not going to hide the fact that I'm a meat-eater. I do all the proteins – beef, chicken, fish, and so on.  But often, I'm in such a rush for breakfast in the mornings or after a workout, that I'm not able to cook up a big juicy steak. Nor do I always want to. Using protein powder is a go-to on these days when I have a light appetite, but realize my body needs adequate protein for muscle repair and maintenance.  I ask my body to do a lot at my age and, in return, I try to feed it what it needs!
I'm sharing some of my favorite recipes using protein powder that are perfect for taking on a trail run or stowing away in your gym bag. I'm also reviewing two great options from NOW Sports that each work well in the recipes.  I've tried dozens of different protein powders and these two rank pretty high in my book – they are affordable, made with quality ingredients and offer the right ratio of protein to carbs and fat that I prefer.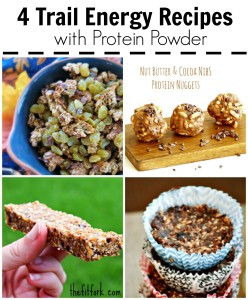 2) Nut Butter Protein Nuggets with Cacao Nibs
3) Apricot Chocolate Almond Protein Bars
4) Chocolate Cherry Protein Trail Cups
Plant Protein Complex (Creamy Vanilla) – Great for vegetarians and vegans (and even meat-eaters who want a change of pace), the NOW Sports Plant Protein Complex is a versatile choice made with a pea, brown rice, hemp and quinoa protein blend. Each scoop provides 22 grams of proteins and 3,900 mg of branched chain amino acids and 1,800 of L-Arginine. Less than 1 gram of sugar and sweeted with Xylitol and Stevia.
Sprouted Brown Rice Protein (Natural Vanilla) – Everyone needs protein to thrive and survive, however those with certain food allergies (such as whey, egg, soy, etc) are often left with few choices when it comes to protein powder. NOW® Sprouted Brown is a great solution and can be used with the confidence that only natural and pure ingredients are being used – no soy or dairy and is suitable for vegans and vegetarians.
Additionally, I recently tried these two other NOW Foods products – thumbs up to both, especially for convenience. When doing healthy things is convenient, I'm more likely to participate!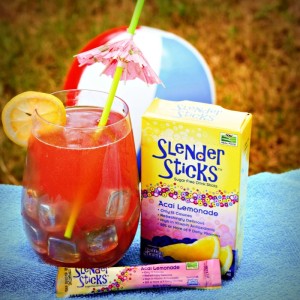 Lemonade Slender Sticks – These single-serve drink mix packets are so convenient for summer travel or to stash in a gym bag. What I like about them, other than the sweet-tart taste, is peace of mind knowing I'm using a product with made natural sweeteners and non-GMO ingredients, no artificial flavors or preservatives, and contains 50% of nine daily vitamins. Oh, and only 15 calories per serving!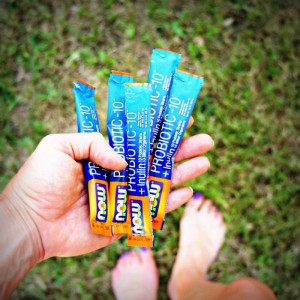 Probiotic-10 + Inulin: More single-serve packets, so you can get probiotics anytime, anywhere! This convenient supplement helps to maintain a healthy microbial balance in the gut – thanks to 10 probiotic strains and 10 billion organisms per little packet!  Suitable for vegans, vegetarians and those on dairy-free and gluten-free diets, this easy-to-use powder simply mixes into water for drinking.
What is your favorite way to use protein powder? Have you ever used a Probiotic supplement?  Please share in the comments below — XOXO, Jennifer