Whether traveling far or near, one thing thing that messes with us "fitness" types most is the disruption that being away from home can cause with normal workout, eating and sleep patterns. If you are heading on a fun-packed Spring Break trip, travelling to a destination race, going overseas for an epic adventure or just making it through yet another business trip,  these Five Tips for Fit Spring Travel can keep you feeling happy and healthy despite the craziest  itinerary.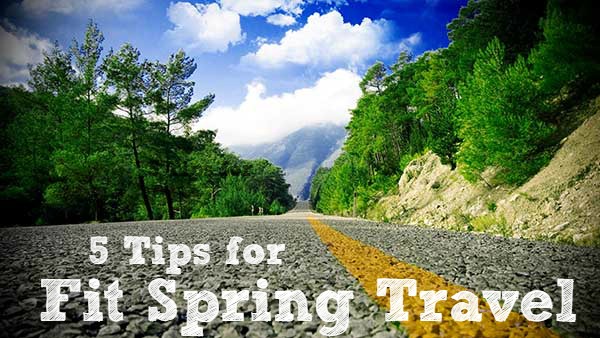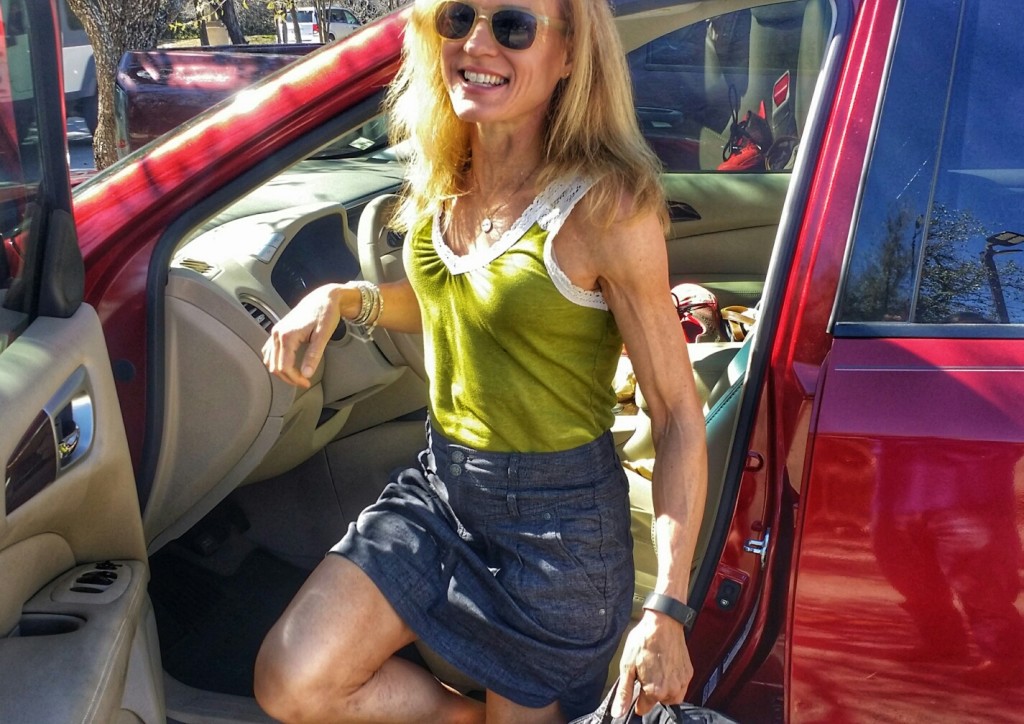 1) Comfy, Versatile Clothes: Packing multi-purpose clothing is a must have for traveling, especially if you are trying to avoid excess baggage charges. I always pack a couple wrinkle-resistant dresses and skirts I can wear about town in sneakers while sight-seeing.  With a few snazzy accessories, I can dress up for dinner out in the same outfit. Also, if I have to make a "business" appearance, I can add a blazer or cardigan when checking out the goods in the local gourmet markets and health food companies. In addition, the right dress, one that has a bit of stretch to it, is so comfy on a plane – I always start to get claustrophobia if I'm feeling constrained so skinny jeans and a tight top would likely freak me out.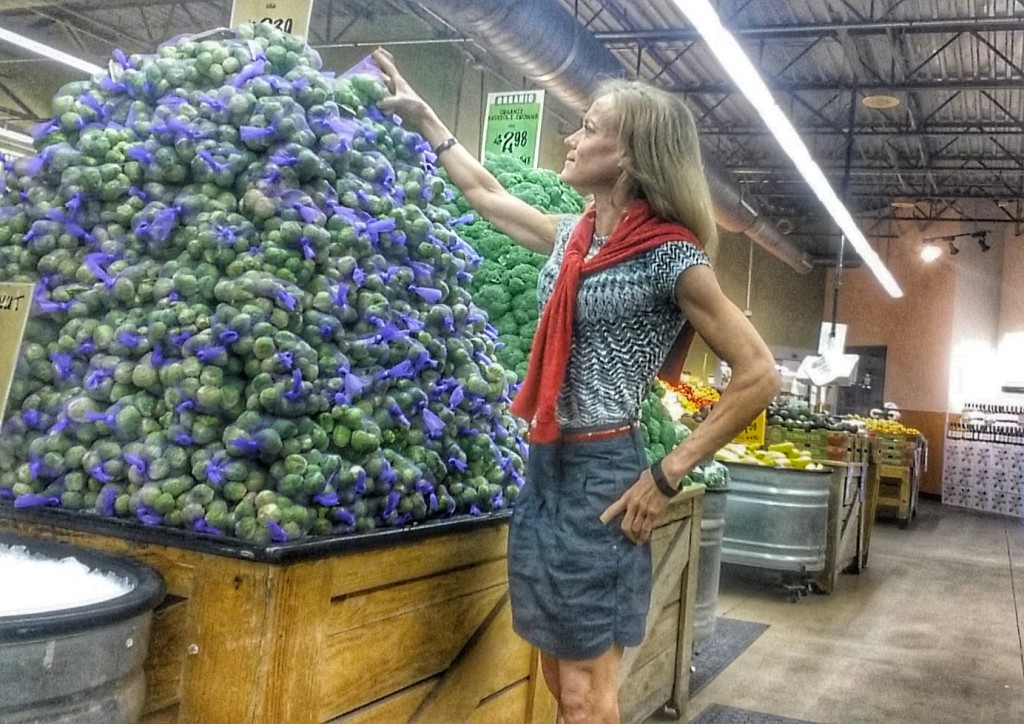 One company I love for their cute and versatile clothing is prAna. If you've heard of prana, you may think, "Oh, yoga clothes." But, prAna actually has all the looks I love for active travel, casual lifestyle and general fitness – and many can be dressed up enough to wear to work, even if you have a more formal office. Another reason that I care about prAna is that they have a conscience – engaging in fair trade and sustainability practices.  They care about our planet and it's people as much as I do.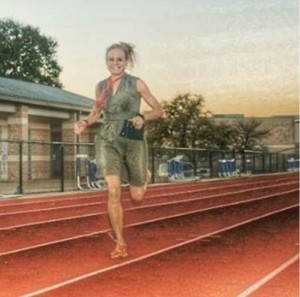 And, here is one of my travel tests for dresses – if it can stand up to a 200m sprint on the track, it's going to work well for impromptu hikes, lounging in parks, running to catch planes and keeping me cool when the heat of having fun gets turned up!
Above, I'm wearing the Lizbeth Skirt and on the track it's the Berry Dress. Check out all the fabulous items in the PrAna 2017 Spring Collection at prAna.com and save 15% with code S4P17TFF  
2) Mobility Tools:  It's no stretch to say I'm partial to the mobility tools from Acumobility.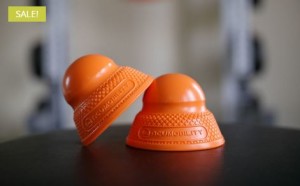 Not only does this company's Eclipse Roller rock, their mobility balls (available in 2 sizes) are totally amaze-balls. Of course, I use these tools before and after workouts, but the mobility balls are also perfectly sized to stick in my purse or carry-on and use on the plane. I can use my time stuck in a seat to proactively work on trigger points and myofascial release — or attend to any cramping and soreness that may come up on long flights or later at my destination. Use my ambassador discount code ACUMOBFITFORK1 to save 10% on purchase at Acumobility.com
3) Melatonin – If I'm travelling across more than one time-zone, I always bring a bottle of Melatonin. Melatonin is a hormone that regulates your sleep cycle and while it doesn't help as a solution for chronic sleep problems, taking a dose for a day or two each way on travel can help you get back into the right sleep groove. More isn't better though, when it comes to melatonin. You're not going to sleep sounder or longer by increasing the recommended dosage, in fact, too much melatonin can cause headaches, nausea, dizziness and irritability. But just enough at the right time, in the right situation, can help your body reset into a natural sleep cycle. Having visited their 40 million research lab in Chicago, I really trust the quality of all the products from  NOW. So, if you need melatonin, check out the supplements from NOW – they offer melatonin in a variety of strengths and formats (eg, drops, lozenges, capsules, etc).
4) Gym Card: Sometimes the hotel gym sucks, or is completely absent. So, don't forget to pack your gym swipe-card, there just may be a location in your town or a gym that is willing to offer reciprocal services. You can also call gyms and fitness studios to see if they are willing to offer a free trail class. Of course, there is also Class Pass . . or heck, even bring along your Spartan Season Pass, you never know!  If none of this pans out, then do a quick body weight workout in the room — try a couple of these 113 different push-up variations.  
5) Easy, Hearty Morning Meal: When travelling, getting out to tackle the day early can often be a challenge in light of "finding food."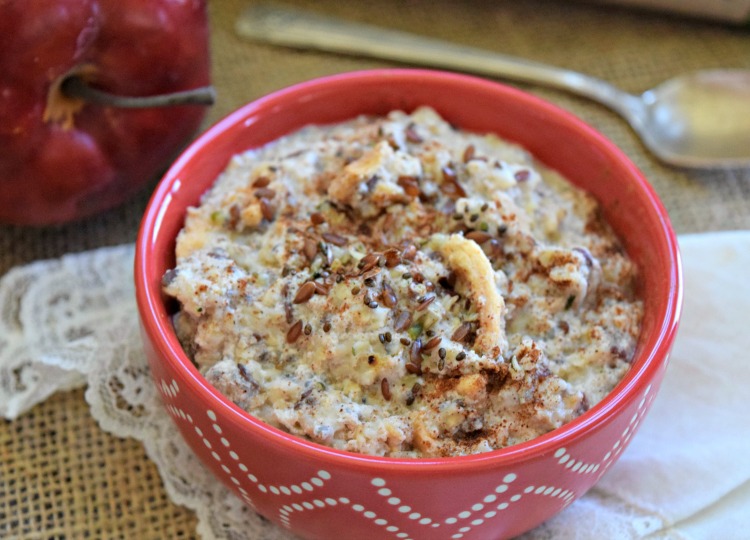 Don't wait on room service or hit up an unhealthy fast food option, instead pack along my easy-peasy Cinnamon-Apple Protein Oatmeal Mix recipe. It's a dry mix that will easily get through airport security and give you that personal security that you're getting enough protein balanced with healthy carbs to start the day strong. 
I bring along a zip-top bag full of this make-ahead mix and use it to whip up a 1-minute breakfast in my hotel room. You don't even need a bowl, just plop a couple scoops full in a mug, glass or even paper cup (gasp) and microwave or use boiling water from the coffee maker.
Cinnamon-Apple Protein Oatmeal Mix
1 1/3 cup instant rolled oats
2/3 cup vanilla protein powder of choice
6 tablespoons Triple Omega Seed Mix from Now Foods (or 2T each hemp, flax and chia seeds)
¼ cup stevia-based baking blend
2 teaspoons cinnamon
4 ounces dehydrated apples, crushed up into bits
Mix up all ingredients in zip-top bag. Shake to combine. To make, add ½ cup of mix into mug and fill with enough water to clear the top of the mix by about 1/2-inch, leaving several more inches of headroom in the mug. Stir and stick in microwave for about 30 to 45 seconds; then remove and let sit for 20 more seconds. Stir and eat.  If there is no microwave available, simple add boiling water (you can heat up water in the coffee pot) and pour over oats, about 1/3" over oats. Stir and let sit for 90 seconds to 2 minutes, or until oats are softened. If you don't mind  cold oats in the morning, you can even do this overnight.
Recipe makes 8 servings (each serving has approximately 175 calories and 18g protein).
What are your "fit" travel tips? Going anywhere for Spring Break? Please share in the comments below, XOXO — Jennifer