December may seem to be the month of BIG FANCY MEALS. Tenderloin, roast turkey, Cornish hens, or lobster tails might headline a celebratory holiday dinner, but there are still plenty of other meals to be made in the month. And, let's be honest, with a to-do list and social schedule packed fuller than Santa's sleigh, there isn't much time left to make a balanced, nourishing meal to fuel up for the festivities. Or, you may even be trying to "eat light" between events that are loaded with delicious, yet indulgent, foods that aren't typically in your diet.
SOUP is the answer, soup to the rescue! Soup is the unsung hero of the season and gift to all us family meal makers out there – it's typically super simple make, extra veggies can be snuck in without backlash, it's forgiving and easy to swap out ingredients, it can be made ahead and then reheated as-needed, leftovers seem to even taste better as spices have more time to mingle. And, if you need a last-minute gift idea for your neighbor or that single guy in the office, why not whip of a batch of your favorite soup and pair with a loaf of artisan bread for an amazing, edible present.
I hope you enjoy at leat one of my seven super soup favorites!  
"Almost Instant" Spicy Shrimp & Spinach Soup – So much better than a Styrofoam cup of salty, surprisingly high fat ramen noodles, this fresh and fit soup recipe is meal prepped with fresh veggies, cooked shrimp, brown rice and more and then stored in the fridge (for up to a few days). When ready to eat, simply add boiling hot water, shake and then spoon in up right from the jar.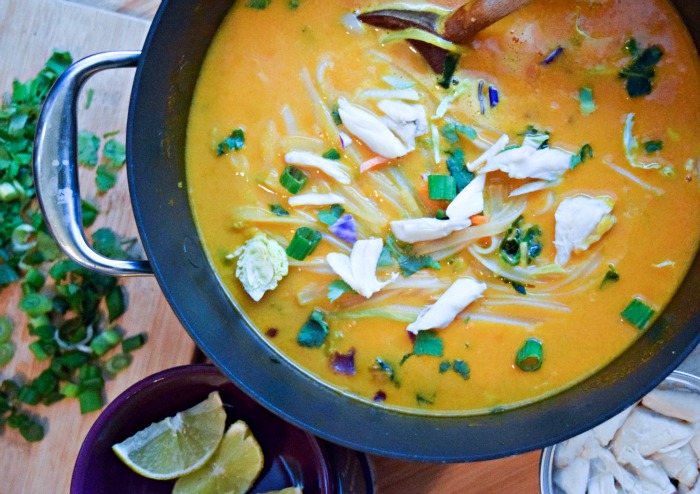 Thai Carrot Crab Soup – Oodles of noodle deliciousness and healthy veggie ingredients, including carrot juice and brown rice noodles keep it gluten-free.  Not feeling crabby? Feel free to swap out the crab with shrimp, chicken, tofu or whatever protein you have on hand.
Comforting Chicken & Rice Soup – A feel good, taste good soup on days when you're feeling run down and need soul and body satisfying nourishment.  A light roux makes the soup seem richer than it is, and shredded chicken, fresh veggies and brown rice create a balanced bowl of goodness.
Vegan Sweet Potato Soup with Cilantro Chimichurri – It's easy to make a meal out of this meat-free, dairy-free, vegan soup – it's as hearty as it is healthy. The velvety texture is spicy, smoky and a touch sweet and the vibrant green drizzle adds an unexpected (yet delicious) tang!
Smoky Chipotle Butternut Squash & Chickpea Soup – Frozen cubed butternut squash and rinsed canned chickpeas keep this pleasingly peppery soup convenient for a quick fix on weeknights. A bowl of this soup will fit a vegan or vegetarian diet, but I like to add cheese and bacon!
Cranberry Orange Bourbon Beef Stew – When does a soup stop become a soup and start becoming a stew? Perhaps it's when you add succulent, meaty chunks of beef to a slow cooker like in my delicious stew-soup hybrid that is elevated with a hints of orange and tangy berries.
Lemony Carrot Ginger Gazpacho – Stop thinking of gazpacho as only a warm-weather soup. This twist on the Spanish classic is perfect cool lunch for post-workout when you don't want a steamy bowl of soup in your face. Or, if you feel chilled to the bowl, just go ahead and heat up Gazpacho, there's now law that you can't. I've done it and it's great!
What is your favorite soup to make? Should soup be a "side" or "entree"? Do you ever take soup in a thermos to work? Tell me all the souper soup things in the comments below – XOXO, Jennifer