We're well into cooler weather, have you been fueling your training diet with delicious recipes featuring winter squash? Since the onset of fall, the produce department has been bustling with beautiful displays of winter squash varieties such as butternut, acorn, spaghetti, pumpkin and more! I can't guarantee these staples of the season will make you run faster or jump higher, but they will help keep your body health and your taste buds happy.  
With firmer, sweeter flesh than their summer counterparts (like zucchini and crookneck), winter squash makes a versatile vegetable for side dishes, stews, soups, casseroles, stir-frys and even quick breads, muffins, pancakes smoothies and healthy desserts! It's also really fun to spiralize winter squash for veggie noodles and salads.  Some varieties are large and can be intimidating (as in, how am I going to cook THAT), but don't run away from these super-sized squash — they are actually not difficult to prep and cook, but often you can find them freshly pre-chopped in smaller portions or even bagged and ready to cook on the freezer aisle.
Delicious taste and serving versatility are reason enough to pile up your plate, but winter squash is also a powerhouse of nutrition in the diet of fitness-minded folks . . . and everyone. Here are Seven Reasons Runners and Athletes Should Eat More Winter Squash:
Carbs for Energy – Winter squashes are, on average, 90 percent carbohydrate by composition. Varieties of this vegetable provide calories and beneficial complex carbohydrates athletes need to fuel long runs, hard workouts and other intense efforts. Winter squashes are considered "good" carbs, and are lower on the glycemic index, meaning they provide more steady, longer-lasting energy.
Carbs for Recovery – Winter squash is an excellent choice as part of a post-workout recovery meal. The body's muscles and other tissues need to be replenished with carbohydrates paired with some protein, and winter squash is a superior seasonal pick due to its overall nutritional package.
Beta Carotene – Winter squash is a great source of beta carotene, an antioxidant the body coverts into vitamin A.  Vitamin A is essential for healthy skin and mucus membranes, the immune system, and eye health and vision. Some research has indicated that beta carotene may help athletic performance by reducing the oxidative stress and damage to muscles.
Potassium -Winter squash is a good source of potassium, an electrolyte that helps maintain healthy blood pressure and promotes optimal heart and muscle function.  Higher levels of potassium have been shown to reduce post-workout muscle cramps and dehydration.
Fiber – Like many vegetables, winter squash is a good source of dietary fiber. Fiber promotes healthy digestion and helps to regulate blood sugar from surging and crashing.  Consuming adequate fiber creates a feeling of fullness that can help with weight management, if that is an issue.
Vitamin C -Winter squash is prime source of vitamin C, a vitamin which aids in wound healing, growth and repair of tissues, and the development of tissue, blood vessels and ligaments. Additionally, nutritionists say that eating foods rich in vitamin C helps the body better absorb iron, a mineral that many athletes (especially women) are deficient in as it lost through sweat, blood and even foot strike.
Seeds – Some winter squash varieties have easily edible seeds, like the pumpkin. In addition to a little boost of protein to help with muscle management, pumpkin seeds are filled with magnesium, a mineral that must be replenished during strenuous exercise to support peak performance.
Recipe Versatility – While squash rules supreme as a side dish, don't overlook other recipe uses pureeing the flesh and using in baked goods, soups, smoothies and more! Why not incorporate some of these winter squash recipes below into next week's menu?!
Slow Cooker Steak & Harvest Stew – This fix it and forget it meal features both pumpkin puree and cubed butternut squash for a double dose of squash goodness.
Maple Pecan Butternut Quinoa Salad – All the flavors of the season come together in this simple salad that can be served both warm and cold — it's perfect for lunch boxes and, actually, tastes even better leftover after flavors have had more time to mingle!
Pumpkin Black Bean Soup – This in-a-hurry recipe is as simple as opening cans (shhhh!) but is bursting with healthy benefits. This is a recipe I've had featured in magazines like Taste of Home and Simple & Delicious.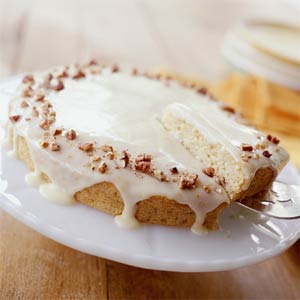 Spaghetti Squash Cake with Orange Cream Cheese Glaze – A creative use for leftovers from my friends at CookingLight.com . . . the spaghetti squash in this healthier dessert recipe can also be swapped out with grated pumpkin, butternut, acorn or whatever you have on hand!
<—- Pin This for reference later!
Are you a winter squash fan? What is your favorite variety? Any races or competitions coming up in January? Please share in the comments below, XOXO — Jennifer