This year I plan to start off every morning (okay, most mornings) with a healthy breakfast served on a real plate. I usually stay up too late and always wake up before dawn, making me so groggy and disoriented that the best I can often do for sustenance is a grab a protein bar or slurp a smoothie. While protein bars and smoothies are actually quite nutritious options for grab-and-go fuel, I aspire to slow down enough in the morning to actually have a conversation with the kids, give some attention to the dog, tune into current events (what year is this?) and enjoy a morning meal with all my senses. Then, after being properly fed, I can hit my errands, workouts and to-do list hard!
The incredible, edible egg is always one of my top choices in real breakfast food. Even on the busiest weekday mornings, it really doesn't take that long to whip up a quick scramble or even microwave a 1-minute ramekin omelet.  With just a little planning on Sunday night, a big breakfast casserole can be baked ahead and portioned out for the rest of the week. I plan to be a better planner – I promise!
This is a gorgeous recipe for Blue Cheese & Artichoke Baked Eggs I created for the blog at Lighthouse Foods. Typically baked eggs are doused in heavy cream before sitting in the oven, but I reduced the fat in this type of egg dish by using the company's OPA Blue Cheese Greek Yogurt Dressing which is, not surprisingly, light, tangy and healthy! Served in individual gratin dishes, this healthy egg recipe is elegant enough to serve to company. Please visit the Living Litehouse blog for more gorgeous photos, but today I'm going to treat you to the full recipe right here, right now!
Blue Cheese & Artichoke Baked Eggs Recipe
Baking spray
3 to 4 ounces washed baby spinach
½ cup Litehouse Food's OPA Blue Cheese Dressing (so good!)
2 Tbsp diced red onion
1 Tbsp sipped fresh chives
16 grape tomatoes
1 (7.5 oz) jar of quartered marinated artichoke hearts
8 large eggs
2 oz blue cheese crumbles
Directions
1. Preheat oven to 375°.
2. Lightly spray 4 ramekins or 2 gratin dishes with baking spray. Divide spinach evenly among dishes.
3. Drizzle even portions of blue cheese salad dressing over spinach and sprinkle with red onion.
4. Slice grape tomatoes in half and drain liquid from jar of artichoke hearts. Place tomatoes and artichokes around perimeter of dishes.
5. Gently crack egg over top of spinach mixture, taking care not to break yolk. Repeat for remaining 3 ramekins. If using 2 larger gratin dishes, use 2 eggs per container. Sprinkle tops with chives.
6. Place dishes on a rimmed baking sheet and place on center rack of oven. Back for approximately 20 minutes or until egg whites have set and yolk has achieved desired level of doneness.
7. Remove from oven and sprinkle tops with an even portion of blue cheese crumbles. Let cool for 2 to 3 minutes before serving.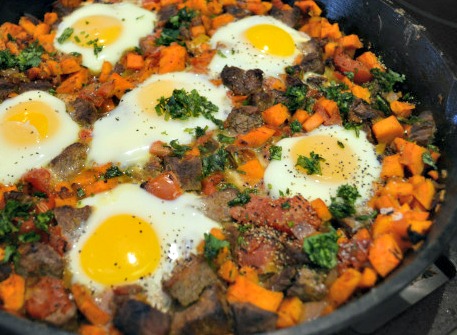 My "Top of the Sirloin" Steak, Sweet Potato and Breakfast Bake is a proven winner, especially with my Paleo pals who can't seem to get enough! I love how cheerful the sunny-side up eggs look atop this dish which is sautéed, baked and served in a country cast iron skillet.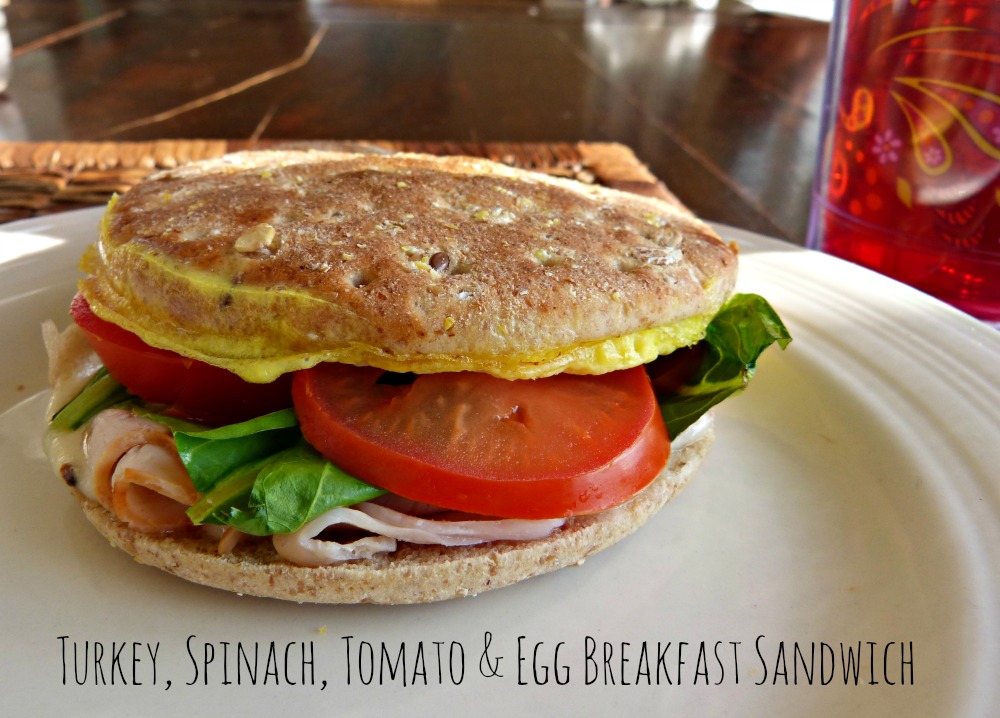 Why not ditch the drive-thru and make your own yummy sunrise sandwich at home? My Spinach, Turkey & Egg Breakfast Sandwich offers loads of nutrient dense ingredients. Cook up the egg anyway you like – scrambled, poached, fried or in the handy-dandy Hamilton Beach breakfast sandwich maker!
Oh, and I can't forget the Steak, Egg & Avocado Breakfast Sandwich – the day will be a win-win-win thanks to these three powerhouse ingredients.