Did you see my post in late August about my partnership as a Role Model  in the upcoming If Girls Ran the World (IGRTW) virtual running event? I case not, I wanted to share more info and provide a gentle nudge to join me in this important female-focused cause that runs the entire month of October 2016.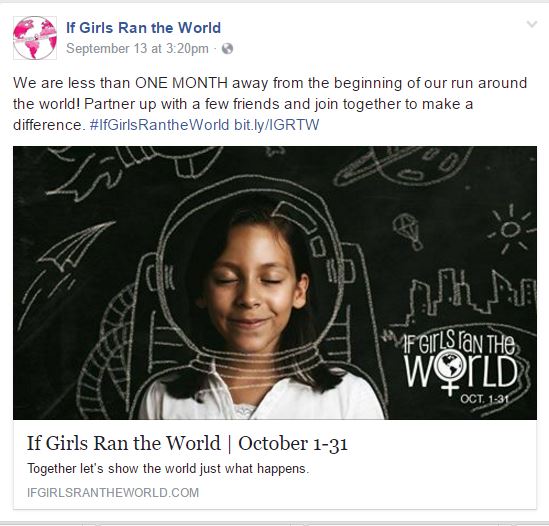 It's going to be starting in just a few weeks, don't miss out! Here are some questions you may have:

What is IGRTW? IGRTW is a non-profit that supports girls and women around the world by providing tools, skills and opportunities they need to rightfully pursue a safe, happy, healthy and abundant life. The virtual running event is happening the entire month of October with a special day dedicated on October 11th. Participants around the country join virtual teams and will be each logging miles, supporting each other and the cause, and raising funds for charities that support women and girls.
What charity does IGRTW benefit? Well, as a Role Model and team captain, I was allowed to choose the charity that was the closest to my heart. I chose the The Hunger Project, a strategic non-profit dedicated to the sustainable end of world hunger. Their vision is a world where every woman, man and child leads a healthy, fulfilling life of self-reliance and dignity and they rely on native women as the major change agents within communities receiving aid.
Is The Hunger Project the only charity? No, there are many others – Girls in Tech, Susan G. Komen and Every Mother Counts are examples of others. Check out the others here.
What's in it for participants? First, you get to help empower women at the grassroots level and have the opportunity to donate or raise funds yourself to maximize the impact (but this is optional). Second, you will be motivated to exercise every day from Oct 1 to Oct 31 to help keep the movement going. Third, there is registration swag, the opportunity to win cool fitness-related prizes and more.
Do I have to actually run? Of course not, but if you can great! You can also ride a bike, row, walk or do something else to log miles – and YOU set the mile goal so that it remains totally attainable, whether 1 mile or 1000 miles. We want this to be a win-win for everyone! If you aren't physically able to exercise, your support (financially, cheerleader-wise or any other way you see fit) is completely welcomed!
I hate to beg, but I'd be honored and humbled to have you join my team. Please register for the If Girls Ran the World virtual running event and join my team. I hate to hit you up, but nce you read through mission of If Girls Ran The World and The Hunger Project, I'm pretty sure you'll want to chip to the cause a bit. It doesn't have to be a lot – even $5 or $10 would help me get to my goal of raising $500. But, please note, you don't have to donate to join my team – just join for the running support if you like!
Is there a discount code? Yes, use code BFF at REGISTRATION to save 50% — which makes the event only $12.50.
How do I join your specific team? After you register, go to Team Jennifer – TheFitFork.Com and join, that's it! Drop me an email if you have questions or troubles at jennifer@thefitfork.comb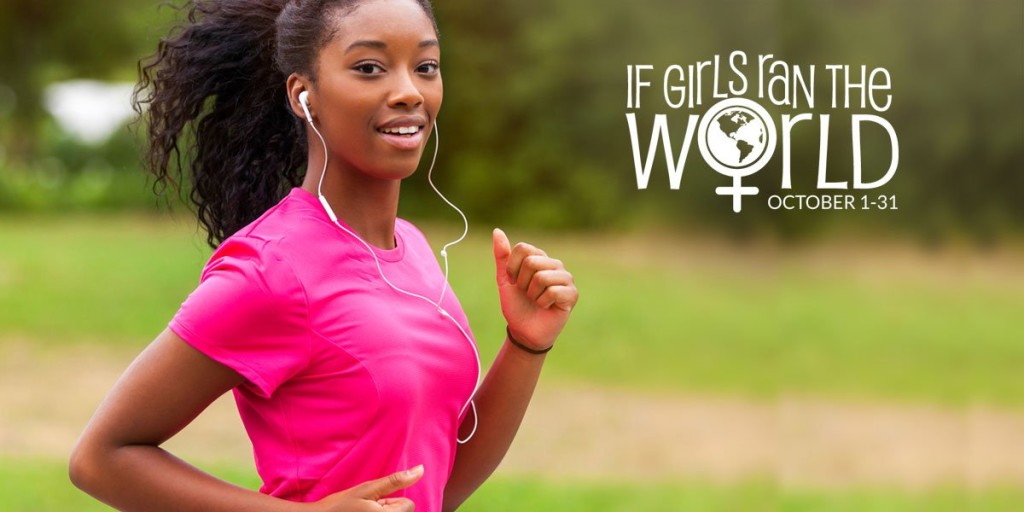 Thank you so much for reading all the way through and for your consideration of this important cause!  If you have troubles signing up or joining my team, please send me a message at jennifer@thefitfork.com  Love ya! XOXO – Jennifer