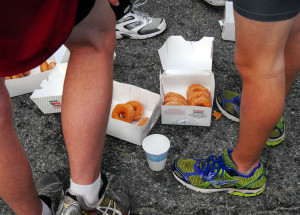 It's all about donuts this week; National Donut Day is on Friday, June 1st! Keep reading for donut recipe below!  As far as guilty pleasures go, this sweet treat ranks right up there as a go-to goodie whether morning, noon or night. While more than 10 billion donuts are made per year in the United States alone, I never really imagined that health-conscious runner types would be consuming their fair share. But, apparently so – and not even behind closed doors! Case in point, the annual Krispy Kreme Challenge in Raleigh, NC that attracts nearly 8,000 sugar-slash-jogging junkies who run 2.5 miles, stop and eat a dozen donuts each and then turn around and gut it back to the finish. Even one of my own favorite hometown races, Chuy's Hot to Trot in Austin, serves up glazed sugar donuts and the company of "Elvis" himself as a post-race treat.
Of course, eating these carbo-bombs on a regular basis is not such a good thing; at some point your body is going to rebel — and that's going to manifest as sugar crashes, unwanted weight and slower finish times. But don't start grieving the goodbye just yet. My recipe for Baked Chocolate Protein Donuts will satisfy your sweet tooth and keep you fueled up through the morning with 7.5 grams of protein (each) – that's more than an egg!
Baked-and-Better Chocolate Protein Donuts
For Donut Batter: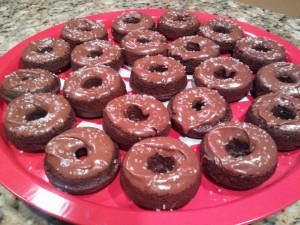 3/4 cup almond flour (also called Almond Meal)
1/2 cup chocolate protein powder
3/4 cup whole-grain flour
½ teaspoon baking soda
1 teaspoon baking powder
1/2 teaspoon cinnamon
3 tablespoons unsweetened cocoa
3 tablespoons Truvia sweetener (Stevia)
¼ cup egg whites
1 tablespoon canola oil
1/3 cup water
Baking spray
For Glaze:
¼ cup semi-sweet chocolate chips
2 teaspoons unsweetened coconut milk (or other non-dairy milk)
½ teaspoon vanilla extract
Preheat oven to 325. Mix first eight ingredients together in medium mixing bowl. Add egg whites, canola oil, stirring until well-combined. You can add a tad more or less water to achieve desired batter consistency which should be fairly thick. Mist mini donut pan with baking spray. Fill each mold 1/2 full with batter with a spoon or using a Ziploc bag to "pipe" in. Bake 8 minutes. Remove from pan and cool on wire rack.
In small microwave safe bowl, heat chocolate chips 20 seconds at a time, stirring in between until completely melted and smooth.  Stir in milk and vanilla.  While glaze is still warm, dunk tops of each donut in glaze or drizzle across the tops with a spoon. Makes 12 mini donuts.
Nutritional Information (per 1 donut with glaze):  Calories 106, Total Fat 5.4g (1.0 saturated, 1.2 polyunsaturated, 2.8 monounsaturated), Cholesterol 0.2mg, Sodium, 54mg, Potassium, 143mg, Total Carbohydrate 9.1 g (dietary fiber 2.0g, sugars 2.0g), Protein 7.5g.
Note: if you don't have a mini-donut pan, you can substitute a muffin pan. Or, hook yourself up with one through the Amazon link below. Also, you'll find some of the other "stuff" used in this baked doughnut recipe.