In honor of National Potato Chip Day (March 14th), I have a salty celebration for the taste buds that won't leave you with greasy fingers, a guilty conscience and, heaven forbid, clogged arteries. Thanks to the impressive nutritional powers of the sweet potato, this snappy snack food brings your body more fiber, vitamins and antioxidants and fewer carbohydrates than the lowly ole regular potato. This easy-peasy recipe for Baked Spicy Sweet Potato Chips is a real winner, there's nothing better than homemade chips – except healthy homemade chips!
Baked Spicy Sweet Potato Chips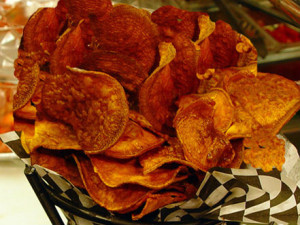 Ingredients:
1 large sweet potato
Olive oil flavored baking spray
1 teaspoon Kosher salt
½ teaspoon ground cayenne pepper
Directions:
Preheat oven to 500º F. Spray 2 baking sheets with cooking spray.
Wash and dry sweet potato. Leaving peel intact, slice sweet potato crosswise as thinly as possible (use a sharp knife, mandolin or food processor).
Arrange slices on prepared baking sheets, taking care not to overlap slices.  Spray lightly with baking spray. Sprinkle with salt and cayenne pepper.
Bake in 500 °F oven for 15 to 20 minutes. Chips will be done when crisp with lightly browned edges and orange centers. Length of baking will vary depending on how thinly potato was sliced. With the oven up this high, keep a close eye on the process.
Remove chips from oven and let cool.  If you have leftovers, store in an airtight container on the counter for up to 3 days.