With the Big Game this Sunday, there is guaranteed to be some snacking going on 'round these parts. The kids always insist on a big bucket of popcorn and a bag of M&Ms – oh, don't act like you don't know how awesome it is to mix the two together. My recipe for honey caramel almond popcorn also satisfies that craving for salty-sweet goodness in a healthier way.
The grown-ups are going to want something a little more substantial to snack on, shall we say . . . . something beefy? A beef and blue cheese stuffed mushroom recipe from my peeps at Beef. It's What's for Dinner is the inspiration for one of our Super Bowl snacks – these little babies are delicious and bursting with umami flavor thanks to the lean ground beef and robust blue cheese. The only swap I have made is to replace the whole-wheat bread crumbs with almond meal thus transforming them into gluten-free, Paleo-friendly (for those who do some dairy) finger foods. If you're worried about having more than one of these delicious little buttons; don't fret — they are surprisingly low in calories and fat.  Click here for the nutrition guidelines (doesn't take into account I swapped out the bread crumbs for almond meal).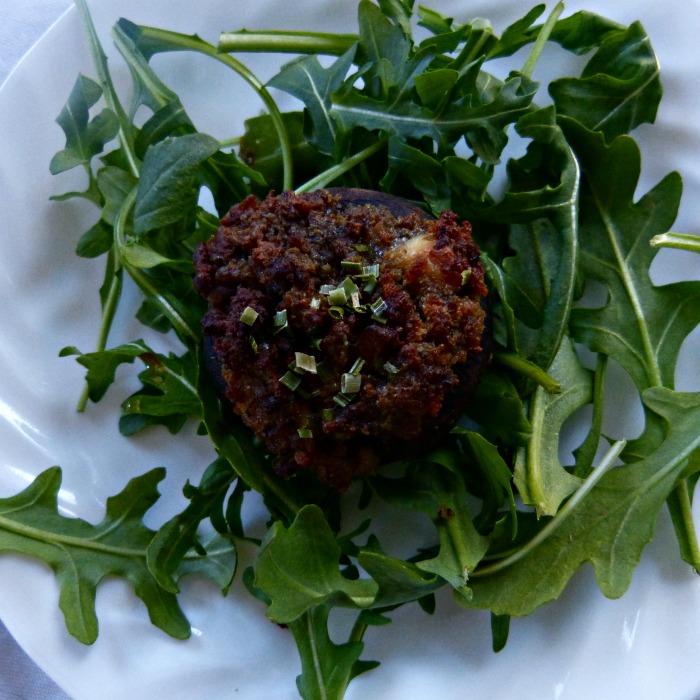 Beef & Blue Cheese Mushroom Buttons Recipe (Gluten-Free & Paleo-Friendly)
1/2 pound Ground Beef, 93% lean or better
1/4 teaspoon salt
36 to 40 small button or cremini mushrooms (about 1-1/2 to 2-inch diameter)
1 teaspoon olive oil (for brushing)
1/3 cup crumbled blue cheese
1/4 cup almond meal
3 tablespoons minced chives
1/2 teaspoon steak seasoning blend
Minced fresh chives (optional)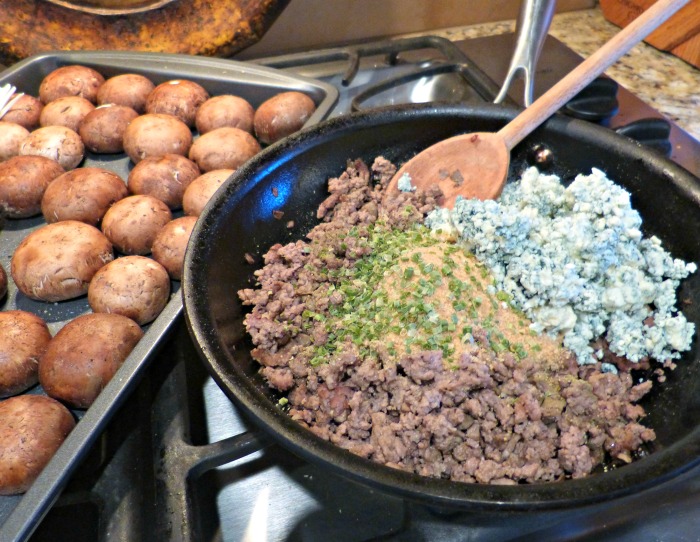 Preheat oven to 375°F. Remove and reserve stems from mushrooms. Brush mushroom caps with olive oil and season with salt; set aside. Mince stems to yield 1/2 cup; discard remaining stems.
Combine Ground Beef, minced stems, blue cheese, bread crumbs, 3 tablespoons chives and steak seasoning. Spoon beef mixture evenly into mushrooms.
Place stuffed mushrooms on rack in broiler pan. Bake in 375°F oven 15 to 20 minutes. Sprinkle with additional chives, if desired.
Okay, now that I've lured you in with the food, it's time to talk BURPEES.  Even if you hate burpees, you have to love what they do for you – this exercise works every muscle group you've got and gives you a cardio workout to boot. Sometimes, if I'm stuck in a hotel or the weather is too bad to even get to the gym and treadmill, I'll just knock out some burpees instead of a run. I think I get more wiped out doing the burpees! Just when I think I'm getting bored of burpees, I find a new variation to liven things up — push-up burpee, lateral box jump burpee, high tuck jump burpee, burpee to pull-up, and on and on!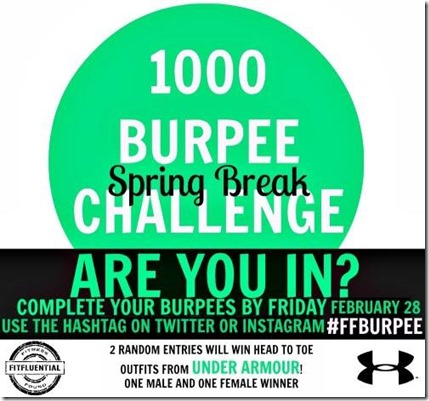 Check out the 1000 Burpee Challenge through Fitfluential. You could be in the running to win a great prize from Under Armour if you show your progress on Instagram with the hashtag #FFBurpee.  I'm committing to 50 a day for 20 days. Today, I made it through 50 clapping push-up burpees, it was fun — am I weird?  Maybe, but my friend Valerie definitely is- this is what happens if you go on a trip with her — BURPEES ON THE AIRPLANE!