WANT ONE FREE MONTH OF ROCKMYRUN PREMIUM ROCKSTAR, NO STRINGS ATTATCHED? KEEP READING . . . (btw, this post and giveaway sponsored by RockMyRun.com) 
Should you run and workout listening to music, or not? I've blogged on the topic before (here), so no need to rehash every little detail. In my opinion, if music provides some motivation to get up off the couch and is used safely (be aware of traffic, stranger danger, and hearing loss if too loud), then by all means hit the play button and boogie on. I wear headphones on the treadmill and in many longer races, perhaps half of the time while running my neighborhood – but rarely in a shorter races or speed workouts on the track. In these cases, I like to focus all my senses on the feedback I'm getting from my body – it just seems like music gets in the way.  Oh, and never with a friend – there is just too much catching up to do!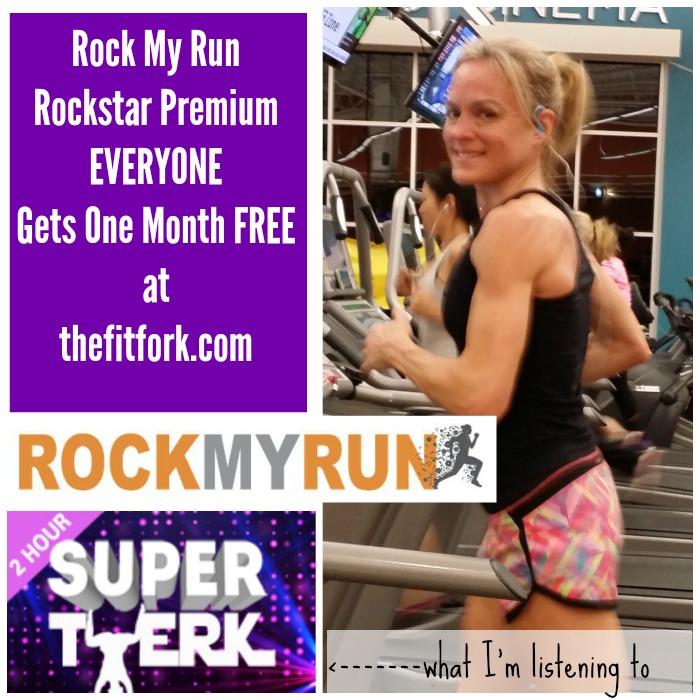 I do love music, but must have a short attention span. One thing I've noticed is that I get bored with my music library very quickly — ugh, and then it's just the same old songs wearing me down. So needless to say, I was excited to try out Rock My Run, a free, top rated fitness music smartphone app available for iOS and Android. RockMyRun creates high energy, motivational mixes that are designed by DJ's specifically for exercise – right now, I'm listening to the Super Twerk Mix (don't laugh) that has a two hour play list of hip-hop specifically mixed to keep 200 beats per minute (bpm). I like the faster mixes that are 180 to 200 bpm because that's the same number I like to keep per minute for foot strikes during tempo runs, speed work and races.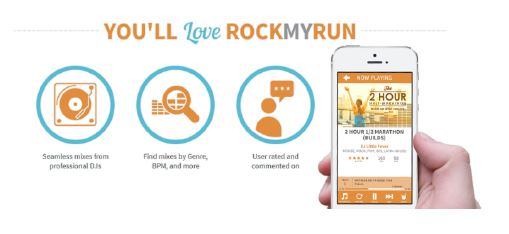 If you use the RockMyRun app on your iPhone or Android, check out the myBeat™ Body Driven Music feature. Proprietary algorithms read your steps per minute, heart rate and soon pace to adjust and deliver content (music tempo – BPM) in real time to match, motivate or calm you at just the right moment. MIND BLOWN! You can also able to manually change the BPM of the mixes on RockMyRun to help them achieve a personal goal.
RockMyRun creates lots of other high energy, motivational mixes that are designed by DJ's specifically for exercise. Use of the app has recently been proven to increase the enjoyment of the running experience by up to 35 percent compared to static playlists or no music.  Other studies have shown that running with music can increase your performance by 15 percent —  the USTFA lifted their strict sanctions against headphone use in 2008 and left the decision in the hands of individual race directors. However, headphones remain banned for any athlete competing in a USA Championship — no music doping, you must suffer in silence!
It's superfast and easy to download the Rock My Run app on your iPhone or android, create an account and start downloading mixes through WiFi. If you don't want to hear ads while streaming music, you can sign up for RockMyRun Rockstar (premium) memberships for as little as $35.99 per year or $4.99 going month to month – you are even allowed to download a limited amount of mixes to a personal music player – that's how I've been listening on the Wifi-less trails. I also really appreciate how clean lyric mixes are available, because who really wants to explain Truffle Butter to their kids?! To get you started, Rock My Run is offering ALL MY READERS a code that will get you ONE FREE MONTH OF ROCKMYRUN PREMIUM ROCKSTAR – just enter RMRBJ at RockMyRun.com, download the app onto your phone and get rockin'!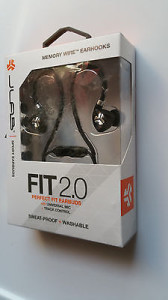 I am also giving away one GRAND PRIZE —  an entire YEAR of RockMyRun Rockstar plus a pair of JLab Audio's Fit 2.0 Sport Earbuds.  Whoohoo, take advantage of the one free month and enter to win the full year and headphones in the Rafflecopter app below: