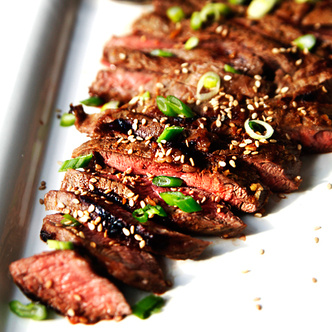 Move over tenderloin, my new favorite cut of beef is the 'Flat Iron,' also known as the 'Top Blade.' Thanks to the Texas Beef Council for making the suggestion! Cut from the shoulder of a cow, this juicy, well-marbled steak is rectangular in shape and uniformly thick, making it an ideal hunk of beef to toss on the grill. Sometimes, you'll get one that looks as if it has almost been sliced and separated down the center. This is because a tough piece of connective tissue that runs through the middle is removed by the butcher before it is packaged up. A pesky but a small flaw I can certainly overlook, especially considering the flatiron is one of the tenderest cuts of beef around (second to only tenderloin), meets governmental standards for "lean protein" and is relatively economical compared to some of the premium grilling steaks found at the meat counter.
Every week the family has been enjoying this steak in some easy-to-prepare form or fashion. While you can serve with brown rice and veggies, we enjoyed the sliced steak served with "pajeon," a delicious scallion pancake that my neighbor brought over.  The recipe on this traditional Korean side dish is coming soon! Paleo Diet friends, just toss sliced some of this meat sliced finely on a bed of greens and you'll be more than satisfied.
 Asian Flair Flat Iron Steak Recipe
1/2 cup soy sauce
1/4 cup rice wine vinegar
2 tablespoons water
1/4 cup honey
2 tablespoons sesame oil
2 tablespoons minced ginger
2 tablespoons minced garlic
½ teaspoons crushed red pepper flakes
1.5lb (approximate) flat iron steak
Garnish: toasted sesame seeds and sliced green onions.
Whisk the ingredients in a bowl. Place steak and marinade in a zip-top bag and refrigerate for 3 to 6 hours. Grill flatiron steak on high heat for 4 minutes on each side for medium rare steaks. Medium-rare will read 125 F degrees on the meat thermometer and feature a pink center. If you like your steak a bit more done, aim for medium at 130 F degrees. Allow steaks to rest for 5 minutes before slicing and serving. Sprinkle roasted sesame seeds and green onion slivers on top to garnish.
Flat Iron Nutritional Information