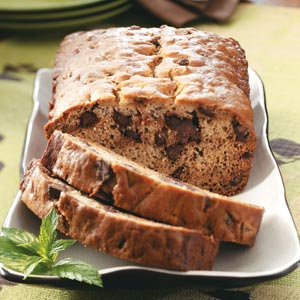 Looking for a quick banana bread recipe that is not too fat-laden yet moist and tasty enough to go ape over? Several years ago, I gave a makeover to my favorite banana bread recipe by replacing some of the fat with applesauce and a fat-free sour cream substitution. The success of the swap was as clear as the crumbs left in the pan – it was a winner with my family for a breakfast treat and afterschool snack. Plus, I've even been known to sneak a piece on occasion– hey, it might be a cheat on the Paleo, Zone and other low-carb diets, but you have to live a little people! Recipe written by yours truly, Jennifer Fisher, and originally published in Country Woman February/March 2010, p34.  Enjoy!
'Better-For-You' Chocolate Chip Banana Bread
Ingredients
2 tablespoons butter, softened
1-1/2 cups sugar
2 eggs
1-1/4 cups mashed ripe bananas (about 3 medium)
1/2 cup fat-free sour cream
1/4 cup unsweetened applesauce
1 teaspoon vanilla extract
3 cups all-purpose flour
2 teaspoons baking soda
3/4 teaspoon salt
2 cups (12 ounces) semisweet chocolate chips
Directions
In a large bowl, beat butter and sugar until crumbly, about 2 minutes. Add eggs; mix well. Beat in the bananas, sour cream, applesauce and vanilla. Combine the flour, baking soda and salt; add to butter mixture just until moistened. Fold in chips. Transfer to two 9-in. x 5-in. loaf pans coated with cooking spray.
Bake at 350° for 40-45 minutes or until a toothpick inserted near the center comes out clean. Cool for 10 minutes before removing from pans to wire racks. Yield: 2 loaves (16 slices each).
Nutritional Facts: 1 slice equals 155 calories, 4 g fat (2 g saturated fat), 16 mg cholesterol, 148 mg sodium, 28 g carbohydrate, 1 g fiber, 2 g protein. Diabetic Exchanges: 1-1/2 starch, 1/2 fat.