This post is sponsored by FitFluential on behalf of Bowflex Body.
Anytime someone says creamy, indulgent-tasting shakes are good for me, they have my rapt attention. That's why I was ready to find out more about Bowflex Body, a line of premium nutrition products that inludes a vanilla fitness shake mix along with "boosters" (including chocolate) to mix in depending on my protein, energy, or fat-burning needs for the day.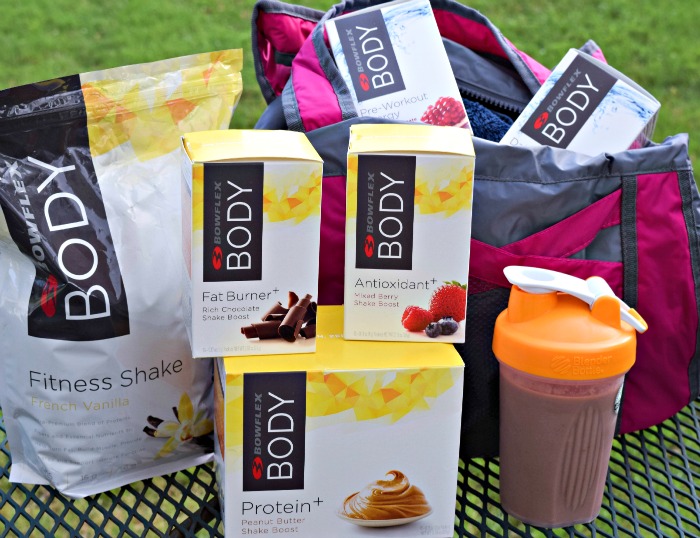 As a meal replacement option, the Premium Vanilla Fitness Shake (with booster or not) is a convenient and safe way to ensure most of us are getting the optimal nutrition needed to power through until the next meal. I've swapped out a shake for a full meal at lunch or dinner a few times a week and had great results in leaning out. But, typically getting lean and dieting for weight loss is not an issue for me, often I'm trying to fill in the gaps in my day where I need extra quality calories (without the junk) – like after a workout or before bed.
These easy-to-make shakes have become a staple in my post-workout nutrition plan. It's so important to take in a protein-rich mini-meal within 30 minute of an intense workout or long run. It's also key that that the meal or shake have a bit of carbohydrates to help the body efficiently process the protein – Bowflex Body makes it so easy!  After finishing the "Murph" CrossFit WOD (1 mile run, 100 pull ups, 200 pushups 300 squats and a final 1 mile run) on Memorial Day, I knew my muscles were going to be screaming for some tasty TLC. I brought along my mixer filled with a scoop of the Premium Vanilla Fitness Shake along with the Rich Chocolate Booster AND the Peanut Butter Protein Booster. I'm greedy like that!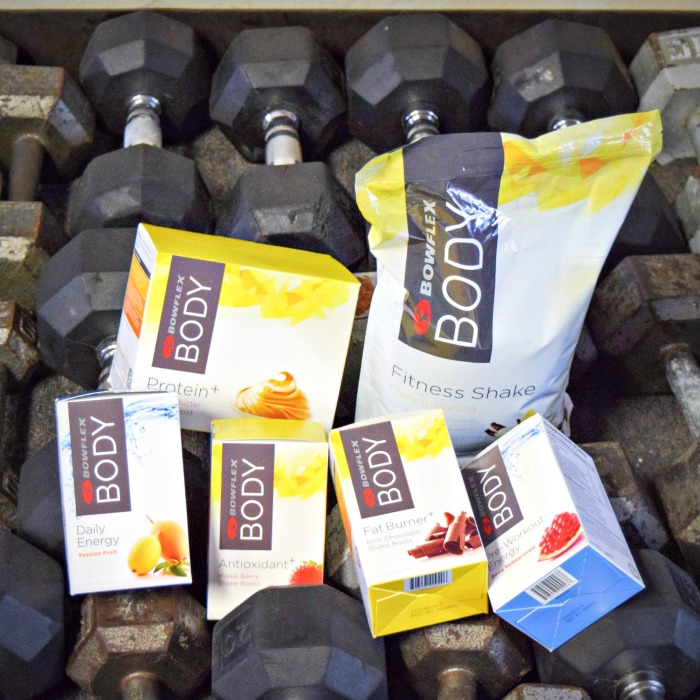 Start Shaking It Up, Here's How:
Premium Vanilla Fitness Shake: Start with this powdered mix as your base and blend into water or your milk of choice. The instructions say use 8 ounces of liquid, but I've used 8 ounces of unsweetened almond milk and 8 ounces of water and it still tastes great (and my mind thinks I'm getting more). You can also throw a scoop into morning or post-workout smoothie if you like frozen beverages. Not only does it taste super creamy and delicious, but for just 125 calories, you get 15g high quality protein, 5 g prebiotic fiber, only 5g sugar and 16 potent antioxidants including acai, goji, pomegranate, mangosteen, spinach, kale and more.  It is also lactose free, soy free, low sodium and low fat.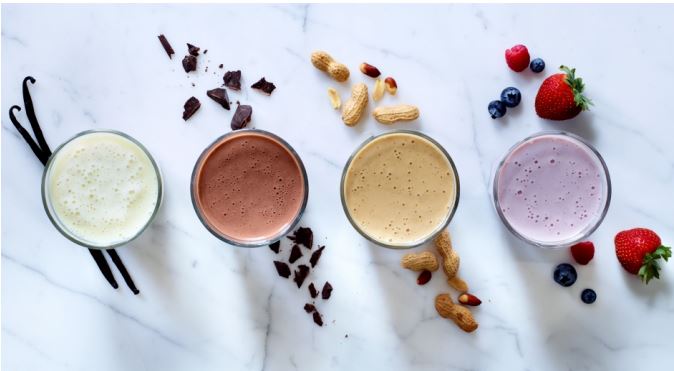 Rich Chocolate Booster for Fat Burning: Toss in one of these 10-calorie packets to kick up your metabolism with Garcinia cambogia, green coffee bean, African mango and cocoa exacts.
Peanut Butter Booster for Muscle Management: Add a packet of this booster to help grow, maintain and provide workout recovery benefits to your muscles. This advanced protein formula gives you an additional 10g on top of the 15g already in each serving of shake.
Mixed Berry Booster for Extra Antioxidant Benefits: This refreshing mix-in gives the already vitamin and antioxidant-loaded vanilla shake an extra one-two punch of protection with blueberry, raspberry and strawberry extracts blended to help fight free radicals.
Two BowFlex Body Energy Products worth checking out: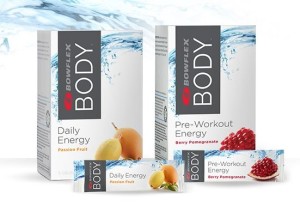 Berry Pomegranate Pre-Energy:  This tasty mix gets you revved up for your workout without the crash of sugar-loaded coffee or energy drinks. It works great for either aerobic or anaerobic activity and has just 80 mg of caffeine with theanine, an amino acid from green tea that helps prevent caffeine jitters and "crash."
Passion Fruit Daily Energy: Designed to take every day, if needed, this formulation helps with focus, aerobic performance and sustained energy when you need a little extra oomph! Like the Pre-Energy formula this Daily Energy has jitter- and-crash free caffeine from the amino acid theanine found in green tea – just less at 50mg.
You really need to try Bowflex Body nutrition products yourself to discover the fat-burning, health-boosting benefits I'm raving about. Use the discount code BOWFLEXSHAKE to receive 20% off your order along with free shipping and handling. A sampler pack is also available.  Bowflex has a 30-day, 100% guarantee on their products, so you really don't have anything to lose — except maybe that muffin top or a bad case of the "hangres"! Get more details on the ingredients used in these fitness products and check out the FAQ for answers to common questions. Also, visit BowFlex Body on Facebook, Instagram, Twitter, Pinterest and connect — they also have a great blog.
Also, I am sharing a bodyweight "leg day" exercise that you can do anywhere, no gym required. Have fun!
What "Booster" benefit are you most interested in — burning fat, increasting protein, or upping antioxidants? What is your favorite bodyweight leg exercise? Please share in the comments! xoxo Jennifer