When blessed with warm weather and three-day weekends, we grill burgers . . .I only wish there were more of the latter!  So, it's no surprise that this Memorial Day, I will be rounding the family and some dear friends to partake in the worship of sunshine and flame-kissed, juicy burgers with all of the fixings.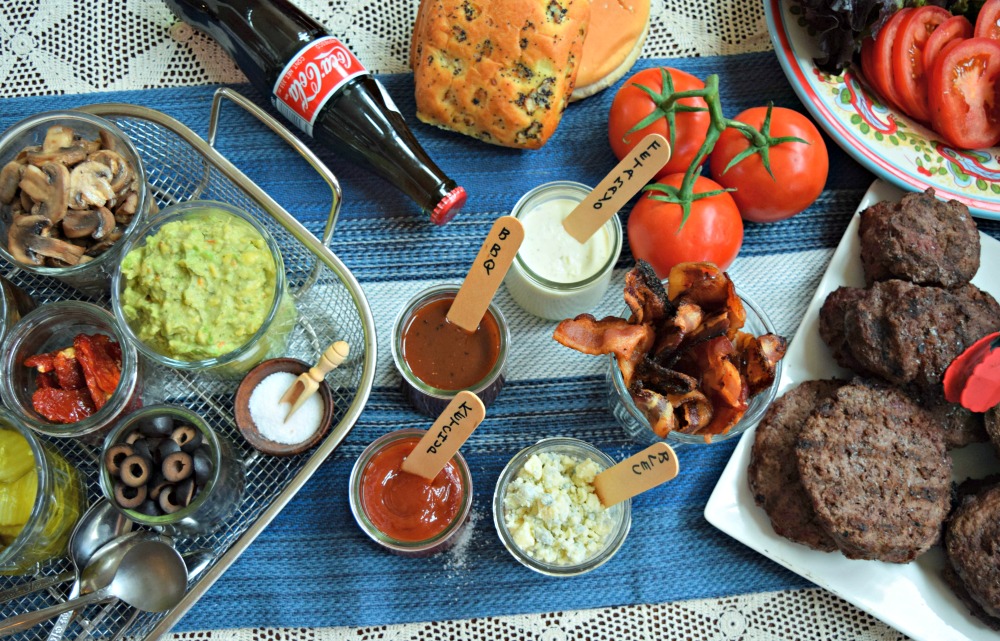 In honor of National Hamburger Month which occurs every May, I put together a tutorial on How to Make a Better Burger Bar for Beef Loving Texans (please check it out)!  I touch on the meat of that post here and add some new burger hacks and helpful hints here to take your burgerlicious summer cookout to the next level.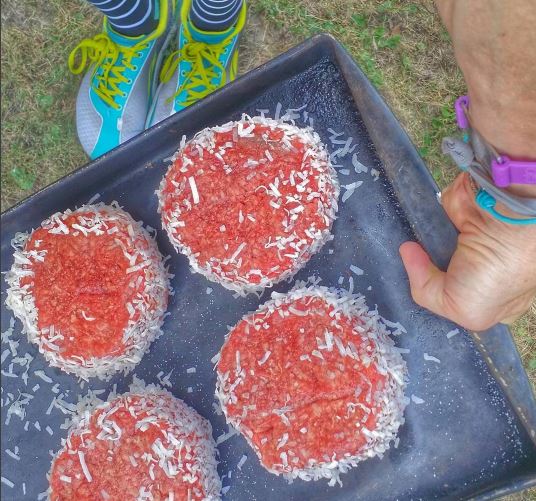 Because Beef:  I'm all about the all-beef patty, it's meaty, marvelous and marked by tradition.  Don't get me wrong, a chicken, turkey, bean or fish burger can be quite tasty on occasion and a thoughtful consideration for guests with special dietary concerns. Unlike most beef patties though, you need to be careful about these other burgers being tasteless or turning dry on the grates due to the low fat.
Grind On: You'd be surprised at how much beef is considered lean at the meat counter these days, about 70%! However, for hamburgers I will choose ground beef with just a little higher fat ratio than my go-to 96%/4% grind.  Keeping taste, texture and diet in mind, ground sirloin (typically 90% lean/10% fat , ground round (typically 85% lean/15% fat) or ground chuck (typically 80% lean/20% fat) are  allgood compromise over some of the higher fat grinds. Various "fat" options are available for some alternative proteins, like turkey or chicken, or you can mix in certain ingredients like cheese, bacon or even nut butters.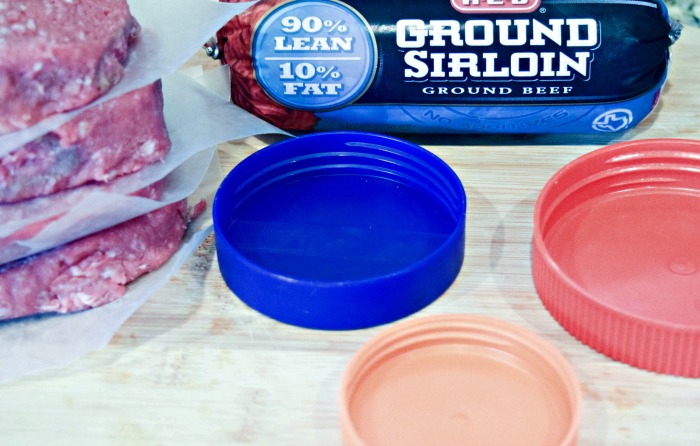 Size Matters:  Too little and too much is a bad thing. That's what she said, and it's true! I make beef burgers with a 4-ounce (uncooked) patty to offering around 20g protein plus lots of zinc, iron and other essential nutrients that fuel my active lifestyle. I'm really not into eating the monster burgers that weigh in at a half-pound or larger– this is really too much protein for the body to handle at one sitting and also makes me fuller than a tick. I'd rather have one smaller burger and save my second patty for a snack or salad topping later. I've found a 16-ounce peanut butter jar lid makes the perfect patty shaper!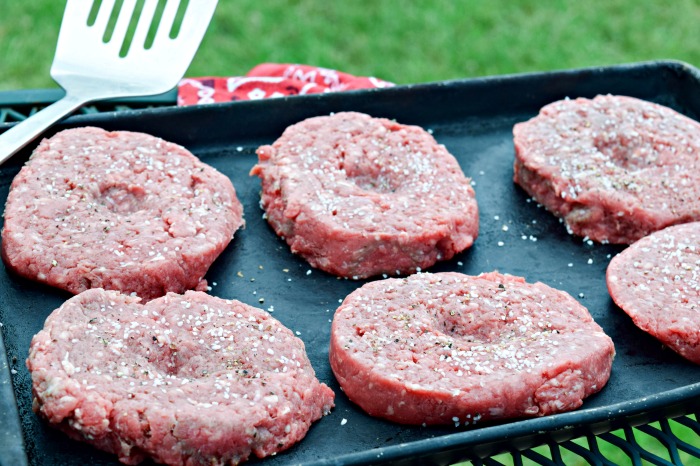 Grill 101: Let's get down to the basics, in a 1-mintue grilling refresher. Heat your grill to approximately 400 F degrees – it can be charcoal, gas or (alas) indoors. Put a thumb-mark indention  (see above) in the center of each patty, this will help them from puffing up into little balls as they cook. Place patties on hot grill and don't get impatient, it will be time to flip when you see liquid pooling on top. If you grab the spatula and they don't want to budge, give another minute or so of cooking and they should release (or you didn't clean your grill well). The official stance on cooking with any ground beef is that it's "done" at 165 F degrees, this means pull off the grill at 155 degrees as they will finish "cooking" on the platter. However, I'm a rebel and don't like a well-done burger, I like an ever-so-slightly pink center so I take mine of when my meat thermometer says no more than 130 F degrees. I can always grill them longer if too red, but I can't undo burned. Speaking of burned, what out for grill flare-ups and move burgers to a cooler zone until they subside. You can even squirt them down with a water spritzer kept nearby the grill.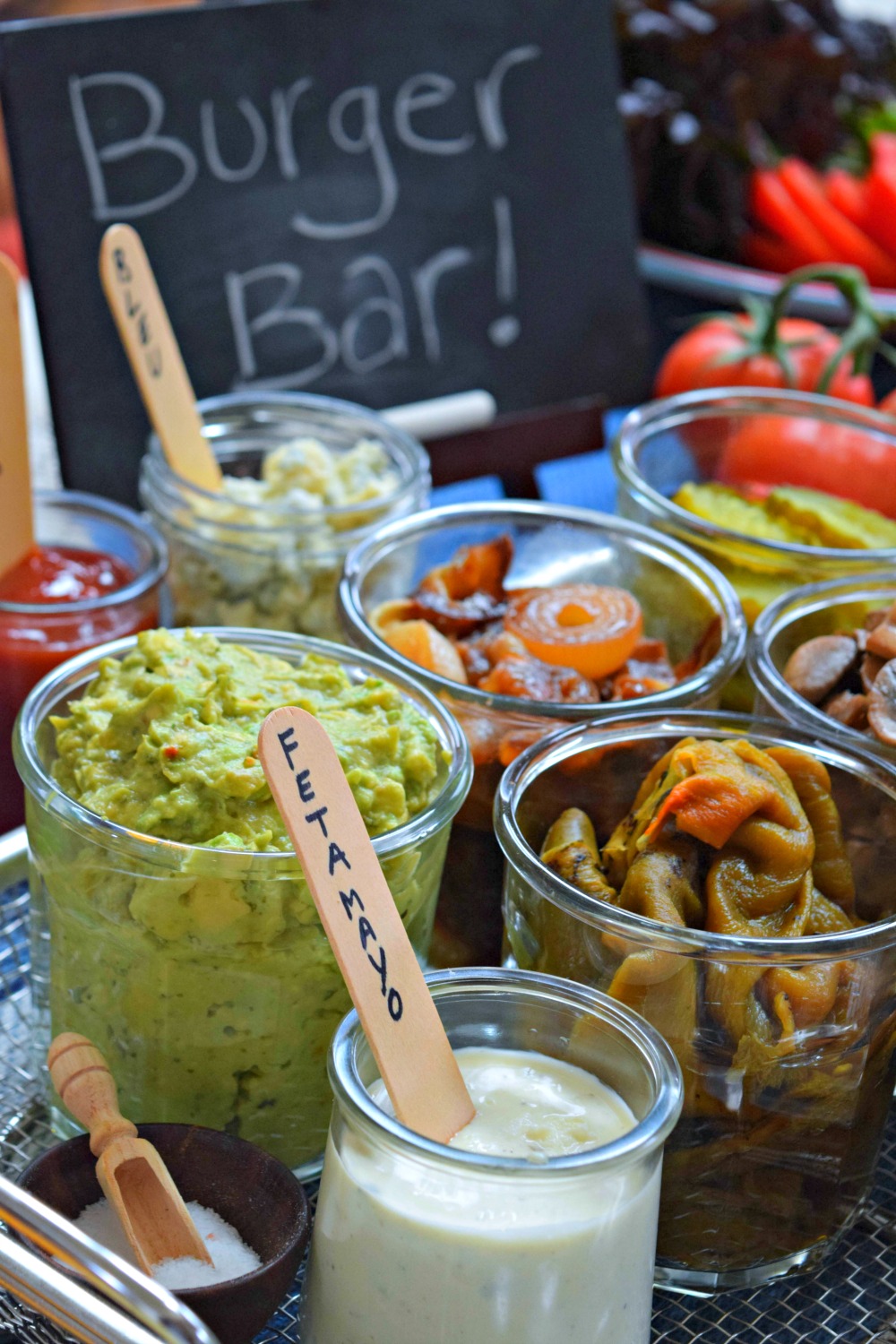 Toppings TDF: Variety is the spice of life and an array of toppings and unusual yummies will make a burger to die for. At parties and family gatherings, I like to set out a buffet of nearly everything so that guests can build their own amazing hamburgers as they see fit.   I'm talking about all the usual stuff (lettuce, tomato, onions, pickles) plus special fixings like a cheese assortment (cheddar through bleu), sautéed mushrooms, caramelized onions, grilled zucchini planks, fire-roasted Hatch green chiles and so on. Fruit toppings with will blow your mind like pear slices, figs,  coconut and pineapple. Plus, never forget the avocado in slices, mashed into guacamole or even smoky grilled avocados.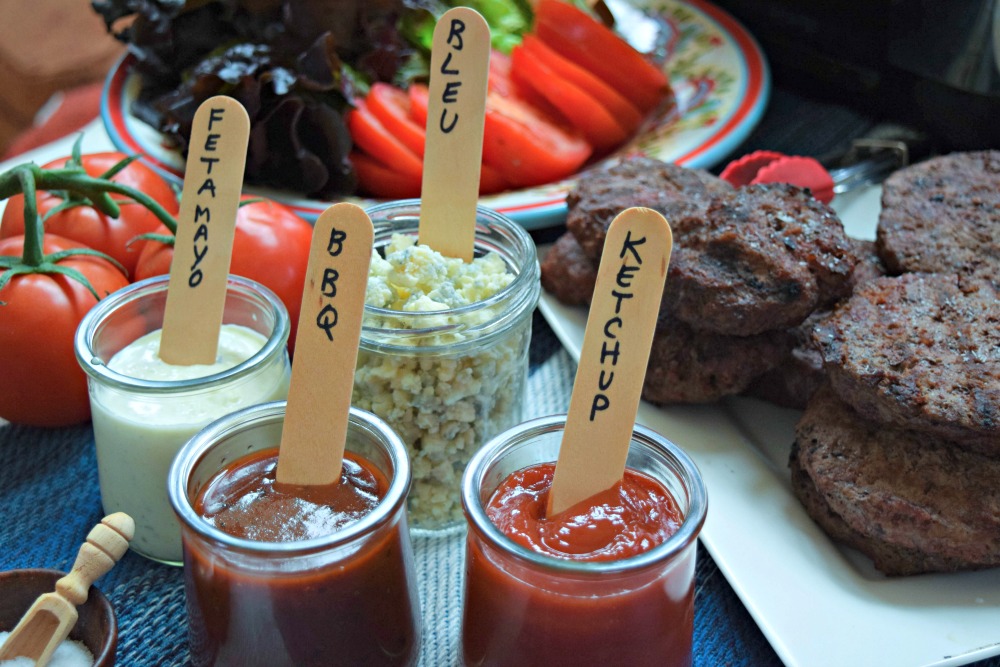 Cuckoo for Condiments: Ketchup, may, mustard and relish, of course. But don't forget about other sauces and spreads like BBQ Sauce, Sriracha, Mexican salsa, tzatziki, bean dip and more.   How about honey or hummus? Maybe bacon jam is your jam. I'm serious. These unique condiments will definitely take your burger game to the next level. The gourmet aisle of your grocery store is brimming with ideas or you can whip many up inexpensively at home. Use wooden craft sticks to write the the name of the condiment, they also serve as a disposable spreader!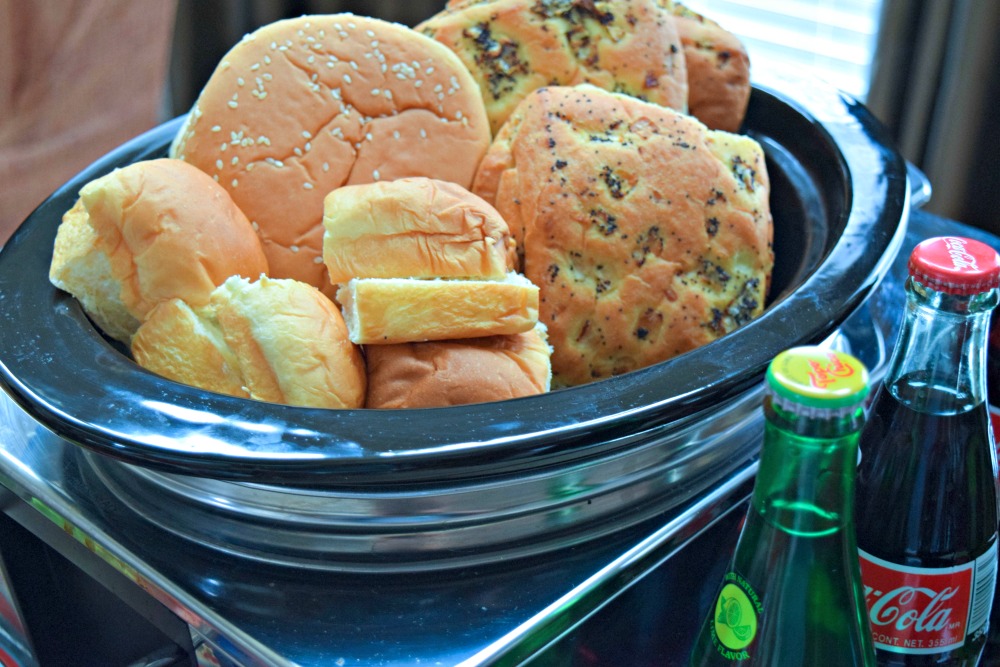 Bun-derful: Whole wheat, onion buns, sweet Hawaiian buns, gluten-free buns, sourdough bread and homemade Jalapeno Cheese Bun are some of my favorite options. Everyone wants hot buns, right?! My helpful hack for the perfect bun and the right time, is to keep buns in a large slow cooker set to "warm." Also, don't forget about the low-carb and Paleo people in your crowd and set out some large lettuce leaves for then to wrap around their patties.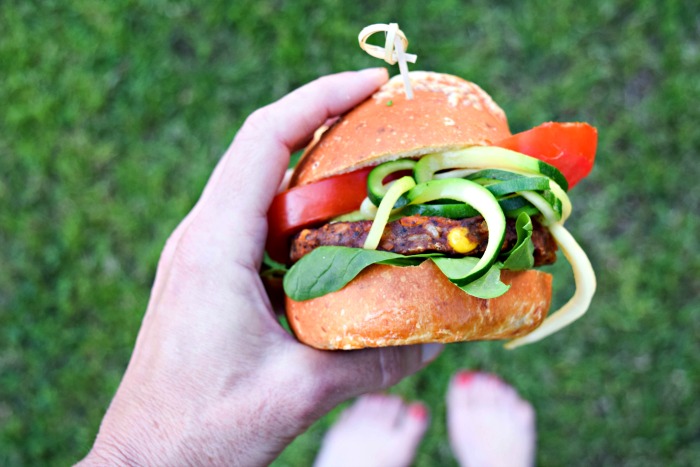 Extra Touches: This seems silly, but a burger bar needs special touches to keep the precious goods in order and celebrate appropriately. Plenty of napkins, skewers to anchor bun to burger, even a branding iron to sear in a special logo. Serve in those old-school red plastic burger baskets with checkered liner paper. I have even done a selfie contest where guests snap a picture of their creation, give it a silly name, upload to social media with the hashtag #JensBurgerShack (of course, you whatever you want) and the night's end, we vote on a winner to take home a Burger Grilling Prize Basket, funny hamburger t-shirt or other themed prize.

Are you cooking out this weekend? What will you grill? What are your favorite burger add-ons? Please share in the comments, XOXO — Jennifer
Disclaimer: This post contains affiliate links.