5:15 am –  alarm clock, grab breakfast, run, shower, see three kids off to school, check emails, make work phone calls, start laundry, research and writing for client, leave for errands, hit the gym, eat lunch, grocery store, pick up kids from school, check mail, return emails, make more phone calls, go over kids homework, pick up clutter, make recipes, style photos, take blog photographs, chauffeur to sports practice and boy scouts, make dinner, pick up from band practice, finish laundry, pack next day's lunches, go over family's schedule, check emails, social media, talk to husband, play with dog, make a snack, sleep  – 11 pm (hopefully).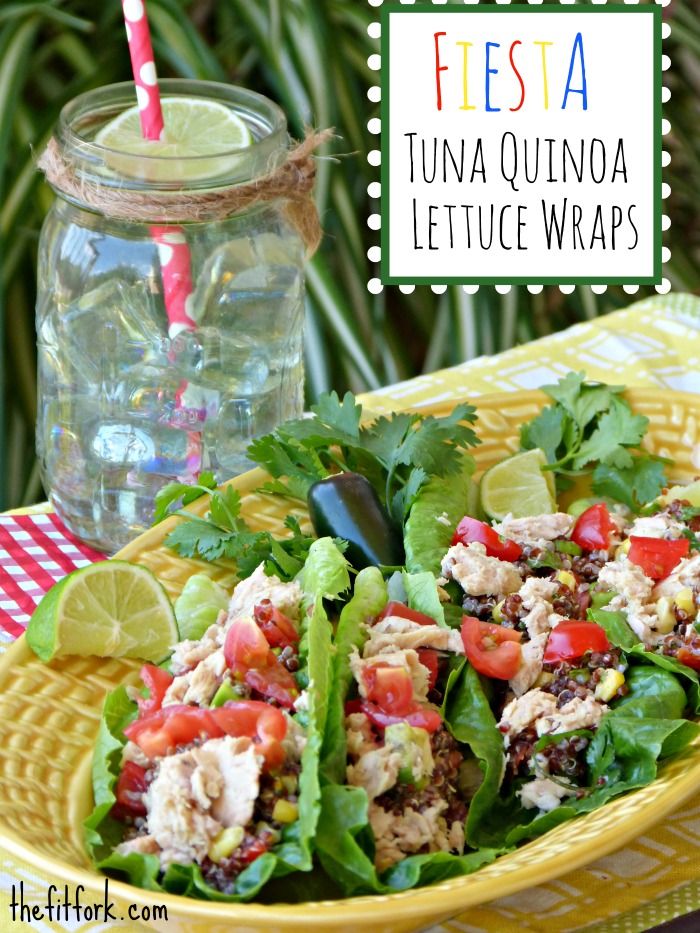 Okay, so you can see I don't usually have a lot of time for long, leisurely meals.  Normally, I am scarfing down breakfast, lunch and dinner quickly while standing up at the kitchen island or on the go. While my kids always get a nutritious, sit-down dinner before their nightly activities, my plate of food often gets pushed down the priority list while I wash the dishes, talk to them about their days and tackle the remainder of my  frenzied, gotta-get-out-the-door checklist.  Oh, if I had a dollar for every artistically-plated meal I've dumped into a Tupperware container to eat it in the car  . . . I'd have enough money to get the deluxe car detailing package that would remove crumbs from the nooks and crannies!
Maybe the whirlwind of life is why I love salads so much – by design, everything is meant to be jumbled up together – it's not always pretty, but it's productive!  Salads can be made ahead of time without worry of reheating and will wait patiently in the fridge until called into service. A big hearty salad with all the fixings is also the standard fare for my late-working, non-cooking husband.  To keep the love alive with my salads, I mix up the combination of dressings, fruits and vegetables, lean proteins and extras like cheeses, nuts, grains and more – there a gazillion variations and I never get bored (this seems like an analogy for my life).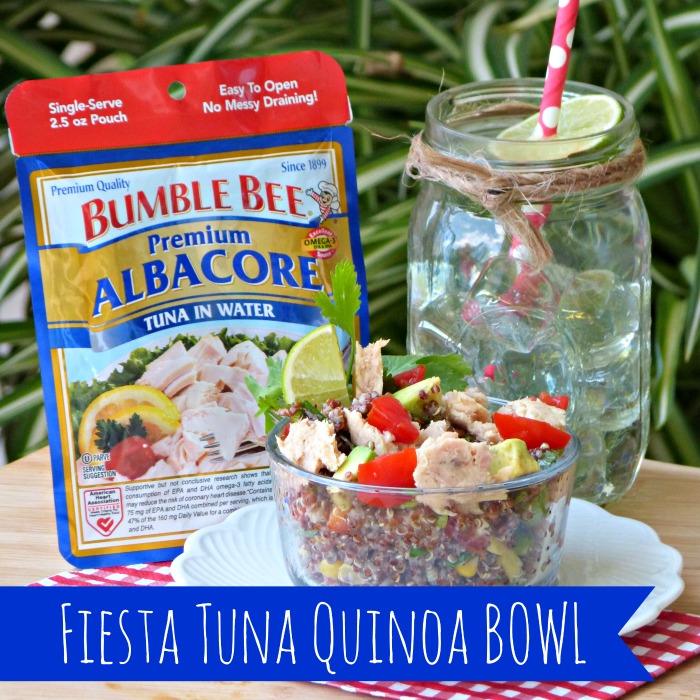 An easy and tasty protein that often tops my salads is tuna. I always keep a stockpile of  Bumble Bee® Tuna in the pantry and it has saved me from the "hangries" on many occasions with no-cook, no clean-up, super nutritious convenience.  I'm a fan of the single-serve, 2.5 ounce pouches of the Bumble Bee® Premium Albacore Tuna and Light Tuna because they don't require a can opener or messy draining, making them oh-so workable in a lunch box.  But, if you're used to the traditional cans, don't worry, Bumble Bee® still makes those!
If you need a quick and easy dinner idea, check out my Fiesta Tuna Quinoa Salad Recipe  —  it can be served two ways! First way is to serve in a bowl as pictured above and get your protein fix with a spoon – did you know that 2.5 ounces of the Bumble Bee® Premium Albacore Tuna has 17 grams of protein and the quinoa adds even more to the mix! Red quinoa and tuna make a snappy pair and all the healthy veggies and southwestern citrus dressing will make you want to jump up, stomp your boots and shout "Ole!"  Don't be scared that there are a lot of ingredients, it's super easy to put together — chop, chop!
The second way to serve this healthy salad is to fill romaine lettuce leaves with this tasty tuna quinoa salad and eat them wrap-style. If you're looking for more lunch box ideas, easy dinner recipes or other healthy meal inspiration, check out the Bumble Bee® collection of custom tuna recipes.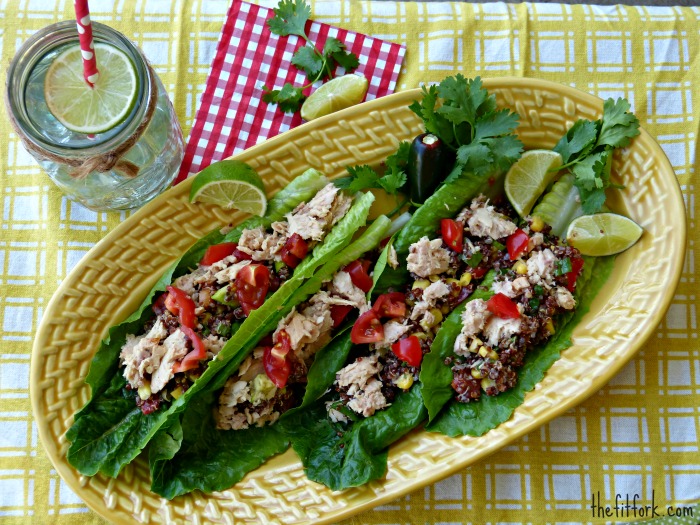 Fiesta Tuna Quinoa Salad Recipe
½ teaspoon sea salt
1 teaspoon ground cumin
1 ½ teaspoons ground chile pepper
½ teaspoon ground cinnamon
¼ cup olive oil (divided)
1 ½ cups red quinoa, rinsed
 15 ½ -oz. can black beans, drained and rinsed
1 cup quartered grape or cherry tomatoes
1 cup frozen corn kernels, thawed
½ cup diced red bell pepper
½ cup diced red onion
1 tablespoon diced fresh jalapeno
¼ cup sliced green onions (bulb and tops)
¼ cup chopped fresh cilantro, plus sprigs for garnish
1 large avocado, cubed
2 (5-oz) pouches Bumble Bee Albacore Tuna or Light Tuna (or four 2.5-oz pouches)
1/4 cup fresh orange juice
1 ½ tablespoons fresh lime juice
2 teaspoons minced fresh garlic
2 teaspoons honey
½ – 1 teaspoon Sriracha sauce (depending on heat preference)
Extras (optional): lime wedges, cilantro sprigs and romaine lettuce leaves
Combine 1 tsp. salt, the cumin, coriander, and cinnamon in a small bowl.
In a 3-quart saucepan, heat 1 Tbs. of the olive oil over medium-low heat. Add the salt, cumin, chile powder and cinnamon; stir well and saute for 30 seconds to make flavors bloom.
Add quinoa to spices, stir again for about 30 seconds. Add 2 cups water and bring mixture to a boil; reduce to a low simmer, cover, and cook until the quinoa for about 20 to 22 minutes or until water is absorbed.
Remove pot from heat and place clean dish cloth between lit and pot; let sit for about 4 to 5 minutes. This will help absorb remaining moisture and keep quinoa from getting sticky. Let quinoa cool to room temperature.
While quinoa is cooling, combine the black beans, tomatoes, corn, peppers, jalapeno, green onions, and chopped cilantro in medium bowl. Add citrus juices, remaining 3 tablespoons of olive oil, garlic, honey and Sriracha sauce. Stir until coated. Mix in cooled quinoa, tuna and avocado; stir gently until combined.
To serve, place in bowls or lettuce leaves and garnish with fresh cilantro sprigs and lime wedges. Note: this dish is excellent made the day before as flavors have more time to mingle together.
Serves 4.
Do you have any favorite tuna recipes?  Please share a description or link in the comments!
I was selected for this opportunity as a member of Clever Girls Collective and the content and opinions expressed here are all my own.