Forget about roasting hotdogs and warming up beans from a can on your next outdoor adventure; that is just so  . . .  uh, terribly untasty. I created a simple recipe that creates a complex, crazy explosion of flavor that will appeal to even the most discriminating of culinary-centric campers.  Check out this recipe for Buffalo Chicken and Blue Cheese Onion Bombs at Living Litehouse, the blog of a fabulously fresh food company that has been supporting my love for creating tasty, healthy dishes for a variety of occasions – today, camping!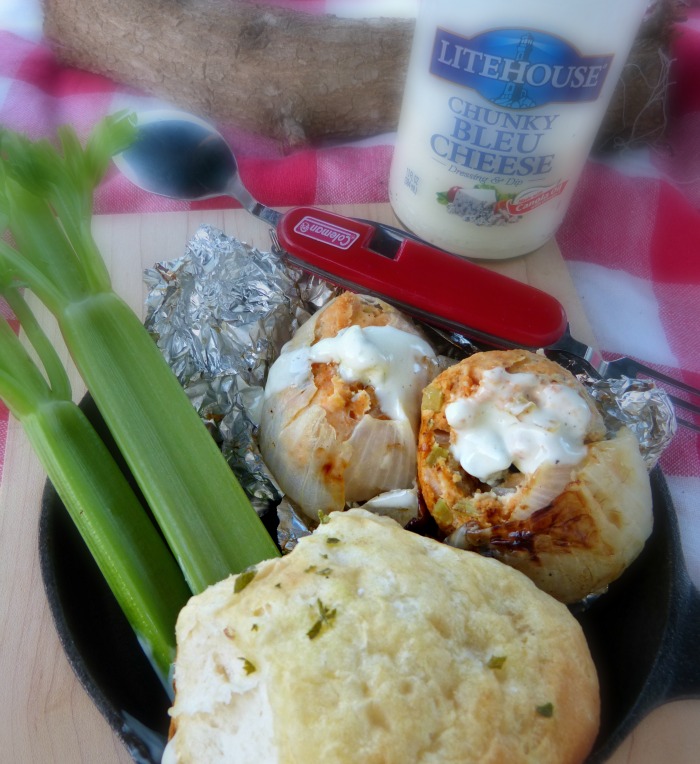 These "bombs" are made from lean ground chicken breast that has been stuffed with blue cheese, kicked up with hot pepper sauce and then "wrapped" inside two cross-sectioned onion halves. You could call them stuffed meatballs in onions or even inside out mini-meatloaves – but they are totally the BOMB because they are dangerously delicious and wrapped up in foil like little grenades.  Toss these bad boys on the grill or nestle in an open campfire to cook up quick as a short-fused firework. For you that don't like to leave the comforts of your kitchen, I'm not going to stop you from just baking them in the oven.  From mess kit to mouth, your every sense is going to be blowing up! Just as you would Buffalo Chicken Wings, balance these spicy bombs with the tangy coolness of blue cheese dressing. Oh, and don't forget the celery!
Check out the whole recipe and see lots of other yummy pictures at Living Litehouse.