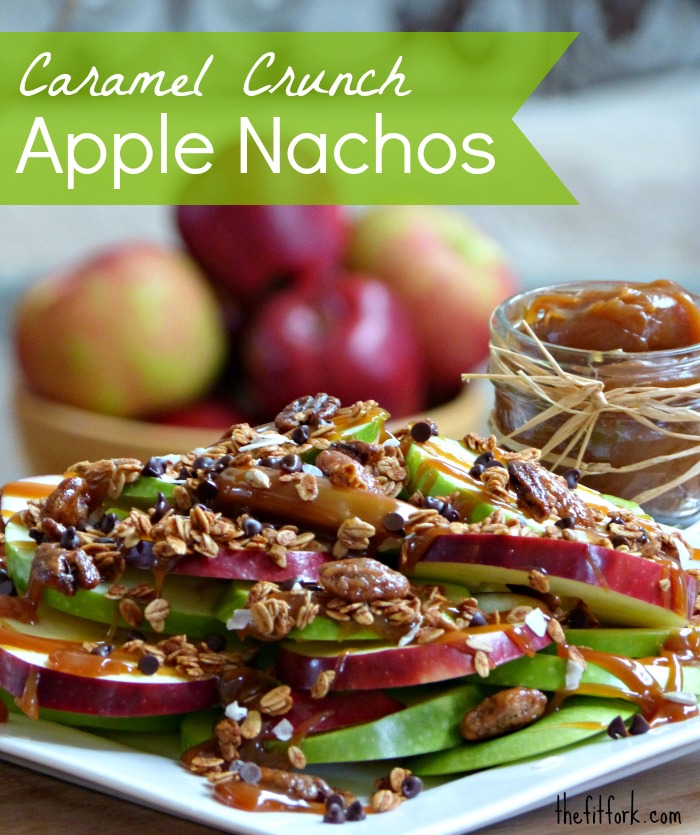 Looking for a delicious dessert that celebrates some of the fall season's favorite flavors without making your clean-eating conscience scream in horror?  My recipe for Caramel Crunch Apple Nachos is an easy-to-make, fun-to-eat sweet treat that is perfect for a Halloween party, harvest hoedown or any autumn-themed entertaining. I'm planning on making this no-cook recipe again soon as a sensible snack for movie night – since it's October, I'm planning a classic horror movie marathon with my three teenage boys.  With so many apple choices at the market this time of year, this recipe is the perfect time to try that new variety – use just one type of apple or as many kinds of apples as you like in this fruit recipe.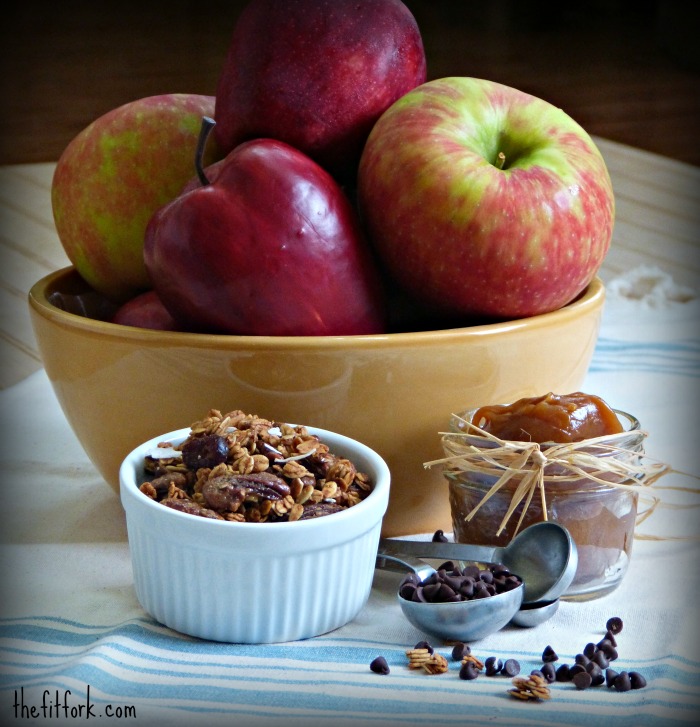 Caramel Crunch Apple Nachos Recipe
4 large apples, any variety (about 2 pounds)
8 oz. light caramel dip from produce section (I used Litehouse brand)
1 cup favorite granola (with or without nuts)
¼ cup mini chocolate chips
 Directions
1. Cut apples crosswise into ¼" slices. Remove seeds and core from center with paring knife.
2. In microwave safe bowl, heat caramel until warmed and easier to drizzle, about 30 – 45 seconds from room temperature.
3. Layer half of apples on a plate and drizzle with 4 oz. of caramel dip. Sprinkle on ½ cup granola and 2 tablespoons chocolate chips.
4. Layer remaining apple slices on top of caramel-granola-chocolate mixture and then add on remaining toppings.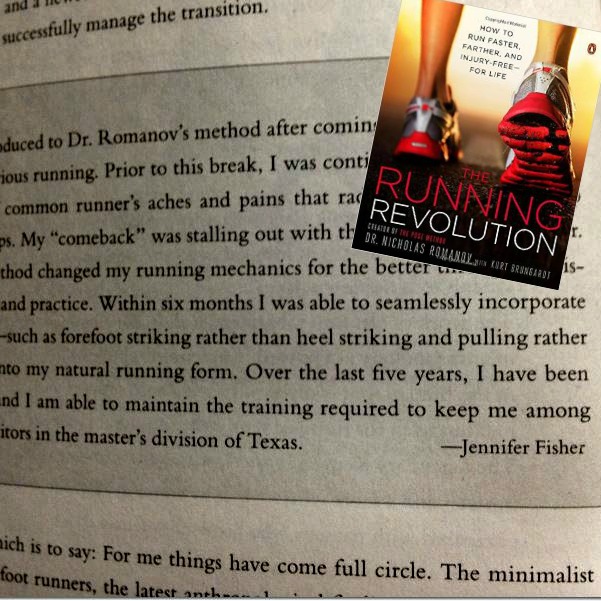 I also wanted to share with you a book that I've been reading – in fact, my running testimonial is featured! The just-published book is called The Running Revolution (How to Run Faster and Farther for Life) and is written by Dr. Nicholas Romanov, a two-time Olympic coach and world-renowned sports scientist known for the Pose Method.  When applied to running, the Pose Method® marries gravity, key body position (pose), body weight, support, and change of support into a comprehensive technique that maximizes natural body mechanics, increases performance and reduces risk for injury. I've blogged a bit before about what Pose Method has done for me in the last five years and I'm admittedly lucky to have Dr. Romanov's coaching protégé, Valerie Hunt, as my long-time running partner.  I'd chomping at the bits to share more about foot strike, pulling not pushing, "falling" and more, but I also want you to check out the book and come to your own conclusions.
Paperback Version:
Kindle Version:
What is your favorite fall time dessert? 
Are you a heel-striker, mid-foot striker  or forefoot striker when it comes to running?