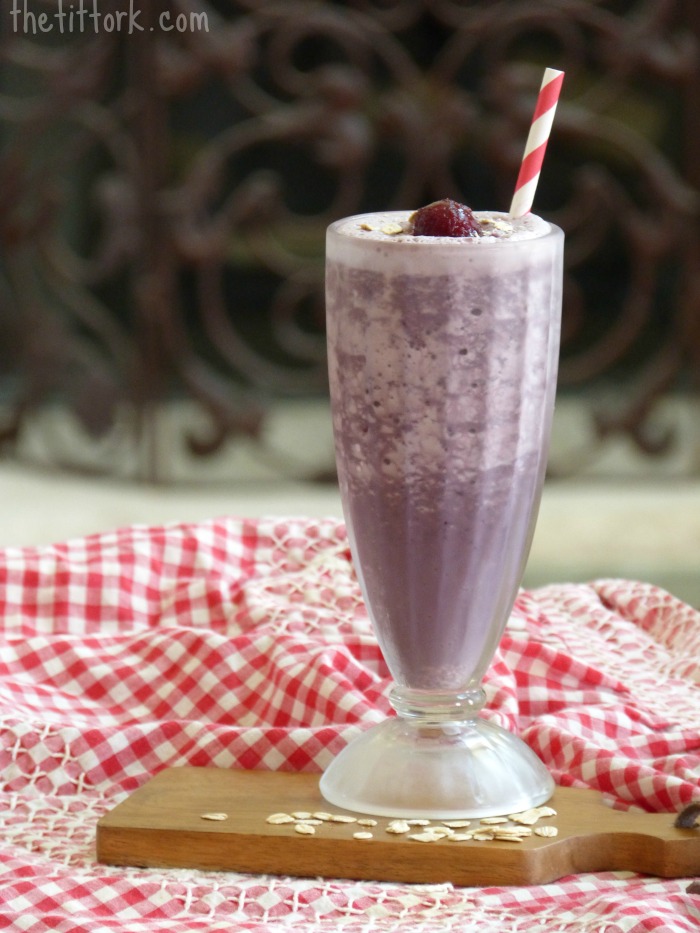 I cannot tell a lie, I just love cherries in every form and fashion, including straight-from-the-tree fresh to nestled collectively under a layer of pie lattice and vanilla ice cream. Cherries are a super fruit and studies are suggesting that tart cherries have anti-inflammatory properties, can reduce pain from chronic conditions and even help ease muscle and joint aches after exercise. Tart cherries rank 14 in the top 50 foods for highest antioxidant content per serving size – this is more than other popular powerhouses such as red wine and chocolate. Check out Choose Cherries for lots of great information about the health benefits of cherries
A busy-morning breakfast is anything but the pits when you've got the ingredients to make my Cherry Crisp Smoothie. I like to buy a big bag of frozen cherries at Costco so I'll always have my beloved berries ready – throw in some ground oats and a vanilla protein drink (check out Core Power) and this protein smoothie will be ready in a minute or less.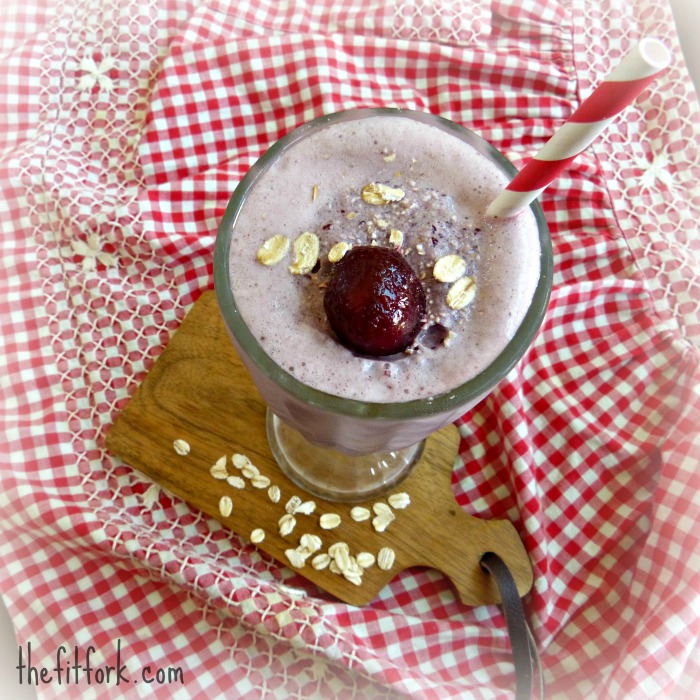 Cherry Crisp Smoothie Recipe
2 tablespoons rolled oats
10 ounces vanilla protein shake (like Core Power)
2 ounces cherry juice
15 pitted, frozen cherries
1 drop vanilla liquid Stevia
Ice, as needed
Place oats in a blender and pulse until ground into a powder. Add protein shake, cherry juice, frozen cherries, Stevia and a few ice cubes. Blend until smooth, adding more ice until desired consistency is achieved. Serves 1.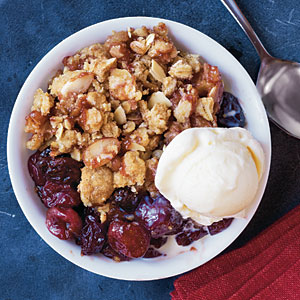 This smoothie is very satisfying and packed with protein, but if you are looking for the real deal dessert, Cooking Light has a delicious recipe for Cherry Almond Crisp. What I love about making "crisps" is that you don't have to worry about a fussy, fat-laden pie crust – just a sprinkling of grains and ground nuts on top of fruit works wonders! Plus, a little dollop of ice cream or Greek yogurt adds the perfect balance.
So, all this talk about cherries has me thinking about "the cherry on top" of my workout week. And, that would be making some documented progress on my Muscle Up skill in CrossFit. For at least a year and a half (off and on), I've been working on this most-elusive move and finally, finally made it up to the top of the bar (3x). What I lack in grace, I make up for in grit; I was NOT going home until I hustled my way up there. Still lots of practice needed though!
Do you have a fitness-related goal that has been a long time in the making – like a goal 5k time or getting a pull up? You can do it, just keep after it – and let me know what that goal is in the comments below so I can be your cheerleader!