In the summer, everyone put up with my peach obsession. Now, like the rest of the fall-loving foodies, I've become really sweet (and savory) on pumpkins. It's pumpkin-palooza over here!  While I have not yet tried the Pumpkin Latte at that (ahem) coffee chain not to be mentioned, I have made my fair share of goodies with this great gourd of the season.
Pumpkin Caramel Smoothie (posted later this week)
. . . . and more!
My latest recipe is Paleo Pumpkin Bread with Cranberries & Chocolate Chips. Yeah, I know what y'all are thinking – the Stone Age moms didn't make pumpkin bread, they were too busy tearing the meat off carcasses, sweeping out the cave, and getting drug around by the hair.  But, let me just quote the forward of one of my favorite healthy cookbooks, Paleo Comfort Foods.
 "Paleo (diet) is a logical framework applied to modern humans, not a historical reenactment."
Whew, this means I can admit to using my KitchenAid stand mixer to whip up these scrumptious mini loaves that are perfect for breakfasts, snacking and sharing with friends. If you prefer not to use mini loaf pans, just put the entire batch of batter into one regular size loaf pan and increase the cooking time to 45 minutes, or until toothpick inserted in center pulls clean.
Paleo Pumpkin Bread with Cranberries & Chocolate Chips         
 2/3 cup egg whites
1 teaspoon vanilla
½ can pure pumpkin – not pumpkin pie mix (about 1 cup)
¼ cup coconut oil, room temp
2 teaspoons Stevia (or 3 tsp if you like sweeter)
1 teaspoon baking soda
1 ½ teaspoons of cinnamon
½ teaspoon ground nutmeg
¼ teaspoon ground cloves
1 cup almond flour
2 tablespoons coconut flour
1/3 cup non-dairy chocolate chips
1/3 cup dried cranberries
Preheat your oven to 350º and brush pan with coconut oil (or use cooking spray).
In large bowl, mix together eggs, vanilla and pumpkin. Let it sit a few minutes to bring to room temperature. Add coconut oil (liquefied) to mixture, stirring quickly to incorporate (may solidify if eggs and pumpkin are too cold).  Next, mix in Stevia, baking soda, cinnamon, nutmeg and cloves until incorporated. Add almond flour and coconut flour, stirring until well combined. Fold in cranberries and chocolate chips.
Distribute batter evenly among two mini loaf pans (or one larger loaf pan)
Bake in 350º F oven for 35 minutes or until toothpick inserted into center pulls clean (for single loaf, add approximately 10 minutes).
Remove from oven and let cool in pan before removing. Cut with serrated knife.
Makes two mini loaves or one standard loaf.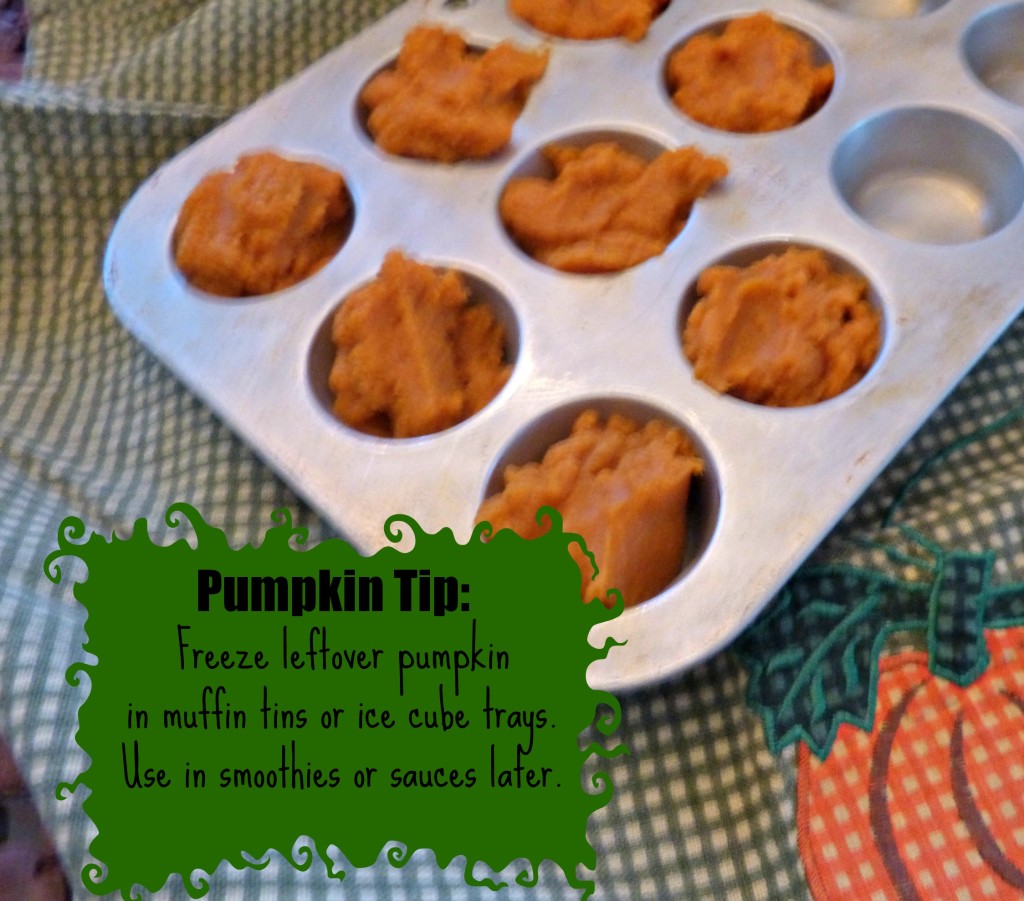 Also, if you don't know what to do with the extra pumpkin left in the can, you have a couple of options. Either double the recipe, or freeze the leftover pumpkin in ice cube or mini muffin trays for use later in a seasonal smoothie or sauce.
If you're looking for more traditional pumpkin bread recipes that are still healthy, check out the Pumpkin Bread Recipes at Cooking Light.  Yum, yum – I am drooling over the Pumpkin Cinnamon Streusel Buns and would eagerly make and partake in some of these for a special occasion brunch!