This post and giveaway sponsored by Hamilton Beach, but all opinions and enthusiasm are my own!
I never thought I needed a toaster oven and, boy, was I soooo wrong. I changed my mind when recently developed a recipe for Hamilton Beach that would work in their fancy 4 Slice Easy Reach™ Toaster Oven with Roll-Top Door. Honestly, it was my first time using a countertop toaster since back in my childhood days when this is how I made my buttery, cinnamon toast for breakfast! I love the convenience and quick clean up so much, I'm giving away one of these amazing appliances to one of you (enter at bottom of post).
The recipe I made for Hamilton Beach was a single serve breakfast cookie Chocolate Speckled and Seeded Breakfast Cookie, a much healthier option than the sugar and butter on white bread treat I would cook up as a kid. Fresh baked from the toaster oven, this cookie is packed with flavor and nutrition thanks to whole grains, seeds, and just a smattering of chocolate to soothe a sweet tooth. The entire huge cookie has just 268 calories and 16g protein – plus it's gluten-free and nut-free plus sugar free and dairy-free (if you don't use the chocolate chips). Get the full recipe on Hamilton Beach Every Day Good Thinking blog
So, what's so awesome about a toaster oven?  Well, for one thing, it doesn't heat the whole house up, and that's a major concern here in Texas! But you still get that fresh-baked, crispy texture on foods that the microwave just can't deliver – the little slide out tray will accommodate so many healthy food options – broil salmon, roast asparagus, bake eggs, make muffins and, yes, even make toast! It fits four slices of toast or even a 9" pizza! A smaller appliance is also so convenient when just preparing a meal for one or two people and works well in a dorm room, RV, cabin, office kitchen or other places where space is tight. Plus, the 4 Slice Easy Reach™ Toaster Oven with Roll-Top Door has several unique features including a removable roll-top door than makes it super easy to clean up!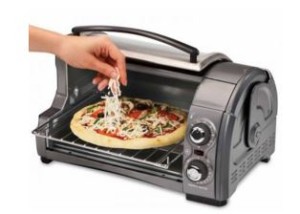 Enter my giveaway to win a handy-dandy 4 Slice Easy Reach™ Toaster Oven with Roll-Top Door , just follow the Rafflecopter instructions below: