Deck the halls with bowls of granola, fa-la-la fa-fa-la, la-la-la! Okay, I've been getting a little bit crazy with the protein granola over here. But, my family is gobbling it up almost faster than I can make it. In October, I made Smashing Pumpkin Protein Granola and in November I whipped up Gingerbread Cranberry Protein Granola and for December my special mix is Choco-Cherry Protein Granola given extra crunch with almonds and coconut.  Of course, we'll be enjoying the healthy goodness of these three seasonal flavors all year long and I hope you will too!
Choco-Cherry Protein Granola is a delicious treat for the morning; serve with milk or sprinkle on top of Greek yogurt. Think beyond breakfast and enjoy this satiating protein-boost any time of the day or night. I've even scarfed this fit granola straight out of the container to conquer my chocolate cravings!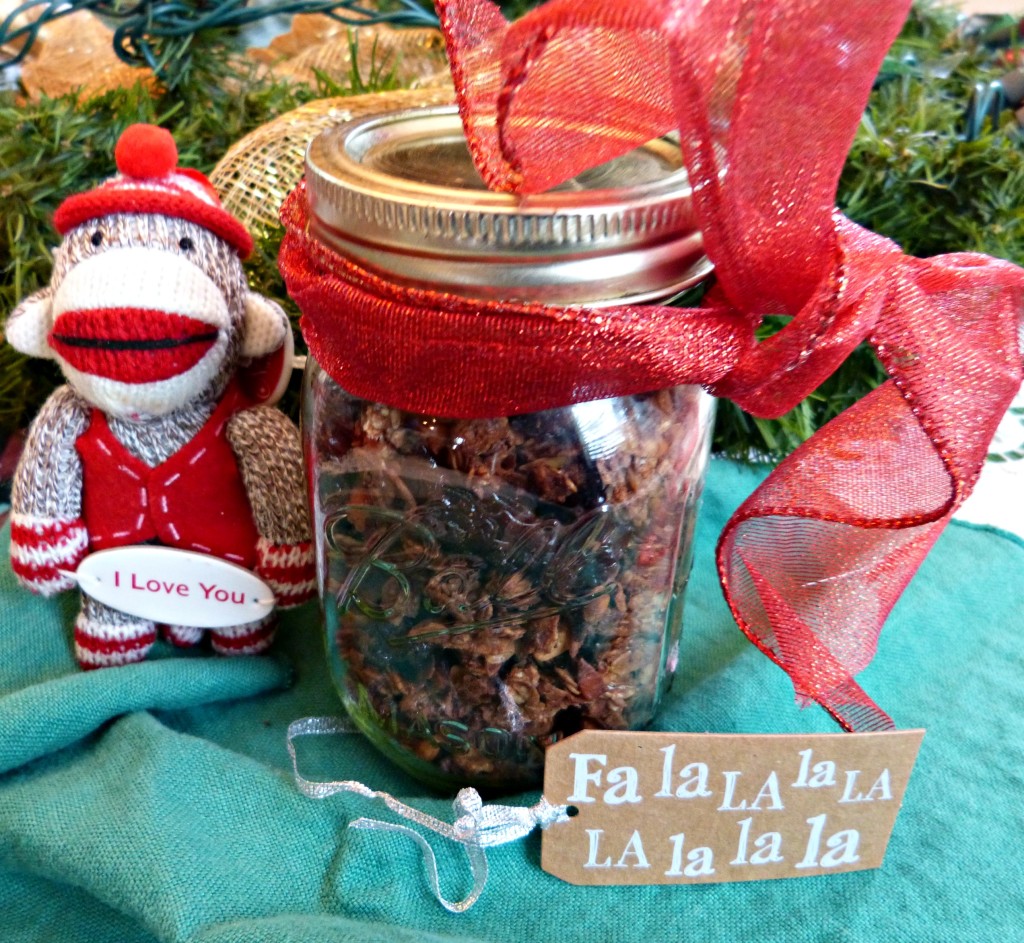 Here's a great healthy foodie gift for the holidays – scoop granola into a mason jar or cellophane bag and tie up with a festive ribbon.  Sure to be welcomed by friends and family; who wouldn't literally be fulfilled by this tasteful gesture?!
Choco-Cherry Protein Granola Recipe
8 ounces black cherry juice (or pomegranate juice as substitute)
1/2 cup coconut oil
1/2 cup cocoa powder
2/3 cup chocolate or vanilla protein powder
1/4 teaspoon salt
1 teaspoon liquid stevia concentrate
1 1/2 cup unsweetened shredded coconut
1 1/2 cup raw almond slivers
5 cups old-fashioned rolled oats (GF if needed)
1 cup dried cherries
Preheat oven to 325 degrees F. Line a baking sheet with parchment paper or Silpat.
In large pot, over medium-low heat, add juice, coconut oil, cocoa powder, protein powder, salt and Stevia liquid. Whisk together until incorporated and smooth and mixture is beginning to bubble (but do not boil).
Remove pot from heat and stir in coconut and almonds. Next add oats, stirring mixture until everything is evenly coated. Note: do NOT add dried cherries; they are mixed in later when granola is done baking.
Spread granola onto prepared baking sheet in an even layer. Bake, stirring every 10 – 15 minutes, until granola is no longer sticky, approximate 35 – 40 minutes. Remove from oven and mix in dried cherries.
Granola will stay fresh, stored in an airtight container, for up to 4 weeks.