For the second year, I'm excited to be an ambassador for Cooking Light & Health's The Fit Foodie 5K Race Weekend (look for me about 25 seconds into the video)! This three-day event (Mueller Lake Park in Austin, Texas on June 12-14, 2015) is filled with delicious bites and sips, cooking and fitness demonstrations from acclaimed talent, a Sunday Morning Sweat Session featuring Yoga and Pure Barre, and a delicious brunch – not to mention the 5k race! Seriously, it's an event that speaks to all of my passions and I think you'll love it too!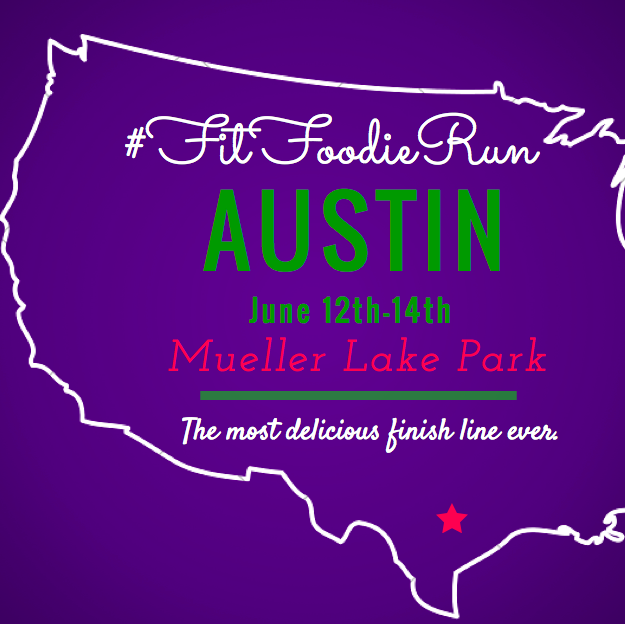 Another thing I love about the event is that it supports a great cause. A percentage of ticket and merchandise sales benefit the American Diabetes Association, whose mission is to prevent and cure diabetes and to improve the lives of all people affected by diabetes.
Weekend Schedule (attend one or all):
Friday, June 12: VIP Cocktail Party: Kick off the 5K Race Weekend, and indulge in delicious sips and bites while mixing and mingling with editors of Cooking Light and Health, and your fellow Fit Foodies at the VIP Cocktail Party.
Saturday, June 13: Fit Foodie 5K and Finisher's Village:  Will you run for food? I know I will! Lace up your sneakers and hit the scenic 5K race before crossing the most delicious finish line ever! Enjoy food and beverage samples (there is tons of food last year), as well as fitness and culinary demonstrations straight from the pages of Cooking Light and Health.
Sunday, June 14: Sunday Sweat Session and Brunch: Yoga and Pure Barre Presented by Fabletics. This one-hour workout is designed to offer an exciting fitness challenge that builds both outer and inner strength. After the morning workout, attendees are invited to toast their weekend successes and enjoy a brunch by a celebrity chef.
Tickets are priced at $55 per event, or $155 for the whole weekend.  But if you use the discount code FITFORK you can get a 10% off advance online ticket sales! To purchase tickets, go to: www.fitfoodierun.com
Be sure to follow The Fit Foodie Race Weekend on Facebook at  or on Twitter and Instagram at @FitFoodieRun for the latest news, contests, and promotions! 
If you've ever run The Fit Foodie 5k (whether Austin, Fairfax, Chicago or San Diego) let me know what you loved most in the comments below!