Even if summer isn't officially here for a few more weeks, it certainly feels like it is here in Austin, Texas. The kids are basically out of school, barring the last few finals and a field day, and our family calendar is booking up with neighborhood pool parties, potlucks and lazy-day picnics. The more leisurely pace of the season lets me do one of the things I love best, and that's get creative with recipes.
So how very timely that I found a contest being sponsored by Hellmann's® in honor of the company's 100th Birthday.  Part of the happy hoopla includes Chef Mario Batali (I love his recipes, don't you?); here's his spin on five old-school, classic Hellmann's® recipes. The new creations are sure tasty looking; I'm salivating just reading the recipes for Chicken Pasta Salad with Green Olives and Raisins, Chicken Wings with White BBQ Sauce, a Juicy Salsa Burger, Fiery Chipotle Deviled Eggs and Favorite Parm Chicken. You can get all these recipes at Mario's Table.
You can make these recipes at home "as-is" (and you know they are delish, because this guy has some mad chef skills), or better yet, add your own flair to the chef-inspired recipes. Hellmann's® is inviting you to submit your best version of one of these five recipes. Just add one to three new ingredients and explain how you would make it better!  You could even win a trip to celebrate Hellmann's® birthday in New York City and be a guest at the "World's Longest Picnic Table."

So, I'll go first! Of course, with my picnic and potluck state of mind, I chose Mario's Fiery Chipotle Deviled Eggs to make over. Deviled eggs – or really any egg recipe –never lasts long in my house.  And, honestly, there's nothing to feel guilty about when it comes to eating a few – what a great source of protein and B vitamins and other nutrients. I also appreciate how Hellmann's® is now using 100% certified cage-free eggs in the making of their Lite Mayonnaise. This keeps with the brand's commitment (which I second) to 'Real Food' made with simple ingredients.
 Spicy Deviled Eggs in Tomato Canoes (Served as a Salad)
12 large eggs
1/2 cup Hellmann's® Mayonnaise Dressing with Olive Oil
1 tablespoon spicy mustard
2 tablespoons chipotle hot sauce
1 teaspoon celery salt
12 medium-sized Roma tomatoes, halved lengthwise and seeded
9 ounces baby spring mix
1/4 cup crumbled bacon
Instructions:
Place eggs in a single layer in a saucepan; add cold cater to cover by 3 inches. Bring to a boil; cover, remove from heat and let stand 9 minutes (or a little longer if you are using XL eggs).
Drain immediately and fill the saucepan with cold water and ice. Tap each egg firmly on the counter until it forms a web of cracks and peels under cold running water. See my other egg peeling tips below.
Slice eggs in half lengthwise and carefully remove yolks. Place yolks in medium bowl with mayonnaise and add mustard, hot sauce and celery salt and mash until smooth. Spoon yolk mixture into egg white halves; set aside.
Cut tomatoes in half lengthwise and scoop out seeds. Place one egg in one tomato half and sprinkle with approximately 1 teaspoon of the bacon crumbles. Repeat for remaining eggs. For an individual serving, place 4 egg and tomato halves on a bed of lettuce.
Serves 6.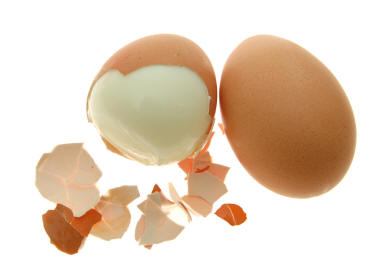 Tips to Make Peeling Hard Boiled Egg Easier
Don't use straight-from-the-hen's-behind fresh eggs. What I'm trying to say here is that eggs that are about a week old work best for boiling. I don't know why!
When boiling eggs, cover them in cold water in the pot and bring it up to a boil over high heat. Starting from cold lessens the chances of the shells cracking before completely cooked.
Some people suggest adding a teaspoon of salt or baking soda to the water to make peeling easier. Wish I would have found this tip earlier!
Store eggs in the refrigerator for a few days before you plan to use them. For some reason, eggs that have been hanging around for a while have peel that slips right off in big pieces rather that little shards of shell that also take off chunks of the cooked egg.
Peeling eggs under cold water also seems to facilitate the process.