It's the most wonderful time of the year. Hum along now. There's fresh produce for shopping with vine-ripe goodness a popping, to nourish my family held dear. Yes, it's the hap- happiest season of all, with foods so darn delicious and purposefully nutritious, for friends come over to call.  Okay, while I might not be a songwriter at heart, I certainly am a natural-born lover of warm weather and the wonderful bounty of byproducts the spring season brings – namely an abundance of fruits and vegetable, beautiful flowers and the invitation of mild mile upon mile on the running trails.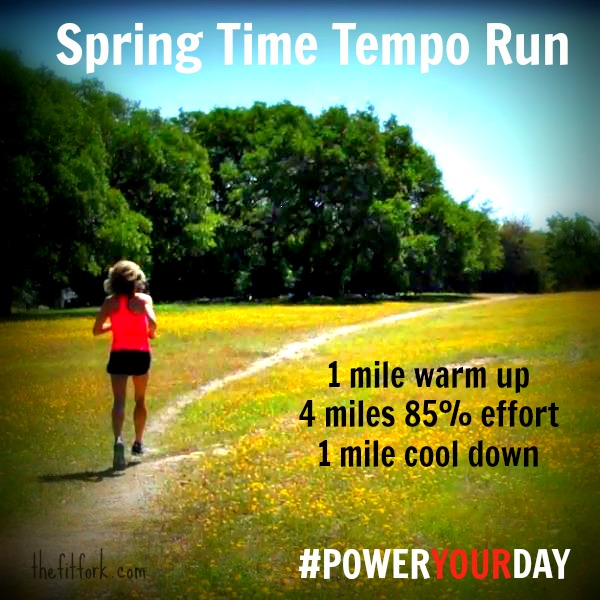 Today I'm so happy to share a trail running tempo run I created for CorePower.com (and awesome, high-protein recovery shake I frequently drink) and a rainbow-inspired dinner idea for Confetti Veggie, Fruit & Bean Lettuce Wraps – perfect for a  #MeatlessMonday!
Now, onto the food! I love this healthy recipe because it uses more fruits and vegetables that can be counted on two hands. Gobble up a few of these lettuce wraps for lunch or dinner and you'll be well on your way (if not exceeding) daily consumption goals for fruits and vegetables. Did you know, according to the Center for Disease Control, only a third of American adults report eating two servings a fruit a day and less than 27 percent consumed three or more servings of veggies, the minimum recommended daily amount (RDA)?  Notice how I bolded the word minimum? That's because the RDA sets forth only the lowest level of nutrients needed for the average, already healthy person to keep from becoming malnourished. The minimum.
I truly believe we should all be eating more fruits and vegetables, as opposed to the minimum. I wrote a post for Living Litehouse about how, as Americans, we are blessed to live in a country with easy access to high-quality, fresh foods that are reasonably affordable in the scheme of things. If you don't agree, put your Starbuck's latte or iPhone down and think about it for a minute — I'm taking a soapbox stance here.
I recently gave an affordable healthy cooking demonstration in a 300+ packed auditorium in the lower-income part of town. The participants were friendly, engaged and open to learning my healthy cooking tips. Many approached me afterward talking about the woes of chronic health conditions (created by being overweight). I got home and, at first, thought it unusual that I had about 250+ more "direct" referrals in my Google Analytics for the day – that is, until I realized that as I was on the stage, all these low-income people were hitting my blog from their smart phones.  This argument that eating healthfully is too expensive gets a reality check. Remember,  you don't need to shop at Whole Foods (unless you have money to burn) to eat well. Put down the $6 fruit cup and buy a sale-priced 10-pound bulk bag of the grapefruit (or whatever) for half the price at the "regular" grocery store.
A recent Harvard study reports it only takes $1.50 per day to eat a "healthy" diet as opposed to the processed, packaged and convenience diet that has become a way of life for many – I'd even say it costs even less if you know how to shop sales. So, in the end – it's a priority, do you want a data plan or to die? Okay, I know that's a little extreme – but you know what I'm saying.
Confetti Veggie, Fruit & Bean Lettuce Wraps Recipe.
½ cup seeded and diced cucumber
½ cup grated carrots
½ cup chopped red onion
½ cup diced strawberries
½ cup diced pineapple
½ cup diced papaya
½ cup diced mango
1 15-oz. can black beans – drained and rinsed
1 tbsp. chopped fresh cilantro
2 tbsp. diced fresh Jalapeno
2 tbsp. green onions, sliced
2 head washed and dried baby romaine lettuce leaves
2 oz. crumbled feta cheese
1 oz. snow pea shoots
4 oz. Litehouse Food's Huckleberry Vinaigrette* (extra  for dipping)
*You can use any "sweet-ish" vinaigrette you prefer like a poppy seed, honey Dijon, balsamic, etc.  I just love the Huckleberry Vinaigrette by Litehouse Foods because it is so fresh and flavorful, not too sweet – and has actual whole huckleberries in the bottle!
 In large bowl, toss together cucumber, carrots, red onion, strawberries, pineapple, papaya, mango, black beans, cilantro, jalapeno and green onions.
Stir in Huckleberry Vinaigrette (or dressing of choice) and allow mixture to sit for five minutes so herbs rehydrate.
Add a spoonful of fruit and vegetable mixture to the center of lettuce leaf. Repeat for remaining lettuce leaves and mixture.
Sprinkle feta cheese on top of mixture and garnish with snow pea shoots.
Serve with additional Huckleberry Vinaigrette for dipping