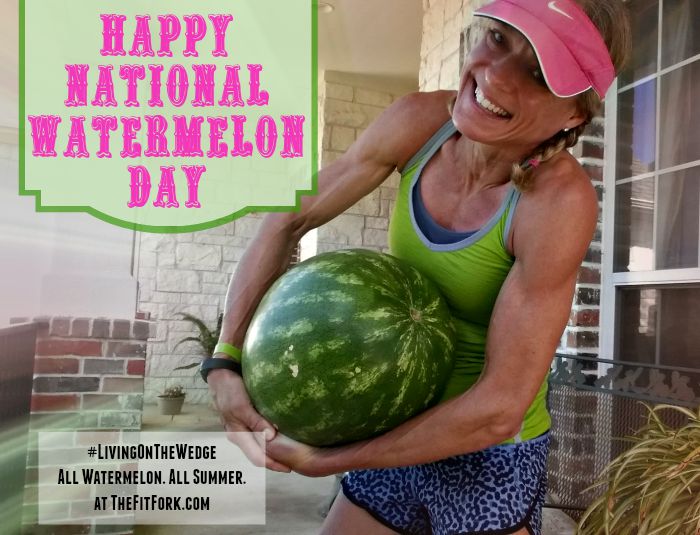 Monday August 3rd,  is National Watermelon Day . . .  well, officially anyway. In my world of #LivingOnTheWedge, I celebrate my favorite fruit every single day that I can – and thankfully, in Texas, we have a really long watermelon season! But, I couldn't let this specifically mandated day of melon mania disappear without its just and juicy due.  So, I'm hosting a giveaway courtesy of Watermelon.org (see bottom of post to enter) and sharing some fit, flavorful and fantastically creative recipes from my Fitfluential Ambasador friends.
All these smart ladies also tout the fantastic nutritional ways watermelon can support an active lifestyle – I'm talking natural sugars needed to fuel fitness, electrolytes to maintain water balance, and vitamin C to bolster immunity. Plus, did you know watermelon is the lycopene leader among fresh produce?!  Also, some studies are showing that athletes who drink watermelon juice before a hard workout benefit from a lowered heart rate and reduction in next-day muscle soreness thanks to blood vessel dilation and improved circulation cause by the amino acid L-citrulline.  Check out the healthy recipes below and make one today!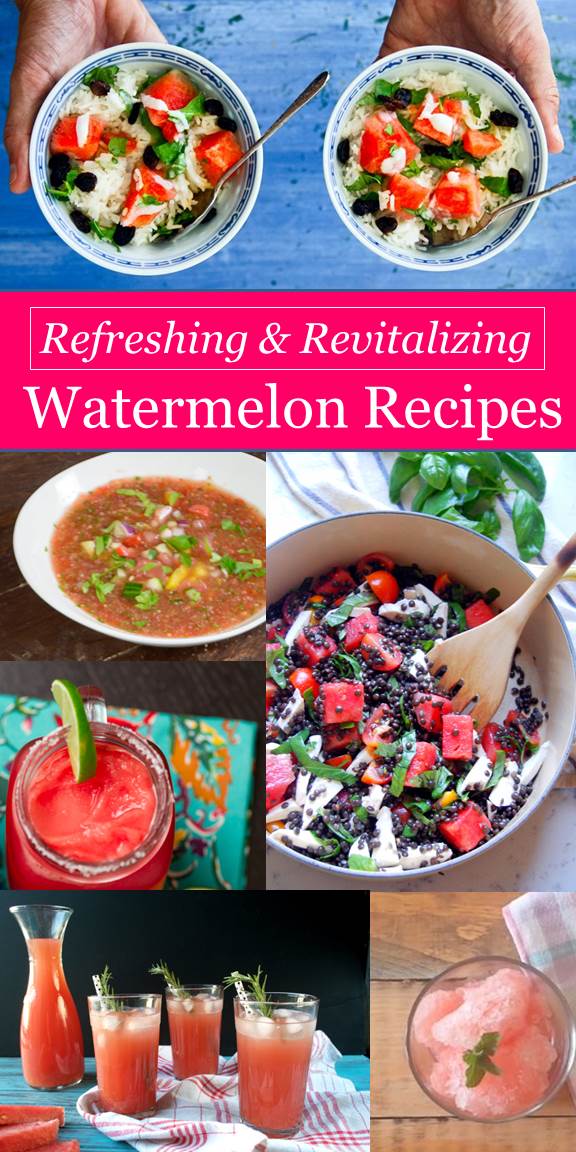 (recipe descriptions starting at top, moving clockwise)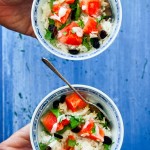 Coconut, Rice and Watermelon Salad Bowls  from CotterCrunch.com: If you're tired of the same-old, same old -salad, this beauty in a bowl will surely catch your attention. Coconut cream, jasmine rice, watermelon chunks and raisins mingle together in one amazing bowl of nourishment! Light, refreshing, gluten free, and delicious!
Beluga, Lentil & Watermelon Salad from UprootFromOregon.com: This Beluga Lentil and Watermelon Caprese Salad is an unexpected upgrade from the traditional caprese you might see on an Italian menu – juicy tomatoes, torn mozzarella, and basil leaves are complimented with staying power of protein from black lentils. Oh, and the watermelon . . . swoon!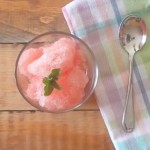 Sugar Free Watermelon Sorbet (Video) from Fitfluential.com: Check out this video that will lead you through the surprisingly easy steps of making a big dish of frozen watermelon deliciousness – it's just lightly sweetened with stevia and the natural sugars of watermelon.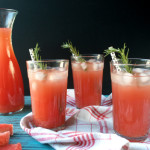 Rosemary Watermelon Lemonade from PlaidandPaleo.com: This tall glass of lemony goodness is uniquely yummy thanks to the use of herbs and ice-cold watermelon. Honey is used as the sweetener to keep every sip free of refined sugars.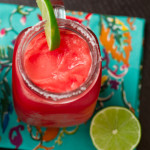 Restaurant Style Watermelon Margaritas from ArisMenu.com: When day's end need a little happy, this flavor-packed libation will rock your either your socks or sandals off – or both depending on your style!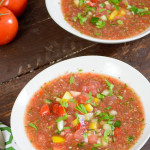 Easy Watermelon Gazpacho from PancakeWarriors.com: Soup in the summer has never been more refreshing than with a chilled bowl of this tomato and cucumber based gazpacho – the secret ingredient is naturally watermelon, and it is absolutely wonderful to the last slurp.
If you need even MORE recipe inspiration, check out my Watermelon Living On The Wedge Pinterest Board or visit the recipe collection at Watermelon.org.
I celebrated MY July birthday with a recipe I created for just for ME! It was a healthy Chocolate Cherry Watermelon "Cake" and I did end up sharing the real deal with family and friends – and the recipe with you. Not only is this cake a show stopper, there is lots of good in every slice with very little guilt!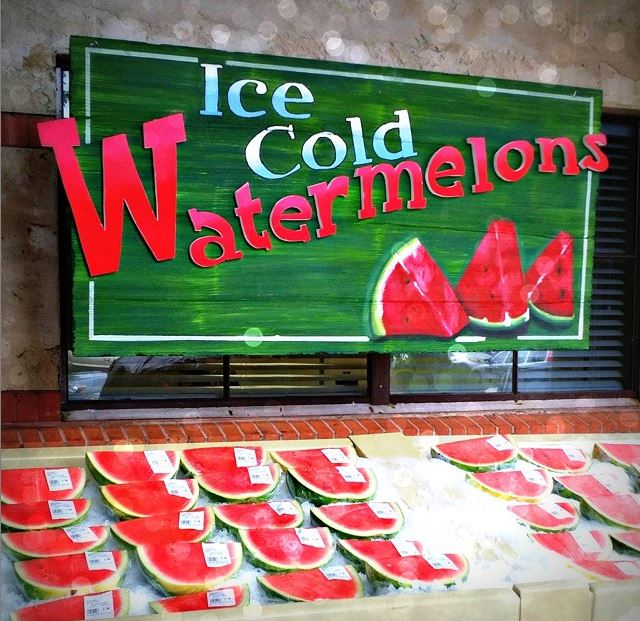 Have you seen the other ways I've been celebrating watermelon and #LivingOnTheWedge this summer? To name a few, I hit nearly every watermelon stand and farmer's truck this side of the Mississippi River, kicked off the warm-weather season with a crazy Watermelon Pool Workout, a CrossFit Style Partner WOD used watermelons every which way imaginable on picnics.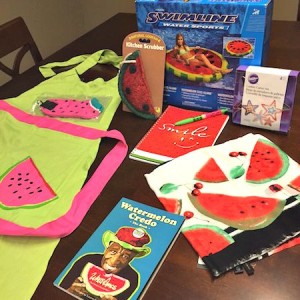 Enter my Watermelon Gift and Goodies Giveaway — one lucky reader will get the following prizes to help celebrate watermelons every day of the year —-> -Pool Float (Awesome), Apron, Socks, Scarf, Kitchen Scrubber, Note Pad, Pen, Book and Star Cookie Cutters (for making watermelon stars!).