We are getting a cold front this weekend – the temps will only be reaching 89 F degrees with lows dipping into the 60s! That's hardly sweater season, but I'll take – especially after enduring a summer of running in an inferno. I can also tell that fall is on its way, the days are getting shorter and there's that beautiful amber glint in the sky starting mid-afternoons. This gets me in the mood for a warm and nourishing plate of goodness (using Gardein products), something other than the no-cook entrée salads I've been eating for months.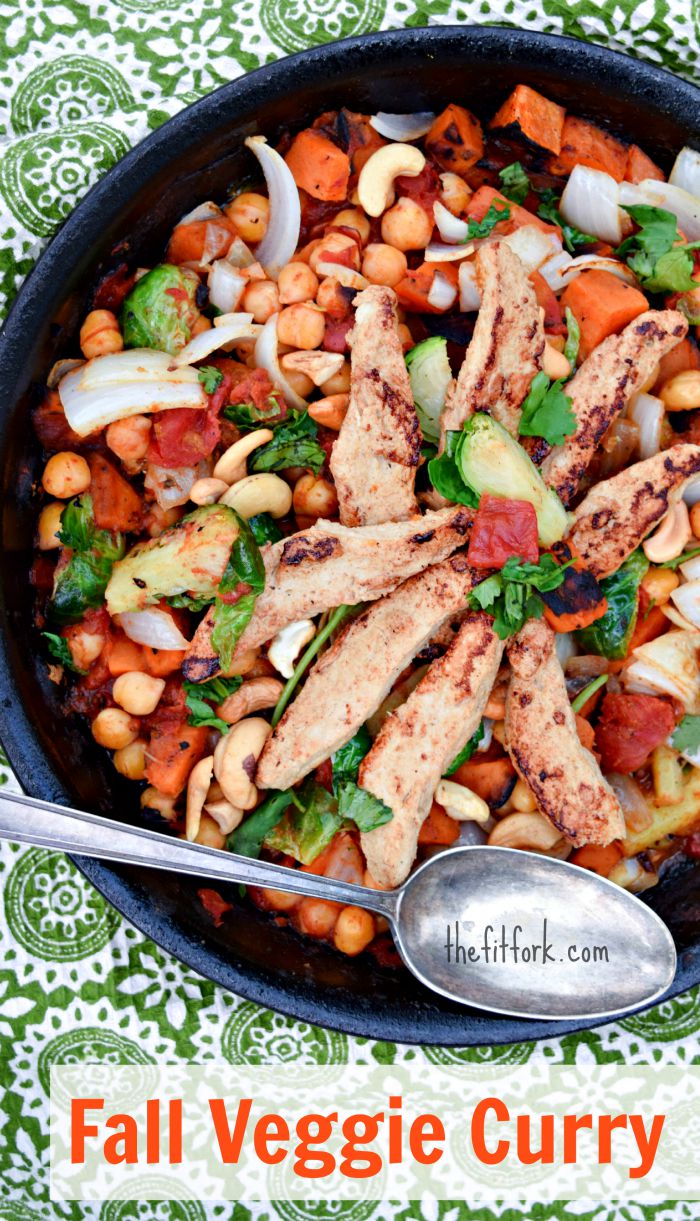 Fresh fall produce, like sweet potatoes and cauliflower, come together beautifully in my Fall Vegetable Chick'n Curry. It's a pot of soul-satisfying, exotically spiced food that will fuel any active lifestyle – just enough healthy carbs for quick energy and plenty of plant-based protein for muscle management thanks to Gardein Teriyaki Chick'n Strips. Whole grains, legumes and well-seasoned veggies round out the easy meal to add fiber and other essential nutrients, not to mention add tons of flavor and texture.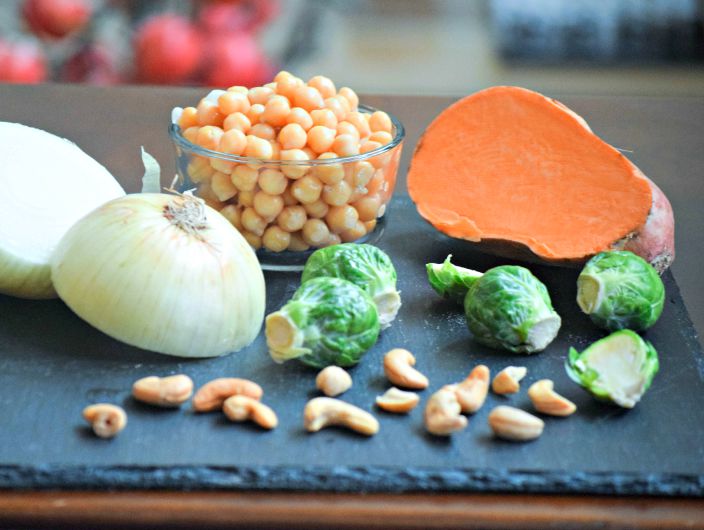 If you're not familiar with the Gardein (garden + protein, get it?!) you need to be! It's no secret I'm a meat-eater — I'm a grilling instructor, certified BBQ judge and elite running team member sponsored by BEEF. That being said, I'm all for variety in a healthy diet (I eat it all) and the products from Gardein are versatile, convenient and tasty way to get adequate protein when I'm preparing a vegetarian or Meatless Monday meal – which I eat at least once a week.
Gardein makes over 20 plant-based protein products including these favorites — Gardein BBQ porkless pocket meal, Gardein The Ultimate Beefless Ground, Gardein Golden Fishless Filets, Gardein Seven Grain Crispy Tenders and Gardein Teriyaki Chick'n Strips (used in my recipe today). Found in the frozen foods  aisle of your market,  Gardein products cook from frozen making them an ideal meal starter for those crazy, busy nights when you can't get something going all the way from scratch or are too worn out to figure out if your vegetarian or vegan meal is packing enough protein. Gardein's award winning products are made from non-GMO soy and wheat, ancient grains and veggies and offer a similar taste and texture to traditional meat with a bit fewer calories, cholesterol and fat.
Fall Veggie Chick'n Curry Recipe
2 tablespoons olive oil, divided
1 package Teryaki Chick'n Strips from Gardein
1 medium sweet potato, peeled and cut into 1/3″ cubes
1/2 yellow onion coarsely chopped
1 cup halved Brussels sprouts
1 15-oz can chickpeas, drained and rinsed
1 15-oz can fire-roasted tomatoes with juice
1/2 cup vegetable broth
1 tablespoon curry powder
1/4 teaspoon cayenne pepper
1/2 cup cashews
2 tablespoons chopped cilantro
Serve with prepared rice.
Heat oil 1 tablespoon of oil and cook Chick'n Strips according to package instructions, but don't add sauce packet yet.  Remove cooked strips from skillet.
Add remaining olive oil to same skilled and brown sweet potatoes and Brussels sprouts for about 2 minutes, stirring occasionally. Add onions and saute for another 2 to 3 minutes.
Add broth, sauce packet (that came with  Chick'n Strips), chickpeas, tomatoes and spices to skillet and let simmer for approximately 10 minutes, until everything warmed and juices reduced a bit.
Add cooked Chick'n back to mixture, stir. Serve over warm rice and sprinkle with cashews and cilantro.
Serves 4.
For additional information, easy dinner solutions, and chef inspired recipes, visit Gardien – you can also get a $1 off coupon until October 9th, 2015.
If you're NOT a vegan or vegetarian, how many times a week do you go meatless? What is your favorite dish? Please share in the comments below — XOXO, Jennifer