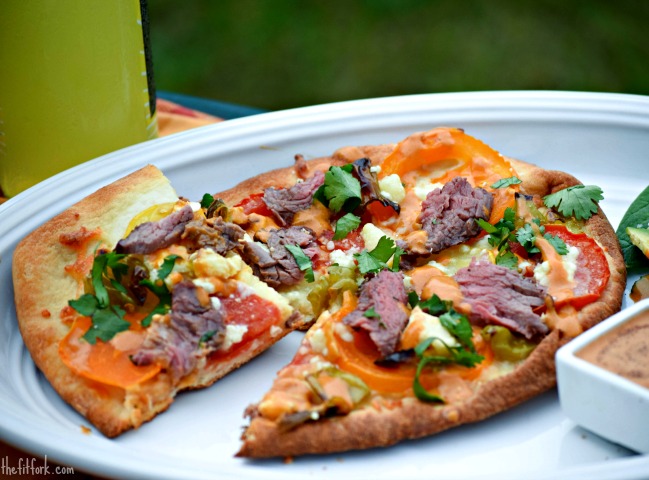 I'd hard to imagine there would EVER be beef tenderloin left on the platter at my house – but there was this weekend! That's because I cooked an extra hunk so that we'd have "leftovers on purpose" for a couple easy weeknight recipes that were floating around in my head. I had to threaten all the boys to keep their dirty meat-stealing mitts of this extra steak, and once they saw the More-eo Blondie Bars I made for dessert, they had moved on to new conquests.
So, the great thing about this Beef Tenderloin & Tomato Pizza with Ancho Crema is that you can use thin slices of any leftover steak like top sirloin, ribeye, flat iron — or even fajita meat! I also used naan bread for "let's make dinner in five minutes" convenience, but feel free to do a homemade traditional crust or even a cauliflower crust if you prefer.
The toppings are fresh and healthy with a southwestern spin – cilantro, queso fresco, hatch green chilies and a trifecta of colorful tomatoes. Red, yellow and orange – they were almost too beautiful to eat!  But gobble them up because I know how great the abundance of lycopene and vitamin B6 found in tomatoes is for athletes — you can learn more on the topic of tomatoes and working out in a post I wrote for CorePower.com.
Beef Tenderloin & Tomato Pizza with Ancho Crema Recipe
4 8-inch diameter pieces of naan bread
2 tablespoons olive oil
1 teaspoon garlic salt
1 teaspoon dried red pepper flakes
1 medium yellow tomato, seeded and sliced thinly
1 medium red tomato, seeded and sliced thinly
1 medium orange tomato, seeded and sliced thinly
½ cup chopped fire-roasted hatch green chilies (or can use canned)
1 cup of crumbled queso freco
1 tablespoon minced fresh cilantro
1 8-ounce pre-cooked beef tenderloin steak (or other steak) sliced thinly across grain.
 1/3 cup Greek yogurt
1 tablespoon Worcestershire sauce
1 teaspoon ground ancho chili powder
Avocado for garnish
Preheat oven to 400 F degrees.
Lay naan bread on a baking sheet and brush tops with olive oil. Sprinkle with the garlic salt and pepper flakes.
Layer each crust with tomato slices and green chilies. Sprinkle with queso fresco cheese.
Bake in oven for approximately 10 minutes or until edges of bread turning golden brown and cheese beginning to bubble.
Remove from oven and top with thinly sliced steak that is room temperature or has been lightly warmed — taking care not to over reheat it and make tough.
To make crema, whisk together Greek yogurt, Worcestershire sauce and chili powder in small bowl. Drizzle on top of pizzas. Sprinkle with cilantro. Serve with avocado, if desired. Serves 4.
What toppings do you like to put on your pizza? Please share in the comments below: