Giveaway Alert! I recently attended The Running Event, a trade show for the running retail industry, and got a sneak peak into some of the emerging trends, gear and sports nutrition products for 2018. I'll save shoe, sock and sports bra talk for later, today I want to get right to the sports nutrition giveaway a.k.a. free tasty stuff. Yeah, I said "tasty stuff," – that's because so many race fuels, hydration aids and other sports nutrition products taste as good as they work!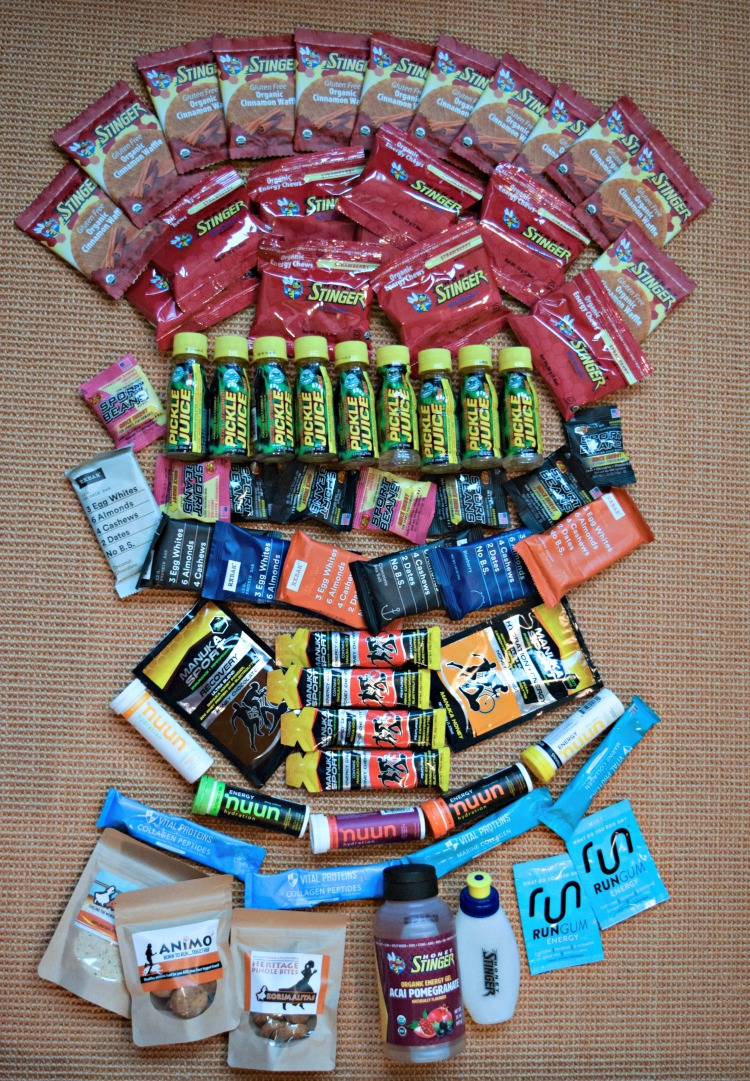 Today, I'm sharing some of my new finds and old favorites with you "12 Days of Christmas" style, except all twelve days at once! You don't have to come back to the blog every day for 12 days (although I don't mind if you do)! Read on to discover some new products to fuel your running, obstacle course racing, triathalon, ultramarathoning – or whatever you do!  And, enter the sports nutrition giveaway to win in all 78 things!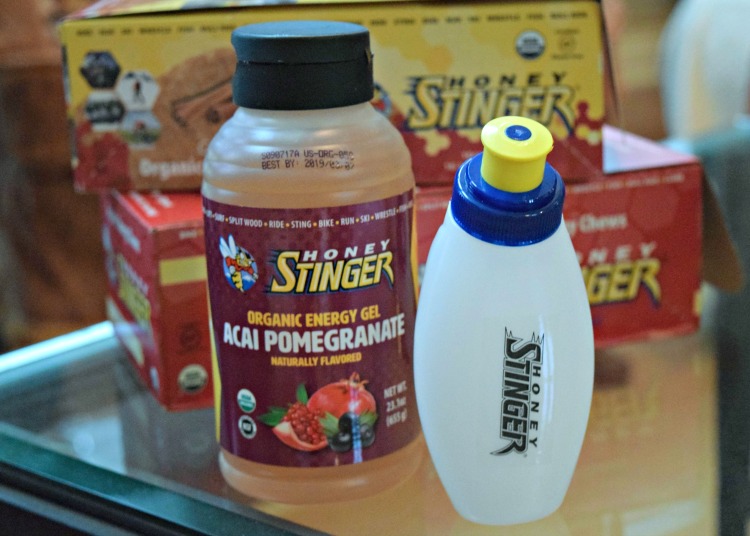 Day 1: Honey Stingers Bulk Gels  are the bomb! Having a bunch of race gel in a big container means more bang for your buck and less trash no the trail — just pour into a little, reusable race flask! (Winner will receive one 23-ounce bottle of Acai Pomegranate gel and branded flask to carry a few ounces in.)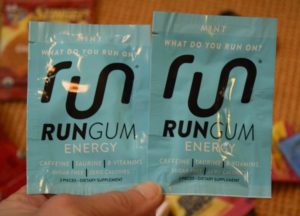 Day 2: Run Gum is great for chewing on when you want to put a little pep in your step! Fast-absorbing caffeine, taurine and B-group vitamins start kicking in within 10 minutes. (Winner receives 2 sample packs).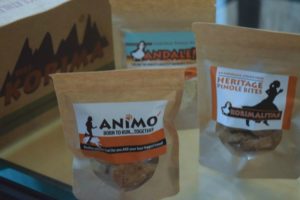 Day 3: Mas Korina is an endurance athlete energy food based on Pinole, a heritage quality maize that has been roasted and ground), and a true "super-food", Chia. Both have been fueling some of the world's greatest endurance athletes for generations. (Winner will receive a Sampler Pack of their products).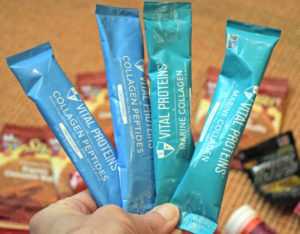 Day 4:  Vital Proteins is a protein source, good for hair, skin and joints! Beef Collagen Peptides from grass fed bovine hides or Marine Peptides sourced from scales of wild-caught snapper.  It sounds like these powders would taste weird, but they are basically flavorless and can be mixed into anything (Winner gets 2 single serving packets of each).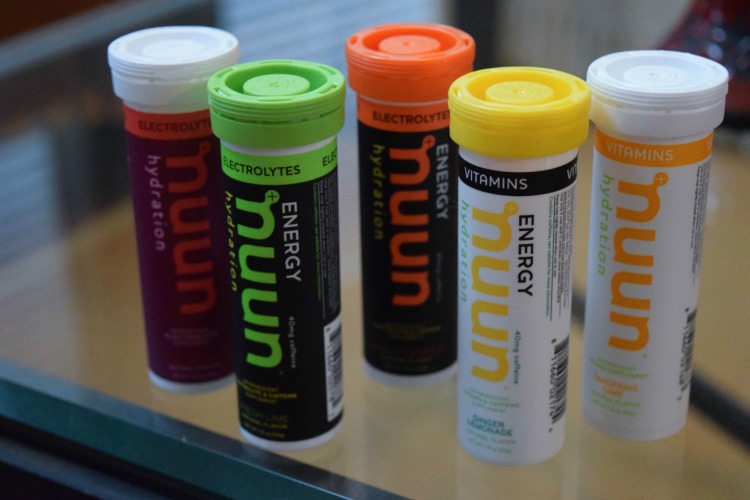 Day 5: Nuun Hydration: I've been an ambassador for this hydration company for-evaaaaah – I love their flavorful, effervescent style — and how they are all about being "clean." I picked up a few of my favorite Energy flavors along with some new Vitamins to share in this sports nutrition giveaway. (Winner will receive 5 assorted tubes)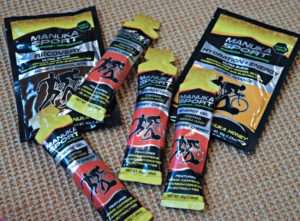 Day 6. Manuka Sports: I tried these gels, recovery and hydration products on a 22-mile run – loved the taste and texture of the gel, it was thin and easy to get down! A key ingredient is pure Manuka honey, a natural, vegan superfood with an on-point balance of glucose and fructose. Manuka Sport energy gels are packed with carbohydrates and electrolytes. The energy -hydration and recovery drink powders are packed with carbohydrates, electrolytes and BCAA. (Winner receives 6 Manuka Sports products — 4 gels, 1 hydration powder and 1 recovery powder).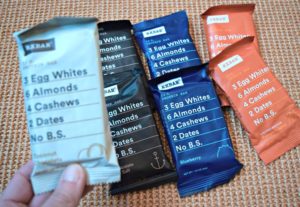 Day 7: RX Bars: Well, gosh darn, these bars are tasty – and good for you with a short simple ingredient list – nothing weird, only natural stuff. Apparently, it's the fasting growing protein bar in the U.S. – I can see why! So excited to have these in my sports nutrition giveaway (Winner to receive 7 assorted bars)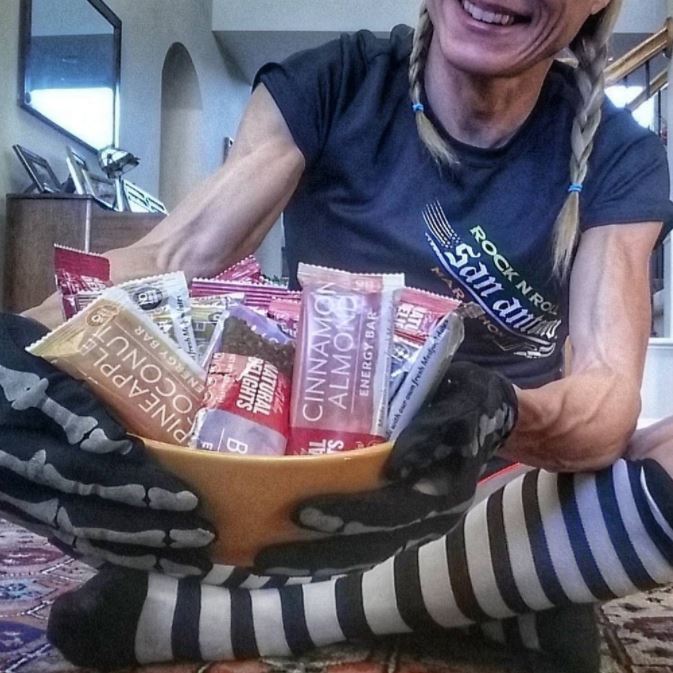 Day 8: Natural Delights Energy Bars: Okay, duh, Natural Delights were NOT at The Running Event, but apparently, I skipped Day 8 of my sports nutrition giveaway in the photo and I needed to find a quick fill-in that would be great fuel for athletes. Of course, the new-ish Energy Bars featuring Medjool dates and other wholesome ingredients jumped to mind first! LOVE these bars as much as I love making recipes (like my Date Protein Workout Cookies) and often stick them in my gym bag or in a jacket pocket on a long run or hike. I even passed them out at Halloween. (Winner to receive 8 bars of Chocolate Peanut Butter, my favorite flavor).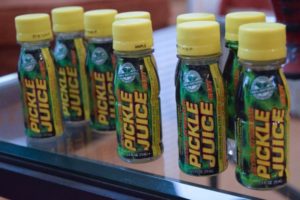 Day 9: Pickle Juice: Ooooooh, I dare you to try it! Seriously, I've used this before at races and it attacks cramps. I talked to one of the main guys at the company, and was surprised to learn that it's not necessarily the electrolytes that are stopping cramps, but it's a neurological reaction to the vinegar that helps misfiring nerves relax! So, you shouldn't take it super early as a preventative, but when you start to feel that telltale tingling. Check out the study. (Winner will receive 9 bottles).
Day 10:  Sports Beans: If you haven't treated yourself to these during a run, well – where have you been? These little beans are a carbohydrate replenishment for sports performance from the makers of Jelly Belly® — I love the flavors and salty-sweet taste. Sometimes, I'll even use them for a mental boost on a run – allowing myself to eat one ever half mile or so! (Winner receives 10 sample packs).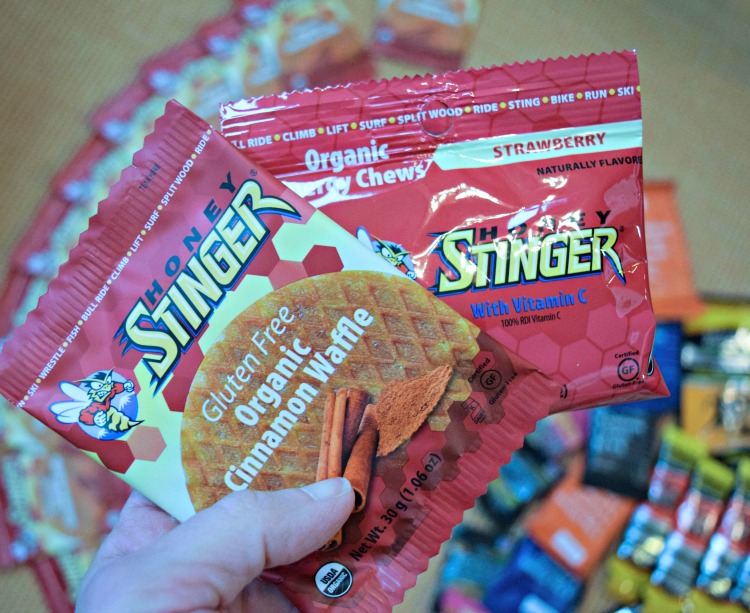 Day 11: Organic Energy Chews (Strawberry – NEW flavor) – Yay, for Honey Stinger putting the most requested flavor of chew, once only available as part of the Fruit Smoothie Chews blend, into its own pouch as a STAND ALONE flavor. Multiple carb sources to flue your sports including glucose, fructose, maltose and sucrose. (Winner will receive 11 single serving packs)
Day 12: Gluten Free Organic Waffles (Cinnamon) –  If you've got a problem with gluten (or are just taking a break from it), gluten free waffles are where it's at!   (Winner will receive 12 single serving packs)
I was provided products by the various companies to host this sports nutrition giveaway. To enter, just follow the Rafflecopter instructions.