Behold the butternut! It's a big ole winter squash, but don't let the size intimidate you and keep you from making butternut squash recipes! It's delicious, healthy, versatile as a recipe ingredient and really not that hard to prep (plus, you can always have the store do the work).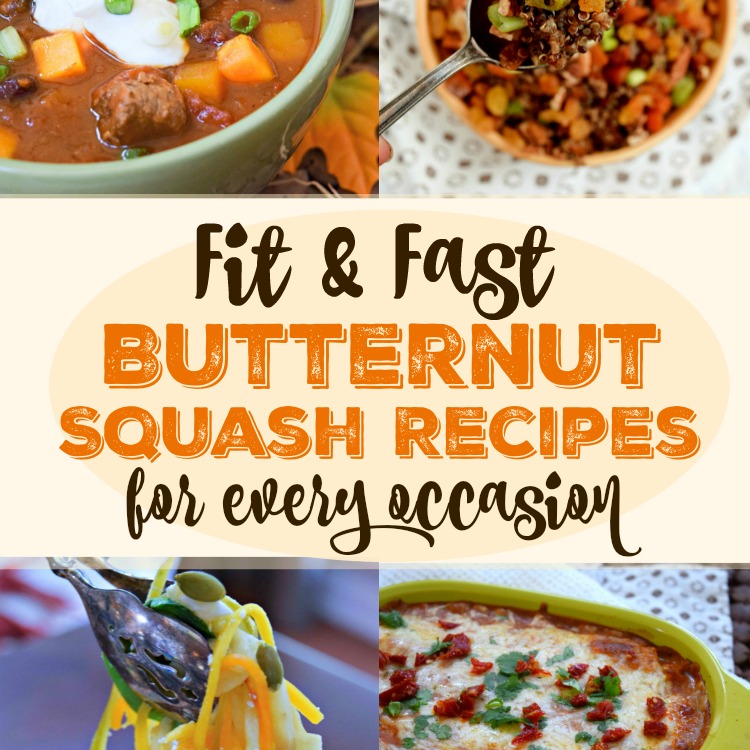 I've got bounty of fit and fast butternut squash recipes, from snacks to salads to soups, that will help you use up all the butternut squash you've been blessed with! Read on for a week's worth of my favorite dishes:
Before reveal the squash recipes, let me assure you butternut squash is a "good" good carb, or shall I say "premium" carb. People can start getting freaky about carbs, but complex carbs like fruits and veggies should be making up at least ½ of your plate – it's the primary fuel for your body and brain! Butternut squash provides steady, longer-lasting energy as opposed to processed carbohydrates like sugary foods and bread that make your blood sugar spike and then crash. It's high in fiber, potassium, magnesium and beta carotene and other nutrients necessary to optimize an active lifestyle. For more info on health benefits, check out my post highlighting 7 Reasons Runners & Athletes Should Eat Winter Squash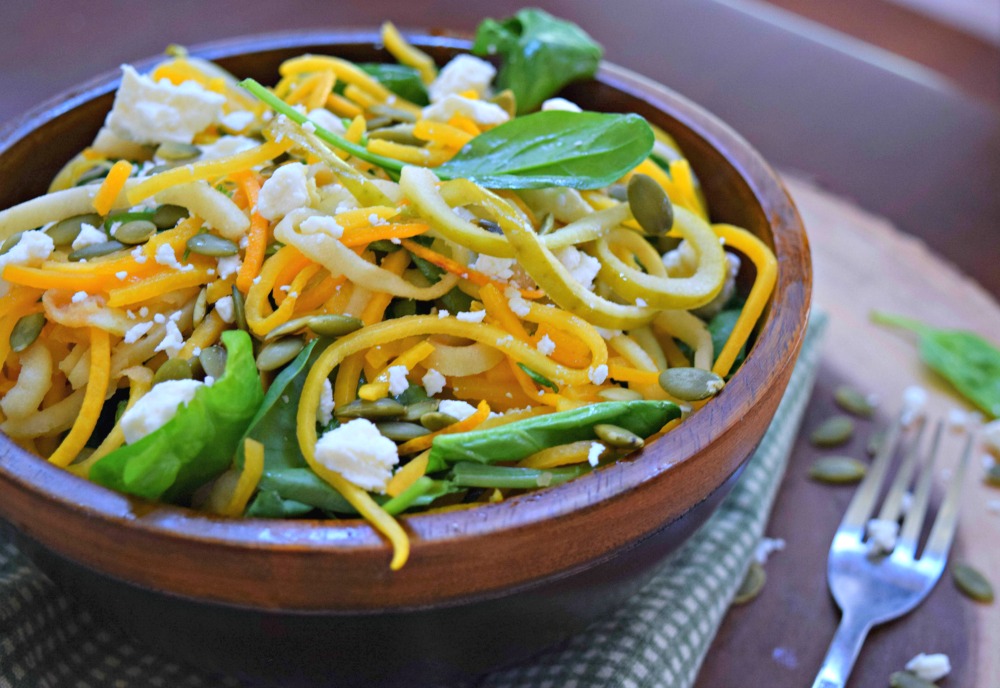 Spiralized Green Apple Butternut Squash Salad –This salad is ahhhh-mazing, with twirls and swirls of tart green apple and sweet butternut squash that has been lightly steamed, but still has a bit of toothsome crunch!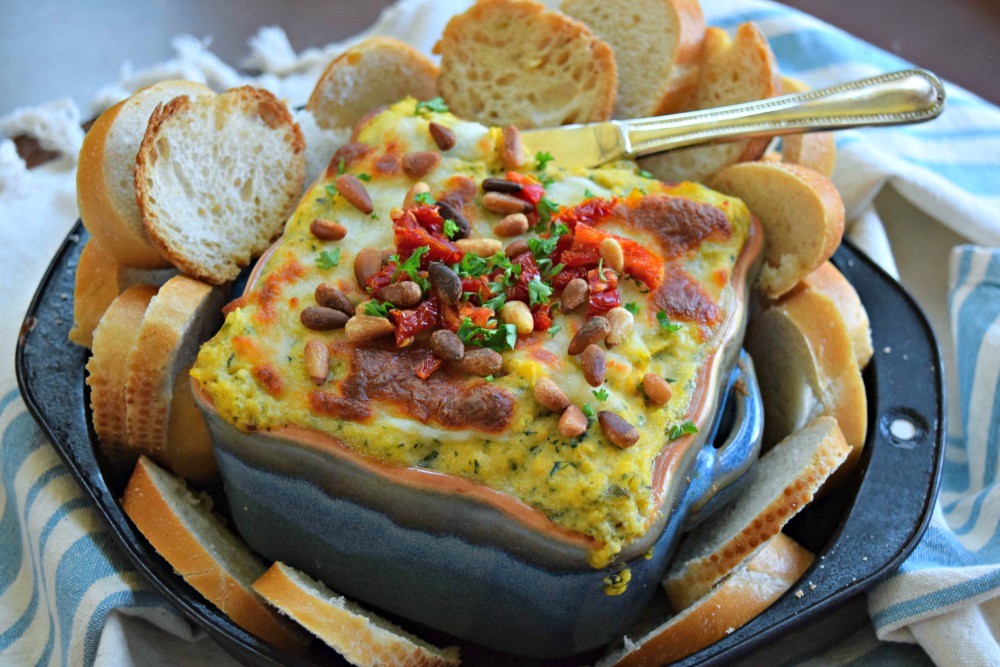 Baked Butternut Squash Ricotta Dip: Delight guests with this hot, creamy dip featuring butternut as the base for ooey-gooey deliciousness. Similar to a warm spinach artichoke dip, but so butternuttery!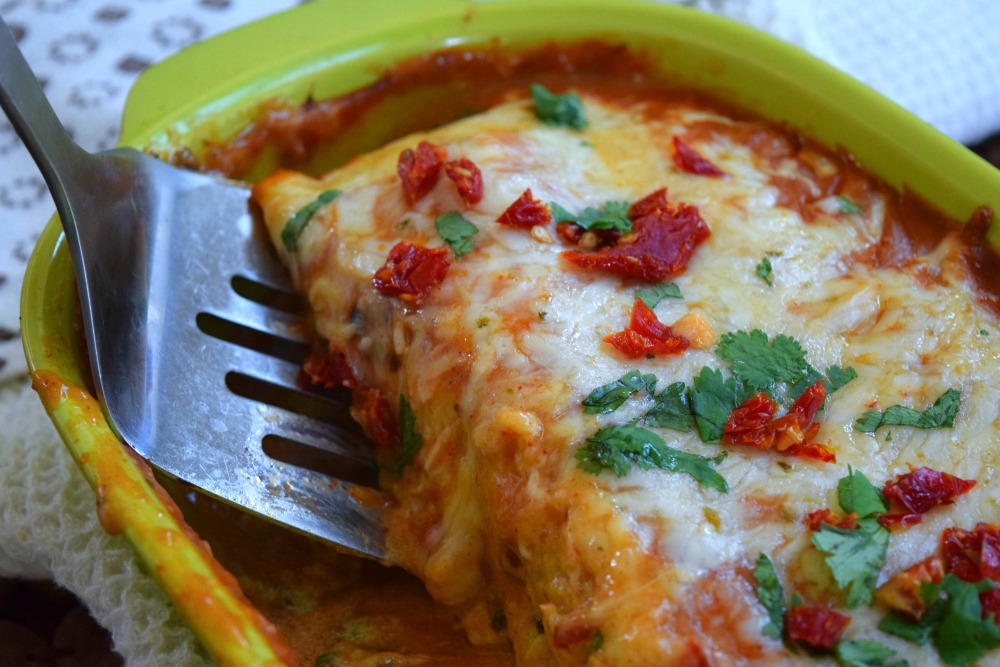 Chipotle Butternut Enchiladas: Comfort food gets a butternut boost along a perfect a pair-up with smoky chipotle chili powder. A delicious seasonal spin on enchiladas that is vegetarian and gluten-free, made with corn tortillas.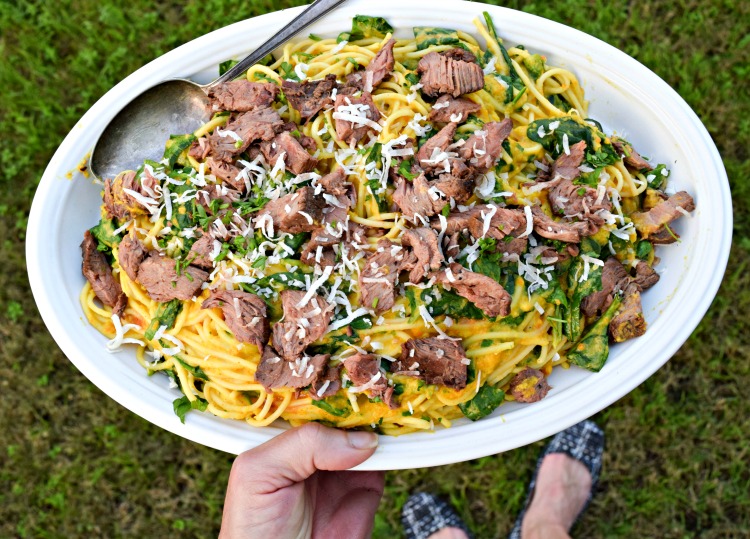 Beef Noodle Bowl with Butternut, Carrot, Coconut Cream Sauce – The decadent-seeming, alfredo-like sauce on this dish is actually is made from pureed squash and carrots along with coconut butter and coconut milk – keeping it diary free! Can be prepared with or without the mouthwatering steak! 
Butternut Maple Pecan Quinoa: Oh hello, this easy quinoa salad can be served warm or cold, making it the perfect candidate for meal prepping. I've made as a side dish for dinner and then packed up the leftovers in mason jars for lunch throughout the week!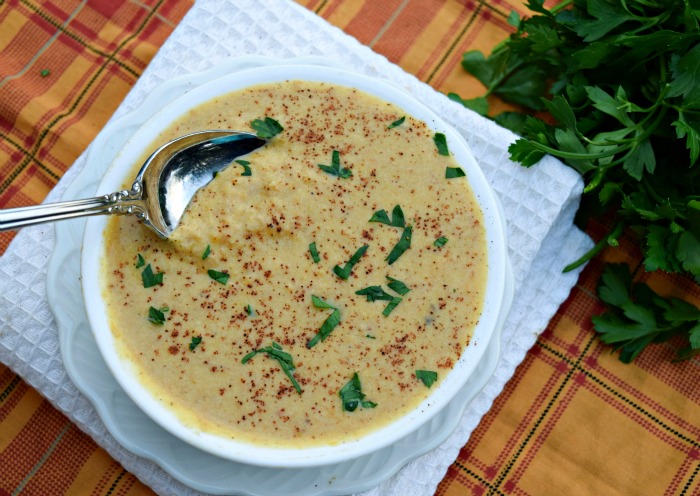 Paleo Butternut Squash Crab Bisque: Such a satisfying light supper or prelude to dinner!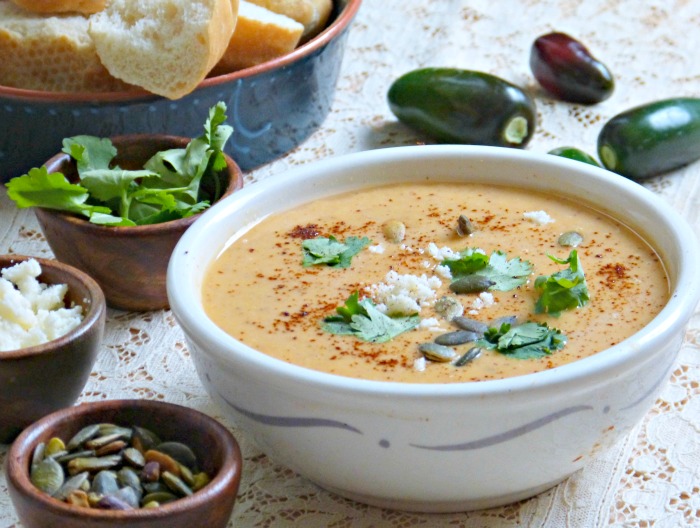 Chipotle Butternut Chickpea Soup: This easy-peasy soup uses almond milk blended with chick peas (aka garbanzo beans) for a thick creamy texture! The hint of smoky chipotle pepper brings out the best of butternut squash, in my southwestern-anything loving opinion.
What are your favorite butternut squash recipes? Do you like winter or summer squashes better? Have you ever made a baked butternut squash recipes? That's what's next on my list! Please share in the comments – XOXO, Jennifer