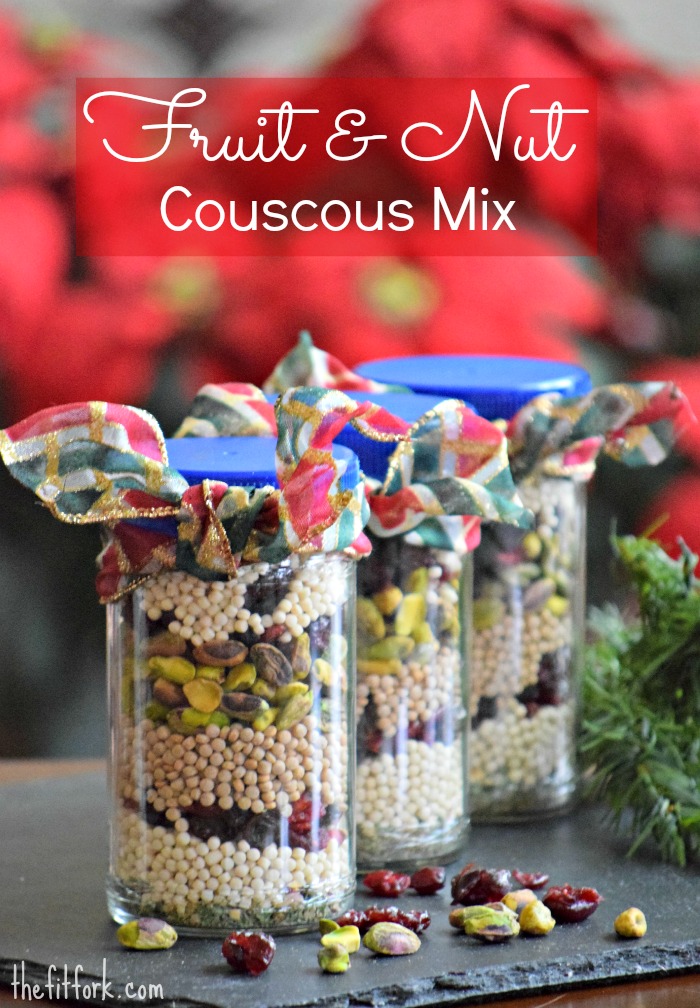 I am here to rescue you from last-minute gifting stress and solve holiday side dish dilemmas – both at the SAME time! You can thank me later. In my opinion, there's nothing more tasteful than a healthy gourmet gift, and my recipe for Fruit & Nut Holiday Couscous Mix will delight all the fit foodies on your list. This homemade gift looks like a lot of time and effort went into it, artistically arranged with jewel-toned layers of cranberries and pistachios between pearled whole wheat couscous. In reality, it's super simple to make (like a kiddy sand art project) and, for my craft-challenged self, more time and effort went into tying the bows and making gift tags!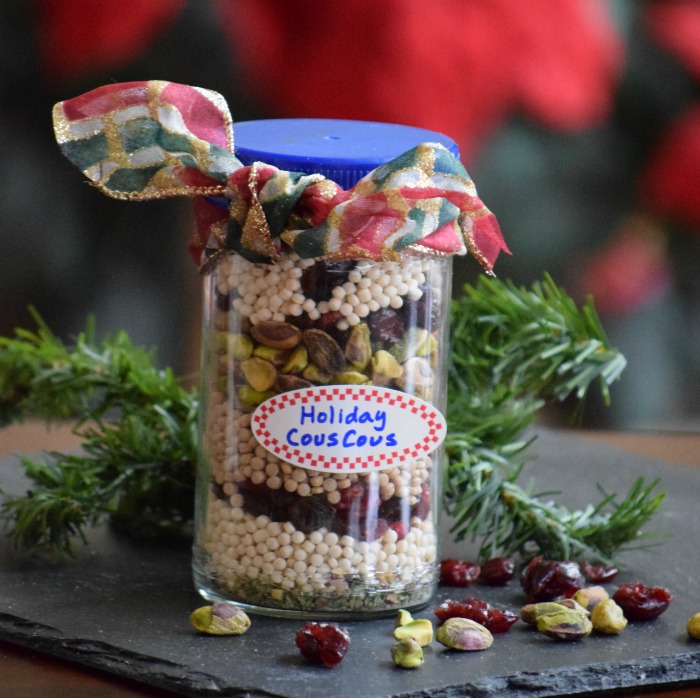 You can use a new mason jar, recycled glass jar or any container of your choosing – get creative! Also, I've made the same mix and swapped out other types of dried fruit and nuts for the cranberries and pistachios with excellent results. Consider combinations such as Apricot & Almond, Apple & Pecan or Date & Almond – the possibilities are nearly limitless!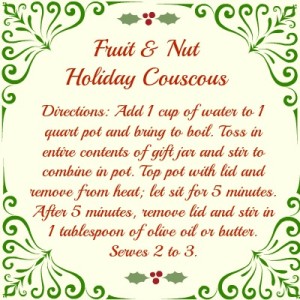 Here is a gift tag you can print out on sticker paper and place right on the jar – or use with card stock, write your personal sentiments on the back, and then tie around the neck of bottle with ribbon.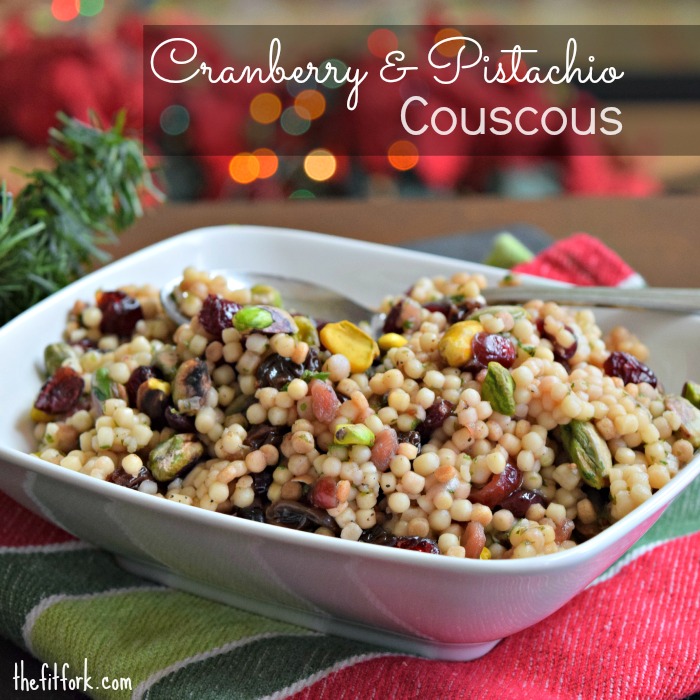 While you're busy making batches of these jar food gifts to give friends, family and neighbors, don't forget about stocking your own pantry. The Cranberry & Pistachio Couscous makes a fast and festive side dish that pairs beautifully with beef, chicken, pork and more and can be completed from pot to plate in just 5 minutes. I'm serious!
Fruit & Nut Holiday Couscous Mix Recipe
Supplies needed: 3 approximate 12-ounce jelly or mason jars, ribbon, gift tags.
1 tablespoon dried mint*
1 tablespoon dried parsley*
2 tablespoons dried onion flakes*
2 vegetable bouillon cubes that have be smashed into powder
1 teaspoon black pepper
1 1/2 cups of whole wheat pearl (Israeli) couscous
1 1/2 cups regular pearl (Israeli) couscous
• 1 cup raw shelled pistachios (can sub any nut)
• 1 cup dried cranberries (can sub any dried fruit)
In small bowl, mix together mint, parsley, dried onion, crushed vegetable bullion and pepper.
Pour approximately 2 tablespoons of spice mix into the bottom of clean, dry jar. Repeat for total of 3 jars.
Layer ingredients in a manner that pleases you until ½-inch from top. The approximate measurements I used for my layers were 1/3 cup for each couscous layer and 3 tablespoons for each fruit and/or nut layer.
Screw lid tightly on and decorate with ribbon.
Makes 3 gift jars that serve 2 – 3 people each.
Cooking directions on gift tag (above).
*Litehouse Food's line of Instantly Fresh Herbs work very well in this recipe and actually they're having a Pinterest Sweepstakes where you can win the entire line of Instantly Fresh products plus a $250 Amazon gift card (but hurry because winner will be drawn on 12/23/2014).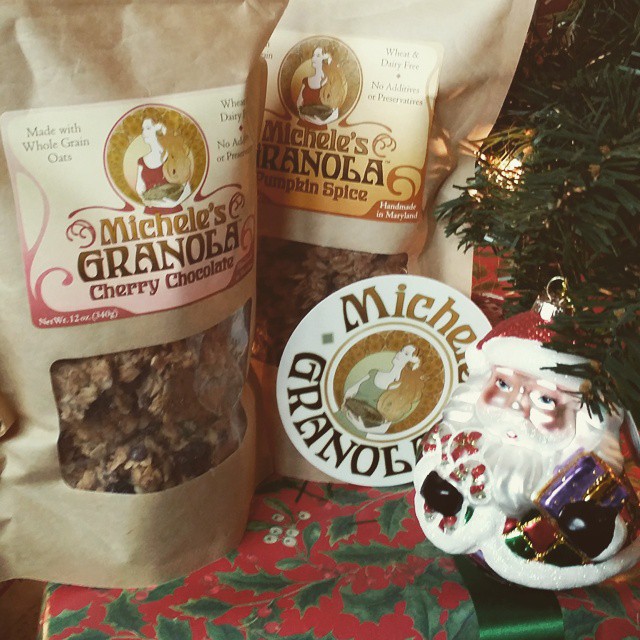 Also, I want to share with you a delicious granola that I was recently sent to sample – Michele's Granola! I tried the Cherry Chocolate and Pumpkin Spice flavors and they were both oh-so yummy (better than cookies!) that I can't wait to munch on every other variety of this handmade, small-batch granola. Michele's Granola is made with 100% organic whole grain oats (most other ingredients are organic too) and everything is also GMO-free, preservative-free, dairy-free, wheat-free and peanut-free.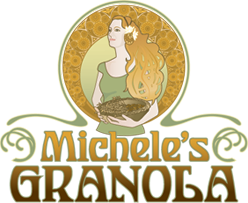 You can find Michele's Granola at natural food retailers (Whole Foods in Austin), grocery stores or online at MichelesGranola.com. Use promo code FRESH10 to get 10% off your online order.
Do you make any homemade food gifts for the holidays? Please share your ideas!