As promised, I've rounded up my recent granola recipes in honor of National Oatmeal Month.  For years, I just mindlessly bought granola at the store until I realized how insanely easy it is to make at home. Not only is it super fresh and more economical, but my favorite reasons for baking homemade granola are the creativity factor and control over the ingredients.  Try one, try them all!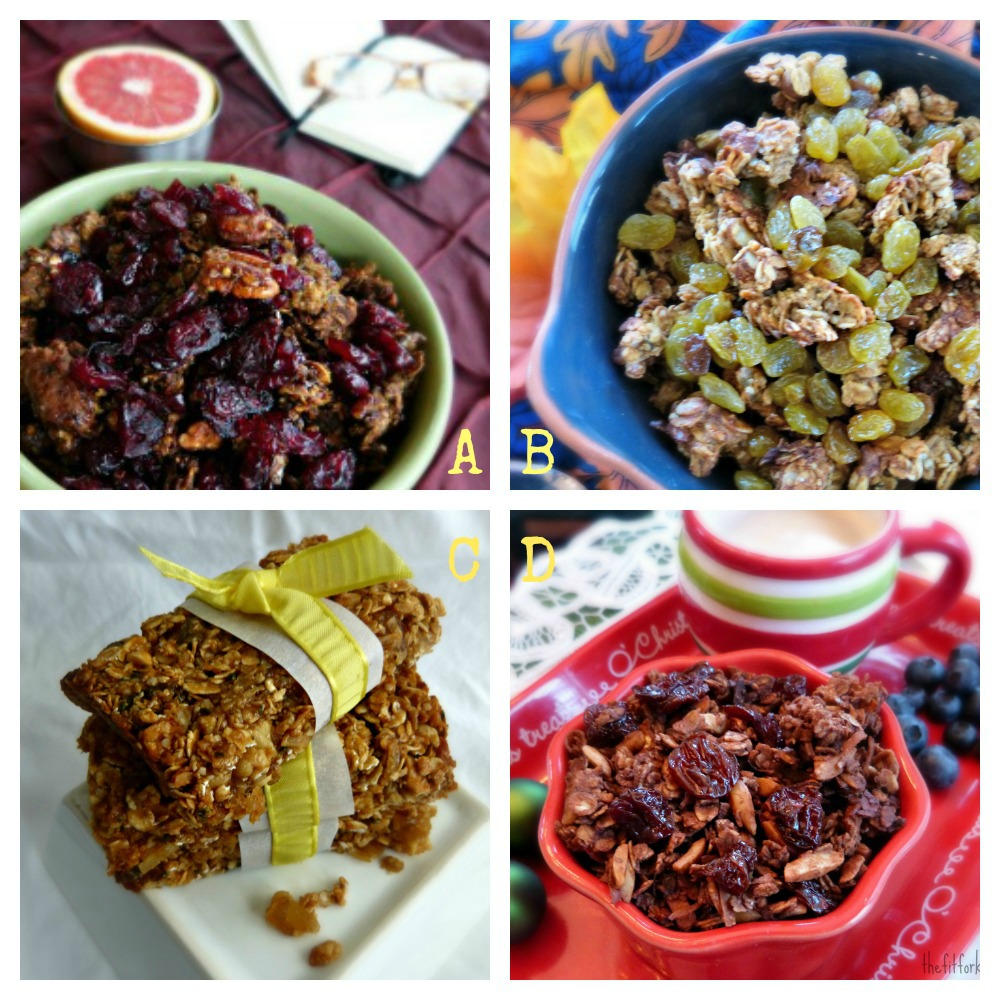 A) Chocolate Cherry Protein Granola – This chocolate granola is so scrumptious I could eat it for dessert! Problem is, my kids and husband always have the batch polished off before lunch!
B) Smashing Pumpkin Protein Granola – Pumpkin shouldn't be a seasonal food; I stock up on canned pumpkin in the fall so I can show my thanks to this super nutritious squash all year long.
C) Tropical Caramel Cashew Granola Bars – Coconut and cashews hugged with gooey caramel, these chewy granola bars get a protein boost with raw shelled hemp seeds.  Perfect for gym bags and lunch boxes!
D) Gingerbread Cranberry Protein Granola  – One whiff of this granola wafting from the oven will give you that warm fuzzy feeling of being at grandmother's house and helping with the baking. Nostalgic noshing!
AvocadOMG! You're going to think "oh no she didn't," but OH, YES I DID! I'll stop shouting now to share the news about my recipe for Avocado Pineapple Granola, not only is it strangely delicious but also over-the-top nutritious. By substituting mashed avocado for the coconut oil I typically use in my granola recipes, I was able to significantly reduce the amount of saturated fat.  Did you know the fats found in avocados are healthy and satiating? Check out some new research on avocados and satiety that I think you'll find . . . .full-filling!  Eating 1/2 an avocado with a meal can make you feel satisfied and reduce the urge to snack following a meal.
Avocado Pineapple Granola Recipe
3 cups old-fashioned oats
1/2 cups raw, shelled hemp seed
1 cup unsweetened coconut flakes
½ cup roasted pumpkin seeds (pepitas)
1 large avocado (approx. 1 cup mashed)
1/4 cup almond milk
4 – 6 single-serving packets Stevia (depending on sweetness preference)
4-ounce unsweetened applesauce
1 cup dried diced pineapple
Instructions
Preheat oven to 325°F. Line a baking sheet with parchment paper.
In large bowl, toss together oats, hemp, coconut, and pumpkin seeds. Set aside.
In a medium bowl, add peeled avocado, almond milk, Stevia and applesauce. With a fork, mash together until combined and creamy.
Add avocado mixture into bowl with dry ingredients; mix with spatula until completely coated. Do NOT add pineapple before cooking.
Spread granola onto prepared baking sheet, pressing down slightly, and bake for approximately 1 hour. Stirring every 20 minutes, taking care not to break up all the clusters.
Remove from oven, stir in dried pineapple, and let cool on pan at least 15 minutes before breaking into clusters