Grilling season is here! It's my favorite cooking method and I'm a lucky girl to live in a climate that permits it nearly all year. Most of us use the grill to fire up steaks, burgers, chicken and even seafood. But, don't forget to grill your vegetables – flame-kissed, caramelized vegetables are magic! Adding grilled vegetables to your meal is the easiest way to win dinner, win compliment, and win the summer!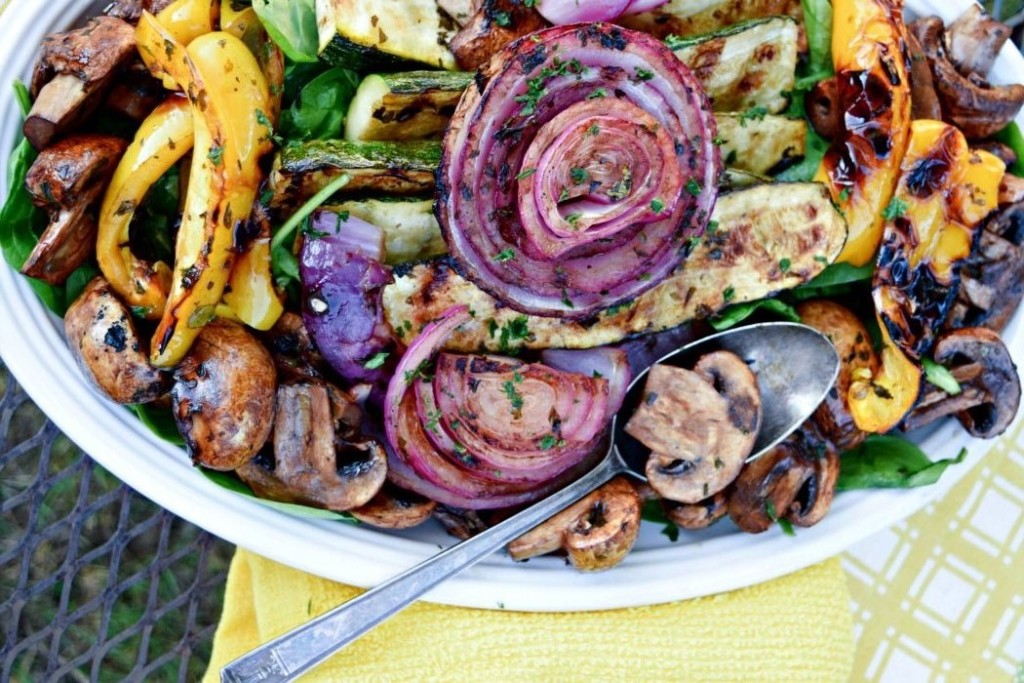 There is no excuse to be stuck inside with a plate of steamed broccoli or sad salad when you can be outside kicking up the flavor. and your heels! You can grill just about any veggie, even lettuce and lemons! Read on to get vegetable grilling tips along with some great recipes.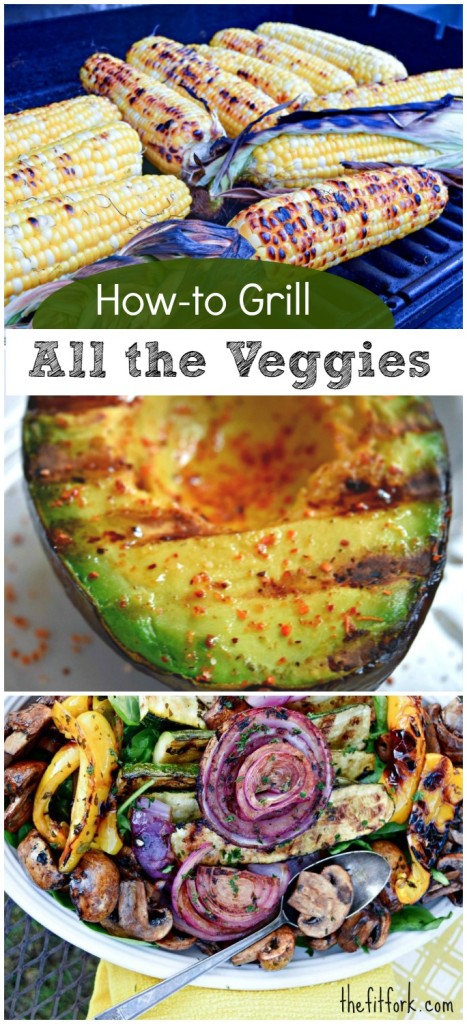 How to Grill Big Veggies: Grilling bigger, sturdier vegetables like zucchini, eggplant, cauliflower, onions or sweet potatoes is super easy. Cut these larger veggies into thick planks or "steaks," brush both sides with olive oil, and then sprinkle with your favorite herbs and spices. Place directly on the grates (heated to about 400F) for 2 to 4 minutes per side, depending on thickness.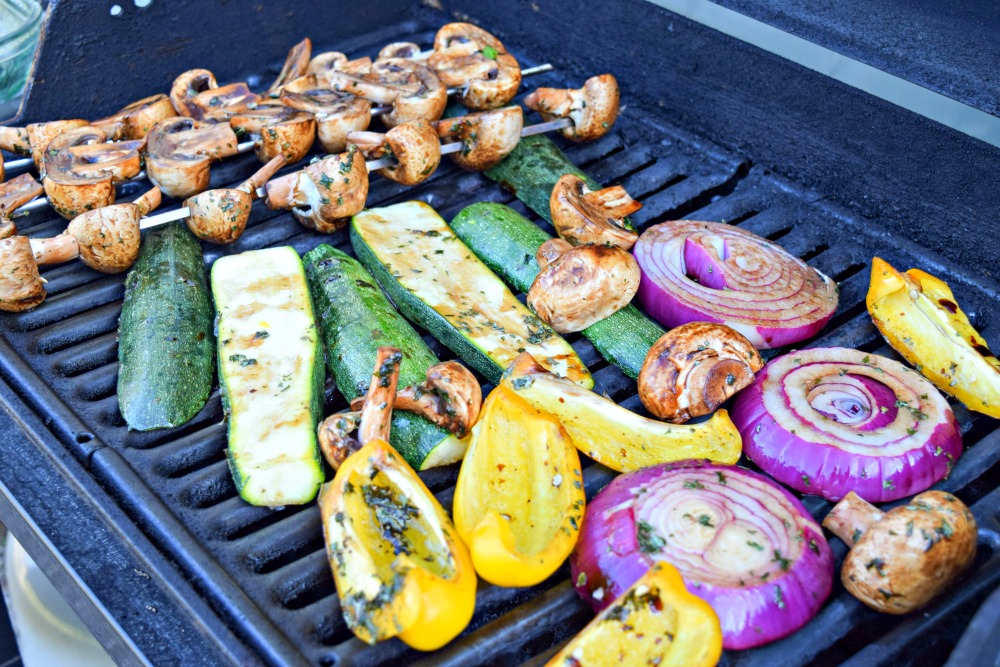 With a bounty of beautiful grilled vegetables, you can toss together my Balsamic Grilled Vegetable Salad which is delicious served warm or cold. Leftovers can even be used in pasta, on pizza and in sandwiches and wraps!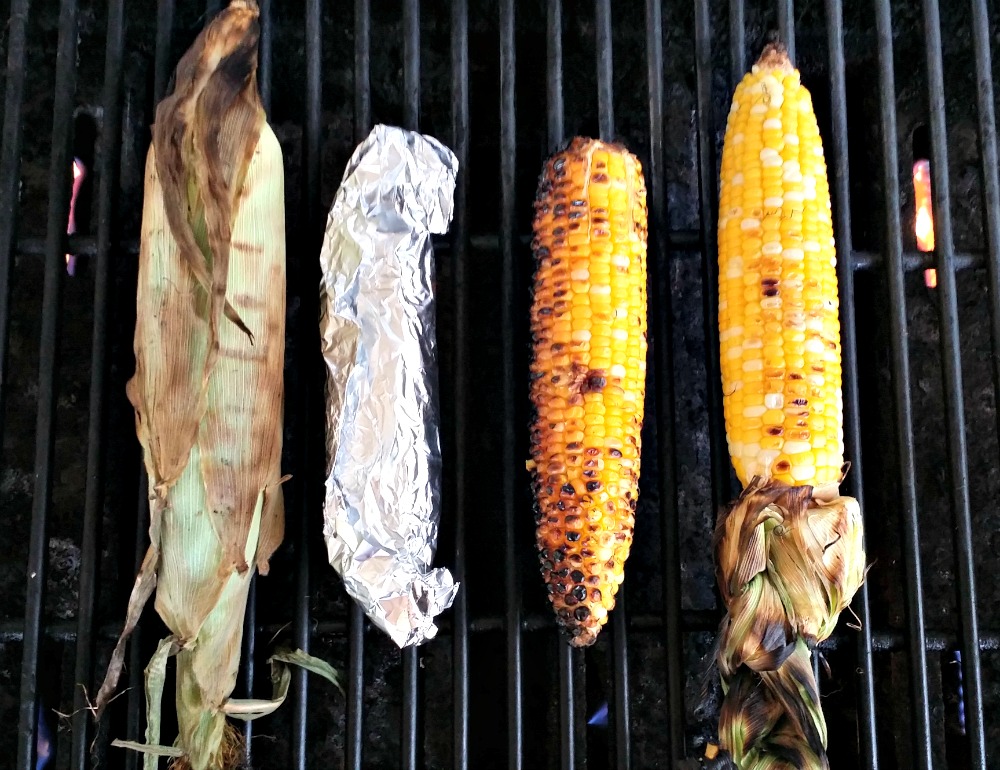 How to Grill Corn on Cob: Grilled corn is a staple at my house, who doesn't love to nibble juicy, flame-kissed kernels off the cob?! Or, shear off the corn and use in recipe, the grilling adds depth and dimension. Check out my post on 3 Ways to Perfectly Grill Corn, I share how to grill it in foil, in the husk and "naked" right on the gates.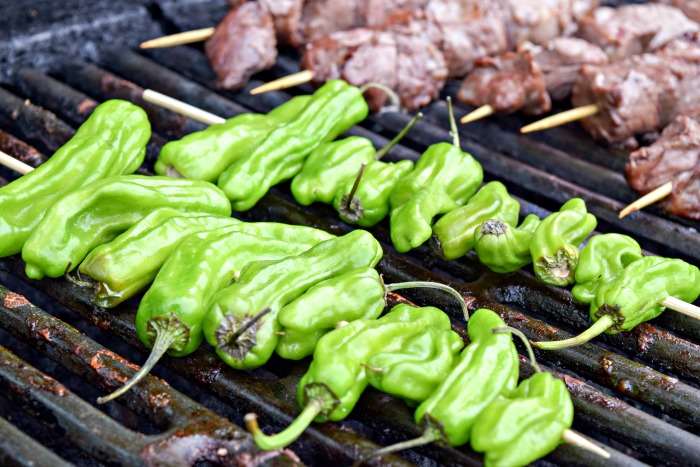 How to Grill Small Veggies: Smaller veggies such as small peppers, Brussels sprouts, cherry tomatoes and mushrooms should be skewered to prevent them from falling through the grates.  It's not like I'm orderly, but I like to organized my vegetables by type on the skewer (tomatoes on one, squash on another, etc.) – this helps to ensure even cooking as some veggies react to the heat faster than others. A stainless-steel grill basket is another option for rounding up and cooking small vegetables on the grill.
How to Grill Lettuce: The best lettuces for grilling are those that are tight and naturally bundled. For example, Romaine lettuce is a super star on the grill, spring mix lettuce is NOT! In addition to Romaine, other lettuces and lettuce-like vegetables that are good for grilling are radicchio, iceberg, endive and cabbage.  The basic strategy for grilling lettuce is to cut round or enclosed lettuces in half lengthwise, drizzle with olive oil, season with salt, pepper, steak blend or other seasoning of choice, and place cut-side down on grill pre-heated to about 400 F degrees. Cook lettuce until slightly wilted and bearing char marks, about 5 minutes. To serve squeeze with lemon juice or a favorite dressing.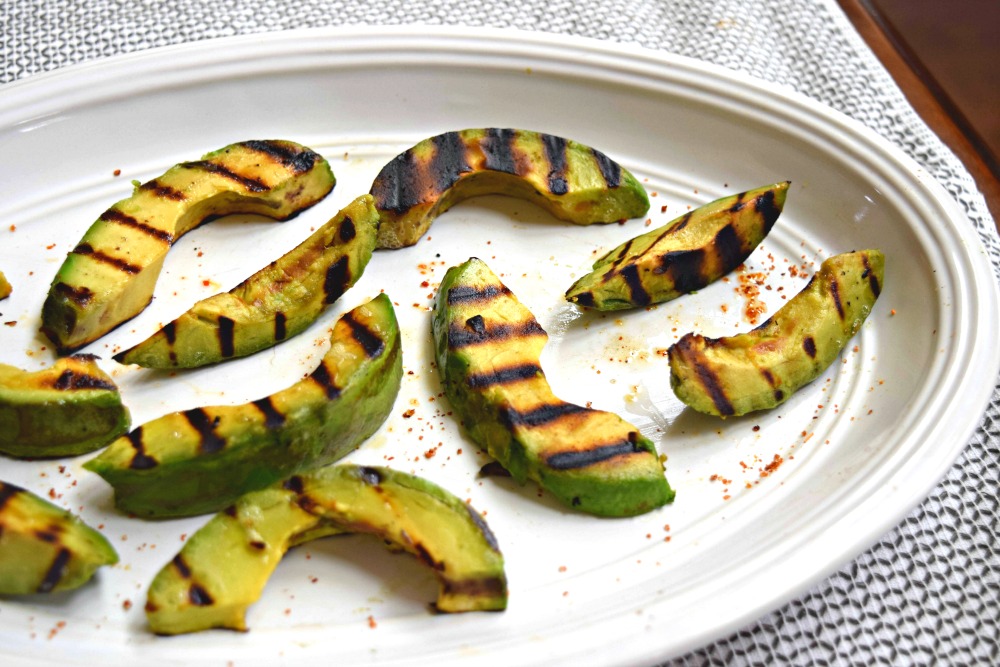 How to Grill Avocados: Yes, yes, an avocado is technically a fruit. But we use it as a veggie, so I'm including it in this roundup for vegetable grilling. Grilling an avocado is so simple and imparts savory, smoky overtones that the raw fruit just can't offer. When picking avocados to grill, choose large ones that are mostly ripe, but still have some firmness – but not rock like! Don't pick those that are super soft or yield significantly when given gentle pressure with a thumb. A good indicator for ripeness is also that the dried stem nub pops off easily.
Avocados can be grilled a couple ways. The easiest way is to simply by slice in half, leave the peel on but remove the pit. Next brush with olive oil before setting face-down on hot grates for about 4 minutes. Peeled and pitted avocado cut into slices can also be grilled and the benefit is that you get nice char marks on both sides.  Slices can be a little more fragile than halves, you want to make sure you've selected a firmer ripe avocado – like the type you'd say "this one is perfect for guacamole in one or two days."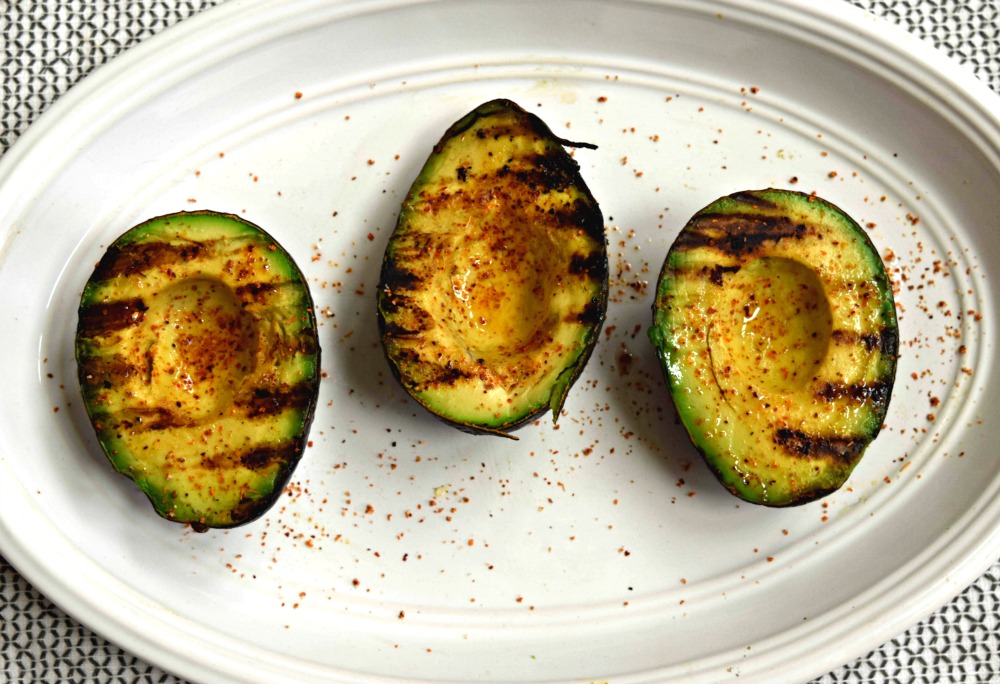 A beneficial thing about grilling avocados is they can be saved for several days in the fridge without turning brown. That's because olive oil liberally coated on all exposed areas of the flesh creates a barrier to prevent oxidation. You can use your leftover grilled avocado in stunning salads, on tasty tacos, on sandwiches or even mash up as "grilled" guacamole.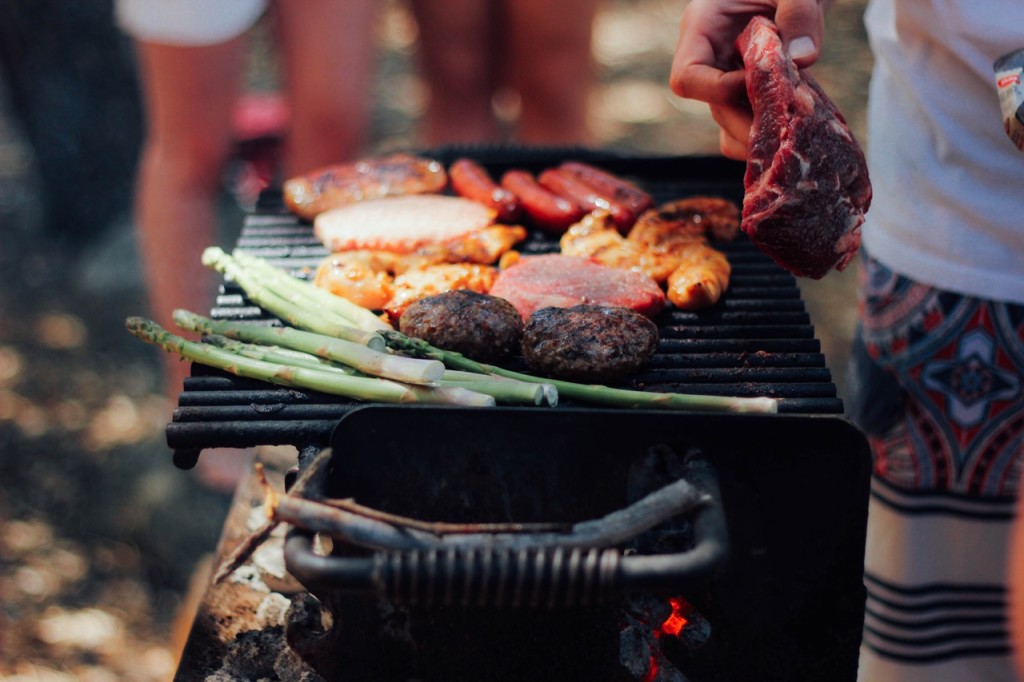 Final Thoughts on Grilling Veggies: With little added fat or heavy sauces, grilling is a healthy way to prepare seasonal produce and solid argument for adding some to your plate tonight. What a perfect pairing for lean proteins sizzling off the grill, too! Plus, grilling vegetables is a great way to get outside and enjoy some relaxing patio time. After such a healthy meal, why not treat the kids and yourself to grilled Chocolate Covered Strawberry Banana Boats, so ooey and gooey they should only be enjoyed outdoors!
Linked up with Confessions of a Mother Runner
What are you grilling this week? What is your favorite vegetable to grill? Please share in the comments — XOXO, Jennifer