This post sponsored by Pollo Tropical, but all opinions & enthusiasm are my own.
You've heard me say it a zillion times . . . I'M HUUUUUNGRY . . . I need tasty, nourishing food and I need it FAST! Well, this weekend I discovered Pollo Tropical, a quick island-inspired dining spot that filled the void in my tank without draining my pocketbook or making me wait so long as to faint from hunger. And, HURRAY, it is right across the street from the running trail at Lady Bird Lake and several downtown gyms– how I've never seen it before, I don't know (I guess I was running to fast, haha).
While I wasn't in need of a post-run meal the day I stopped in, I was sticking to my overall clean-eating plan as I'm in the middle of 5 weeks of competition for the Crossfit Games Open and two back-to-back Warrior Dash and Spartan Races Now is no time to eat junk . . . . food is fuel!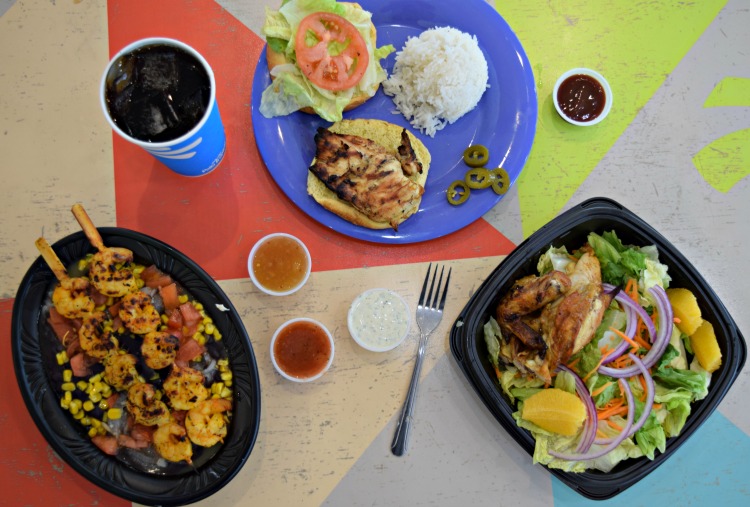 Thankfully, the overwhelming majority of menu items from Pollo Tropical easily fit into an overall healthy lifestyle. This Caribbean vibe restaurant which originally started in Miami and now boasts quite a few locations across the county (store locator). It has a near cult following for their citrus-marinated grilled chicken. Naturally, this fresh and fit chicken is free of hormones and trans-fats. And, for you protein-lovers like me, Pollo Tropical also does slow-roasted-mojo pork, beef, grilled shrimp and more.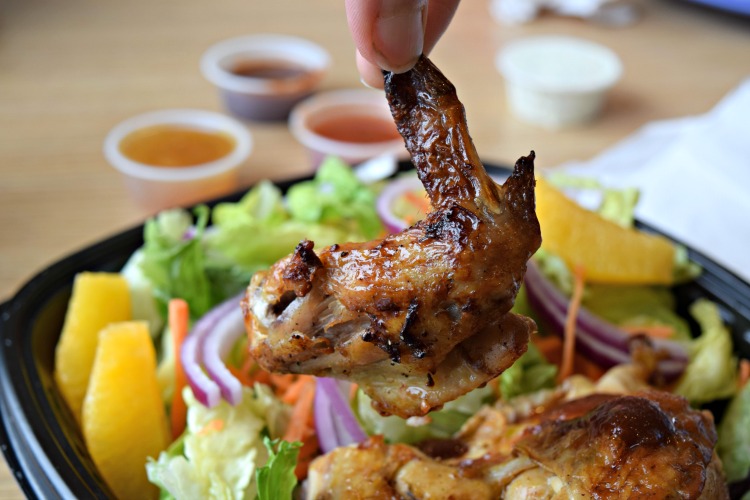 I picked the Light Citrus Chicken Salad from the Tropical LITE menu – it featured ¼ of a whole zesty, flame-kissed chicken on crispy Romaine lettuce, fresh segmented oranges (not canned crap) with Mango Poppy seed dressing on the side. All this low-carb, high-protein deliciousness, just like I like, for only 360 calories.  With a total of five meals on the Tropical LITE menu (each under 510 calories) I'm going to celebrate National Nutrition Month in March with a different tropical vibe chow down every week!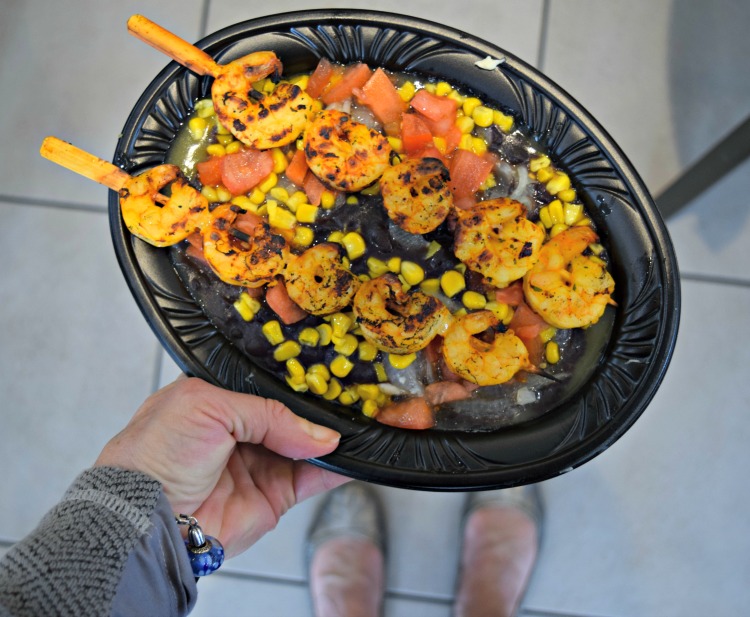 My husband treated himself to one of the TropiChop Bowls with the new flame-grilled shrimp skewers. The TropiChop Bowls are very personalized and pack a punch of flavor designed just for you – that's because you customize your small or large bowl with a main dish protein (including vegetarian options), add a base like rice or potatoes, and top it off with fresh ingredients like chopped tomatoes, corn, sautéed peppers & onions, made-from-scratch beans and flavorful sauces.
Full disclosure, my husband wasn't on the lower-carb kick that I was and ordered his large Grilled Shrimp TropiChop Bowl with mashed potatoes as the base. When I carried that bad-boy over to the table, it was a workout in itself – imust have weighed a pound or two! But, he's a very active guy (who's also much bigger than me) and he needs his energy! I had a taste and it was flipping delicious – I would totally order mashed potatoes on the bottom for a marathon carb-loading meal! But, I also appreciate that for everyday lunch or dinner, I can lower the carbs and calories while upping fiber buy subbing half brown rice and half Romaine lettuce.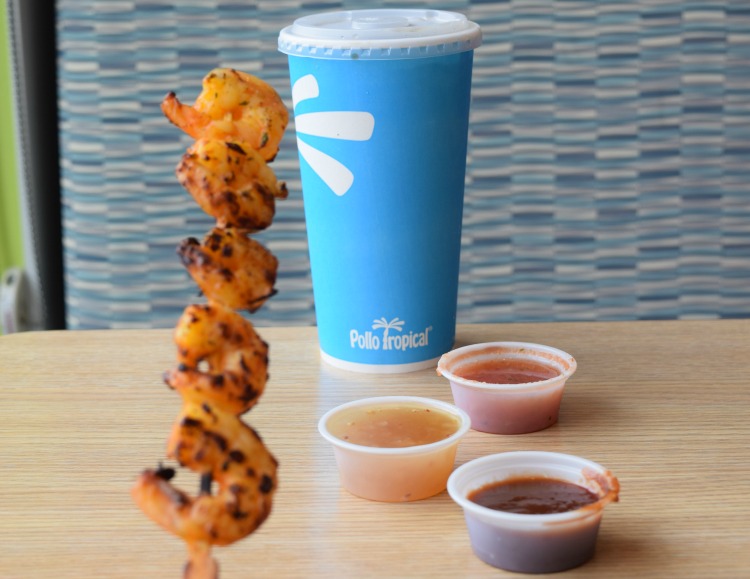 Did I mention how kebab-a-licious those grilled shrimp skewers were?! I convinced my man to swap me one of the two on his Tropichop Bowl for part of my chicken. It was a win! It was even a biger win when I saw their massive self-serve signature sauce bar available for dipping, drizzling and dousing! I couldn't decide between Guava BBQ, Fresh Salsa, Curry Mustard, Cilantro Garlic, Salsa Fuego, Pollo Tropical® Hot Sauce, Spicy Poyo and BBQ, so I sampled them all!  I've always found that a little dab of bold sauce can add a ton of flavor to healthy dishes without any guilt.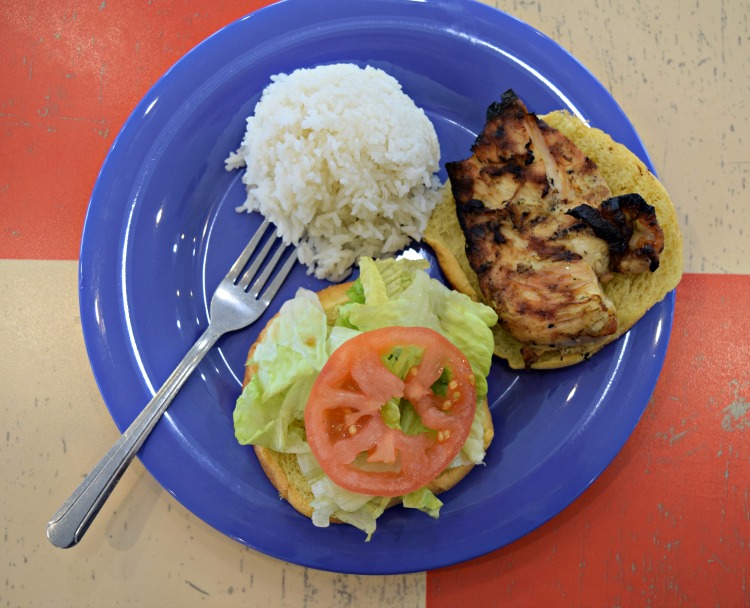 They also have a kid's menu if you have little ones in tow. And, if your kids are bigger, like my teenage boys, they will also love the variety of regular menu options. My youngest, even though almost 15 years old, is still kind of a picky, no sauce, no mingled foods kind of guy – but he plays sports and has a huge appetite. He enjoyed the Classic Chicken Sandwich  with plain white rice, ordered just his way – no sauce and no tomato. But, then I made him order the tomato because I wanted to eat it – haha!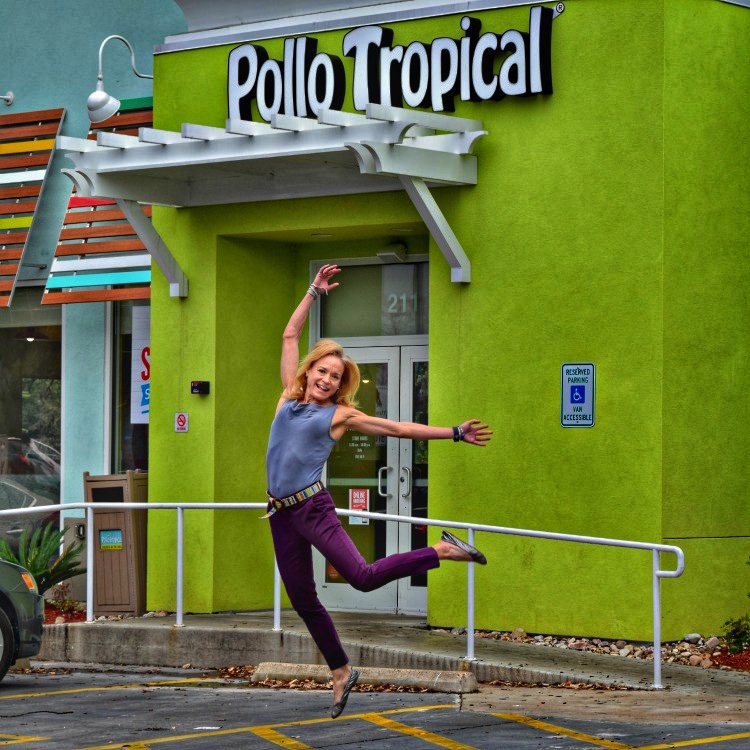 After my next long run on Ladybird Lake, I'm planning to return to this quick Caribbean food joint – I can eat in or drive-thru if I'm too tired! Such a better option and nice change of pace from all the hamburger and taco joint in Austin. But, while I'd like you to visit Austin, you don't need to enjoy Pollo Tropical – look for a location near you!
What is your go-to quick dining restaurant? Do you usually eat in or drive through? Have you been to any Caribbean islands? Please share in the comments – XOXO, Jennifer