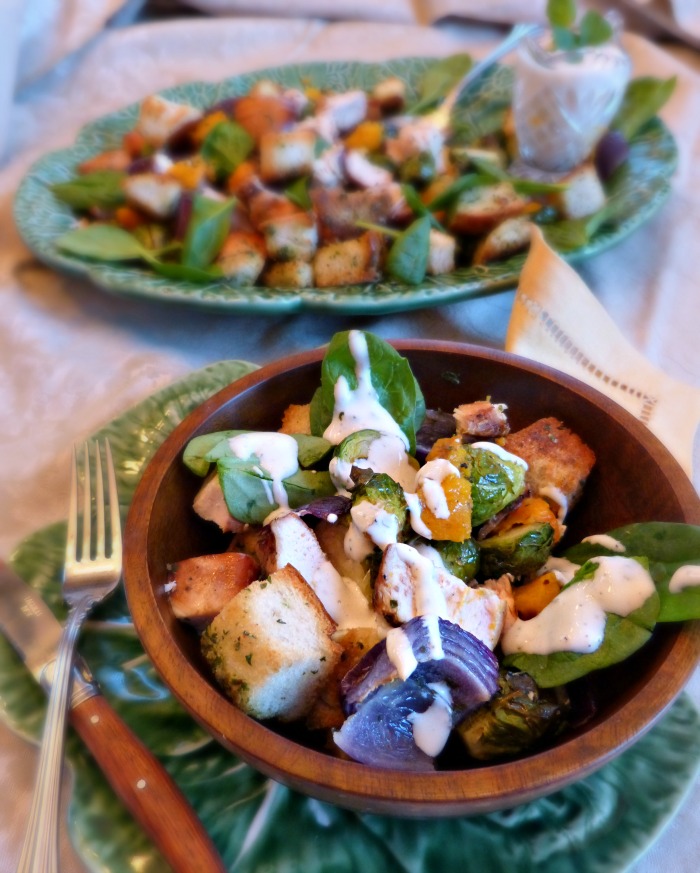 Winter is almost here and big salad for dinner might sound a bit out of season. However,  I've tossed together a fabulous entrée salad for Litehouse Foods that will have you crawling out of hibernation during the calendar's cooler months. My Ranch Winter Panzanella with Chicken is inspired by bread salad renowned in the Tuscan region of Italy that most often features sun-ripened tomatoes, lettuce and basil drizzled with a vinaigrette. However, my sweater-weather version of this signature seasonal course includes chicken breast along with roasted winter vegetables caramelized to sweet, earthy perfection — and finished with a creamy Greek yogurt ranch dressing. Baby Brussels sprouts, butternut squash, red onions and spinach are all in the mix, but swap out or add to the robust medley with any favorite ingredient — most root vegetable will win raves.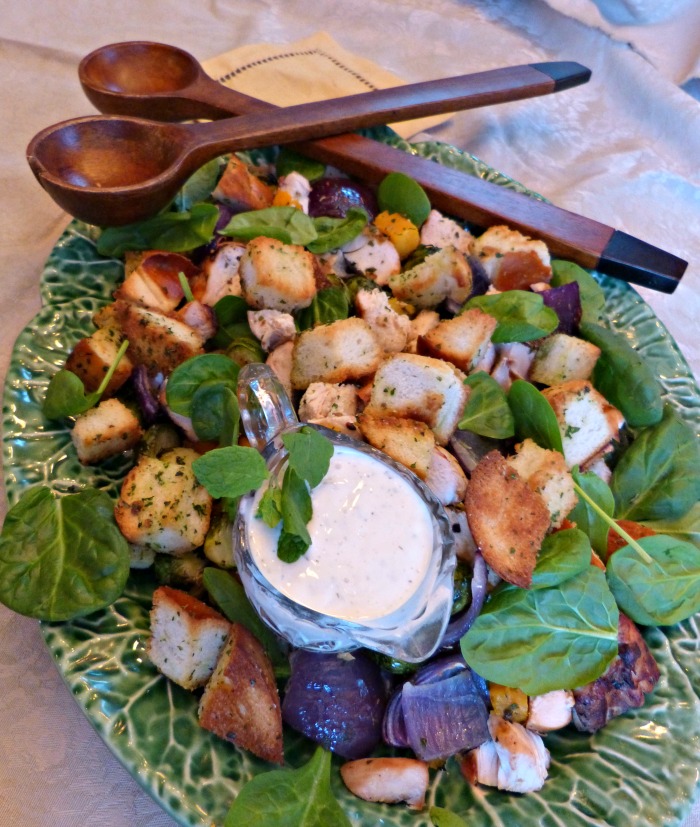 Roasting vegetables is super easy. Coarsely chop up potatoes, squash, onions, Brussels sprouts, carrots or whatever hearty veggies you love and top with a drizzle of olive oil and a sprinkling of sea salt. Roast for 30 minutes in a 400 F degree oven, stirring halfway through.
Mmm, you don't want to miss the full recipe for this salad. Visit the blog at Litehouse Foods for all the delicious details.
Ranch Winter Panzanella with Chicken
Ingredients
½ loaf (about 8 ounces) day-old French or Sourdough or Rustic bread (cut into 1" cubes)*
4 Tbsp olive oil (divided)
4 Tbsp dried Italian Herb Blend (divided)
2 teaspoons coarse sea salt (divided)
1 10-oz package frozen cubed butternut squash
1 lb fresh baby Brussels sprouts (halved)
1 large red onion (peeled and cut into 1" chunks)
1 lb pre-cooked chicken breast (cut into large chunks)
1 cup packed fresh spinach leaves
½ cup Greek-yogurt based or light Ranch Dressing
Directions
1. Preheat oven to 400 F.
2. Add bread cubes to large bowl. Drizzle with 2 tablespoons of the olive oil and sprinkle with 2 tablespoons of the Italian Herb Blend and 1 teaspoon of the salt.
3. Toss together to coat bread. Spread out on rimmed baking sheet and bake uncovered for 10 minutes, stirring once halfway through. Remove from oven to cool on paper towel. Keep oven heated.
4. In large bowl, add cubed squash (okay if still frozen), Brussels sprouts, and onion. Drizzle with remaining 2 tablespoons of olive oil and sprinkle with remaining 2 tablespoons Italian Herb Blend and remaining 1 teaspoon salt. Dust off crumbs from crouton baking sheet and spread out vegetable mixture in single layer. Roast uncovered in 400 F degree oven for 30 minutes, stirring gently halfway for even cooking.
5. Remove vegetables from oven and let cool down for approximately 15 minutes. Add prepared bread croutons, cubed chicken and spinach to pan; toss together. Transfer to serving platter and drizzle with Ranch Dressing or serve on the side. Best served warm or at room temperature.
*tip: frozen French bread is very easy to cube