Money can't buy happiness, but it can buy compression socks, massage tools, foam rollers, mobility gear, and special lotions and potions and some good eatin' that can soothe sore muscles and quicken workout recovery — in my world, this kind of self-care IS the very definition of happiness. That's why I've put together this Holiday Gift Guide for Sore, Tired, Hungry Runners!
I've compiled a Holiday Gift Guide for Sore, Tired, Hungry Runners with my favorite items to help make muscle soreness and fatigue a distant memory and ready an athlete up for his next scheduled sweat sesh! From totally-worth-it splurges to little stocking stuffers, there is something for every sore and tired athlete in your life  . . .or maybe you!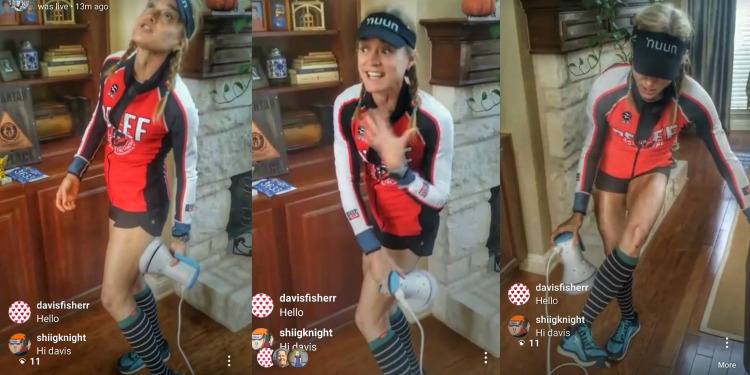 MyoBuddy Pro Massager: This massaging tool adds professional grade deep tissue, warming, trigger point and cutting edge vibrational massage to soothe sore muscles and easy myofascial pain. I was introduced to MyoBuddy at Dallas Mania, I thought it was just another drugstore massager, but I tried it out and ooooooh was I wrong. It's "percussive" vibrations which resonate deep into tissues and increase blood flow to the muscles thusly quickening repair were sweet music to my aching body. The edge can be used to help break up scar tissue and adhesions. MyoBuddy Pro is now the go-to "power" tool in my recovery toolbox.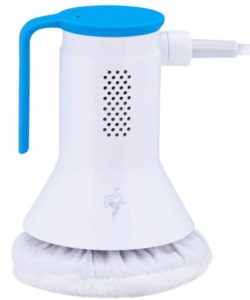 Some things I love about this massager, aside from the unique percussive vibrations, are the super long cord that lets me move around as I like . . and even over to the couch! Also, the rotating head has three speed options to choose from depending on recovery, circulation, mobility and relaxation needs.
This professional quality percussive massager is used in the practices of many physical therapists, masseuse, sports trainers and more and is worth every single penny. If it seems pricey, just think of the savings in time and money that will be gained with fewer appointments of these types. You can save $100 off  on the MyoBuddy Pro (normally $399) with my special discount code SPJEN  Order yours HERE!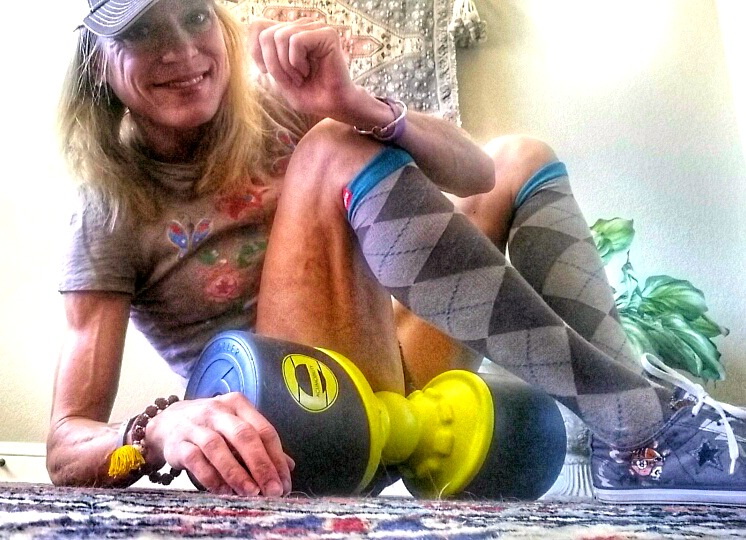 Eclipse Roller from Acumobility: Acumobility "rolled" this roller out about a year and a half ago, and I've still not seen a mobility product in this full-roller sized category that's better. It's an all-in-one roller and trigger point tool that with multi-compression zones that allow you to dig into  spots you just can't with a traditional foam roller . .  . I use mine every day! They also have other mobility gear like floss bands and mobility balls. Use my ambassador discount code ACUMOBFITFORK1 for 10% your order online at Acumobility.com!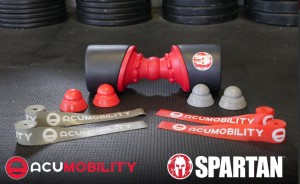 For the obstacle course racer who needs to blast their fascia into submission with Spartan style, Acumobility has recently partnered with Spartan Race and put the signature logo on their gear. Shop the Spartan Edition Acumobility products HERE and save 10% with code SCOUT10.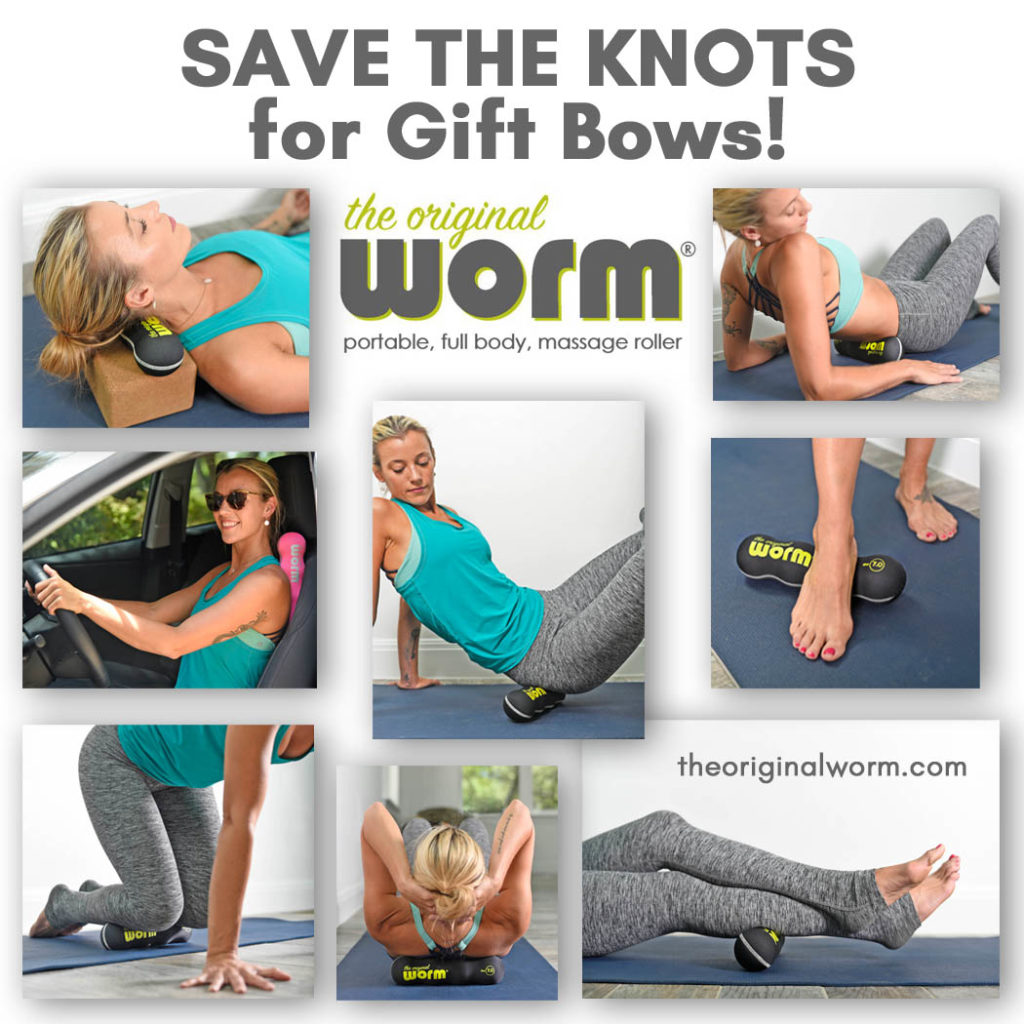 The Original Worm:  This is the company of an awesome friend of mine and if you've ever been in an airport, you've probably seen this mobility tool being sold in the kiosks and shops. It's a portable, multi-tasking body roller that combines the benefits of therapy balls with ​a foam roller. It can really get into the arches of your feet and nooks of your neck like a big roller can't.  ​A jet-setter's best friend, The Original Worm is equally amazing for workout warm-up and recovery – and sized just right to stash in a gym bag. Available in several sizes. Save 25% with my discount code FITFORK25  Order at TheOriginalWorm.com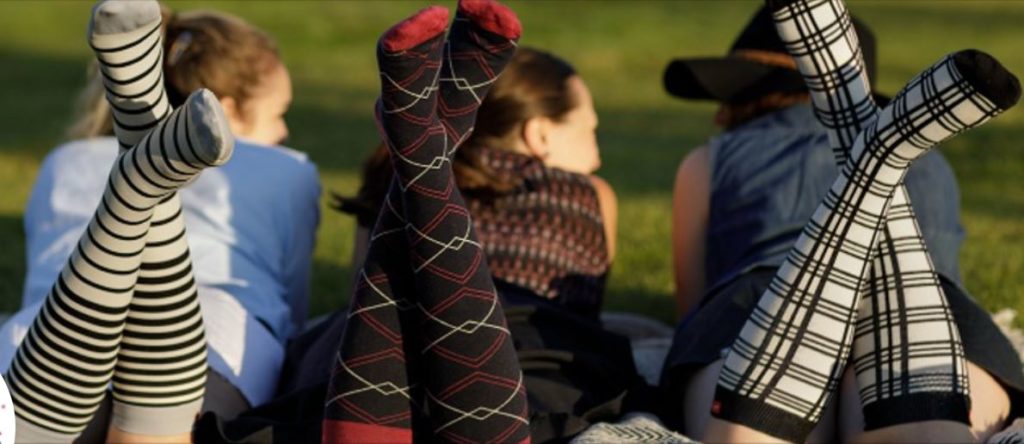 Vim & Vigr Compression Socks: Kudos to this compression sock company for the intersection of fashion and function. Most of us know that compression socks help fight off leg fatigue and speed recovery, but would rather not be caught in the proliferation of overly practical or garish styles. Vim & Vigr give your feet and calves an amazing, happy hug – all with on-point style for both men and women.  There is something for everyone here (even for work, travel, pregnancy, etc) and that's why it's a favorite on my Holiday Gift Guide for Sore, Tired, Hungry Runners  ***Black Friday Weekend Special through 11/16/15  — Buy 2 pair, Get 1 free****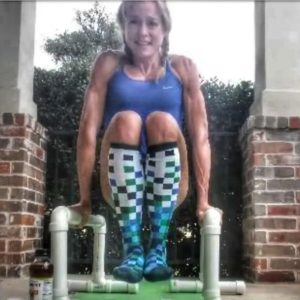 Pixel Print Compression Socks: From Linnai Products, these knee-high compression socks are fun, fashionable and super functional, not to mention an amazing deal on Amazon.com – I wore my pair during a 4 hour run and workout combo and they fit true-to-size and felt awesome. Plus, I got like a zillion compliments! Order them HERE.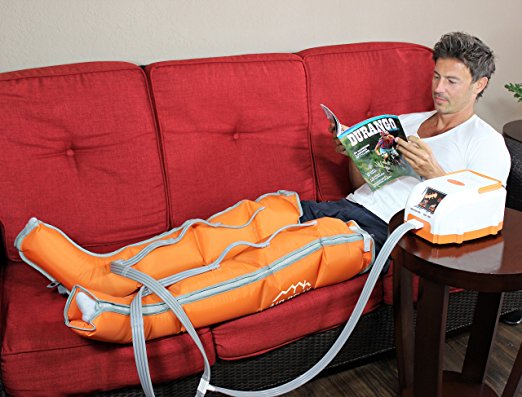 Air Compression Boots by Air Relax: This medical-grade device features to inflatable "boots" that provides dynamic sequential compression via adjustable pressure (four settings). Great for sports recovery and bouncing back from injuries. A variety of 30" inseam to fits most legs — this is a popular choice on the Holiday Gift Guide for Sore, Tired, Hungry Runners.
Celadrin® Topical Liposome Lotion from Now Solutions

: A practical but ahhhh-some stocking stuffer! Rub a little bit of this lotion into tired, sore joints and muscles and let the clinically tested Celadrin®, a complex blend of special fatty acids that are normally present in cellular membranes and arnica (an herbal analgesic) go to work. This liposome lotion contains natural menthol for its fresh scent, as well as MSM, as a source of organic sulfur. Paraben-free.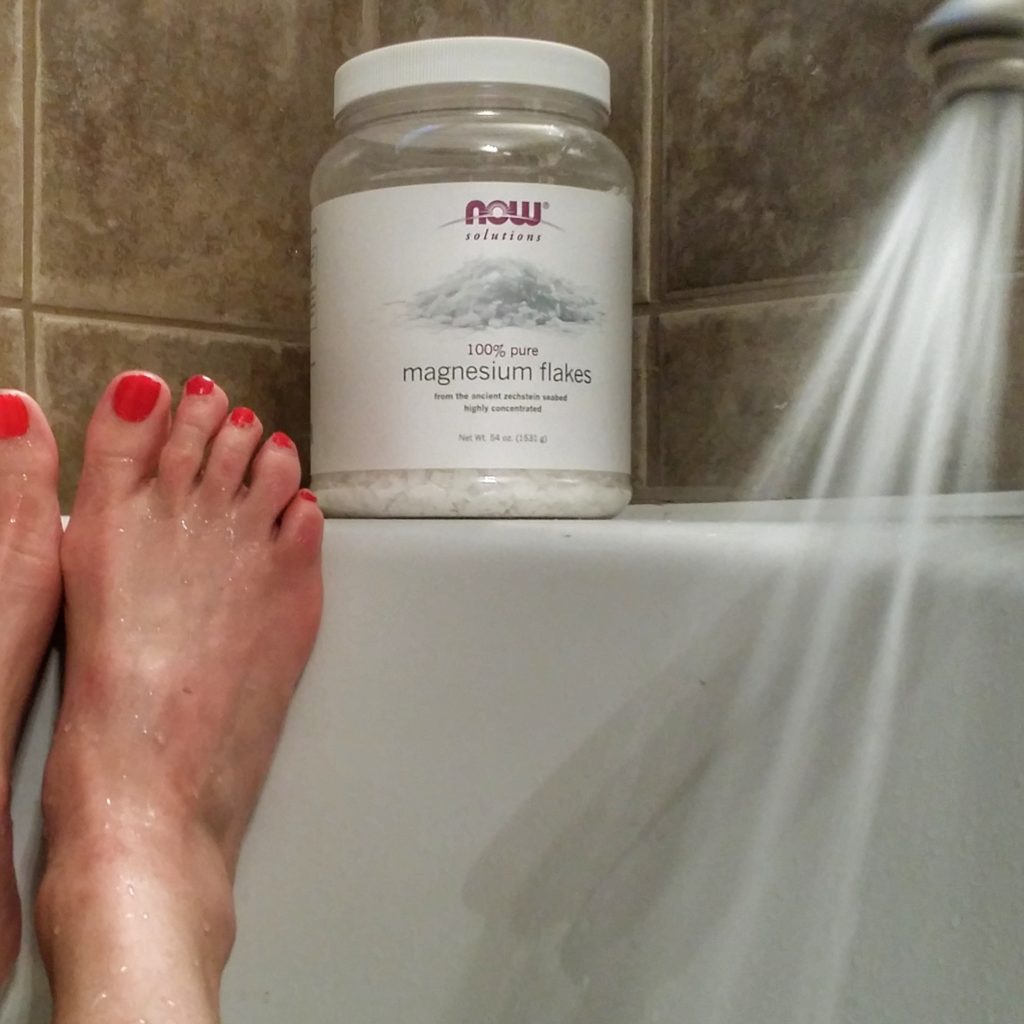 100% Pure Magnesium Flakesfrom Now Solutions: Magnesium flakes from ancient Zechstein seabed in the Netherlands, one of the world's purest remaining subterranean mineral source, make a very therapeutic (physical and mental) addition to any bath or foot soak. Magnesium is soothing for tired muscles and hydrates skin, and a nice soak helps to top off magnesium levels through your skin to help keep any future muscle cramping away.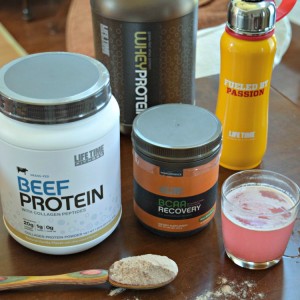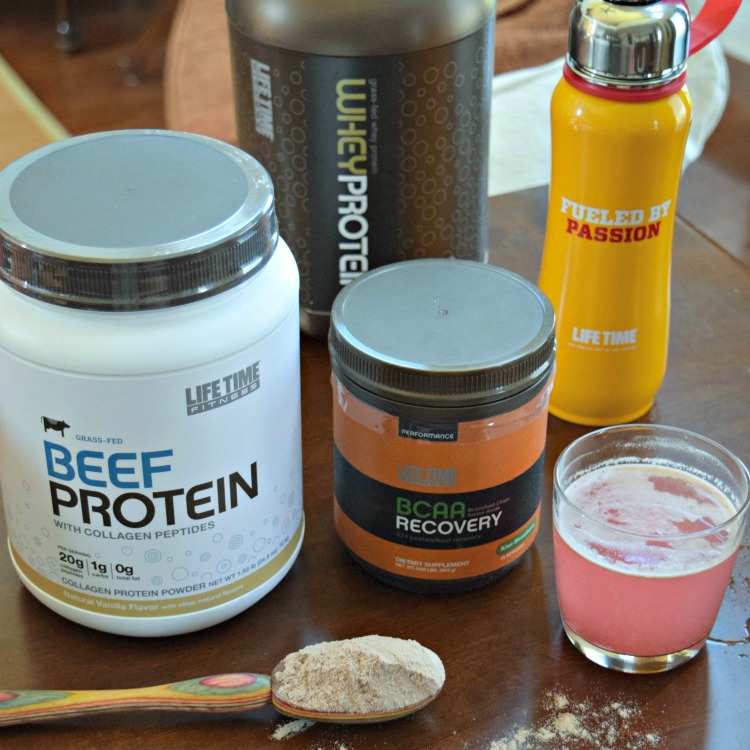 BCAA Recovery & Beef Protein from Life Time: This tasty drink mix can help reduce the hurt and enhance workout recovery by providing a potent blend of branched-chain amino acids (L-Leucine, L-Isoleucine, L-Valine), glutamine, magnesium, taurine and other bioactive ingredients. Plus, the Strawberry-Kiwi flavor is so yummy. *  And the Beef Protein is an easy, high quality protein source for post-workout shares and smoothies. Save 10% on Life Time Fitness supplements and nutritional products HERE, no code needed.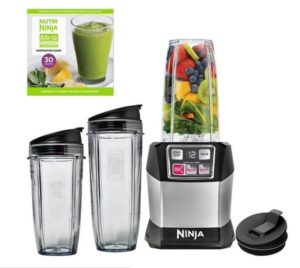 Nutri Ninja Auto IQ Blender: Take smoothie and shake making to a whole 'nutha level with this awesome blender that includes personal-sized, to-go cup. It's a great deal right now at Target, with free shipping and returns through 12/23.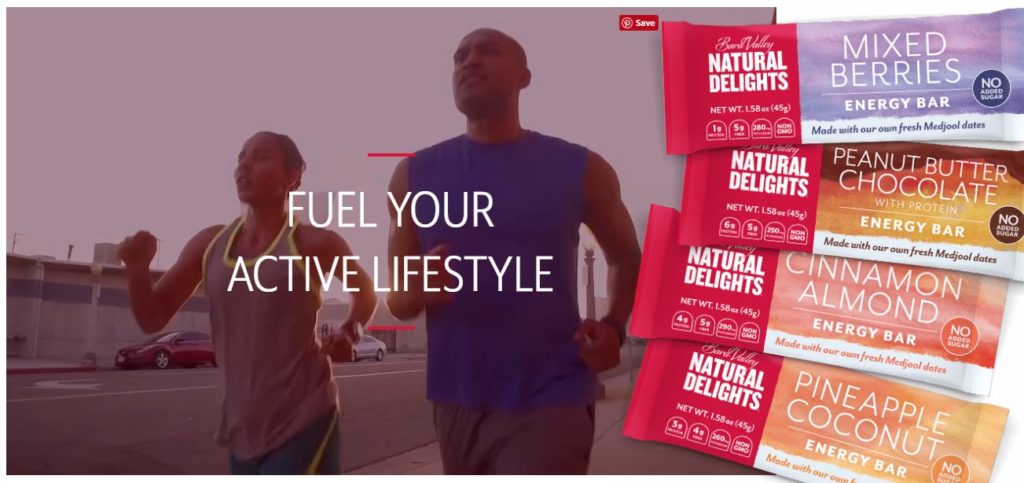 Medjool Dates: Medjool dates are Mother Nature's candy and hands-down the best source of quick energy during endurance sports and on active days. Packed with healthy carbs, fiber and potassium, dates should be in every runners stocking. Natural Delights Medjool Dates are my go-to brand, I use the organic pitted fresh dates as a sugar swap in recipes and eat them as is! I also love their new energy bars (peanut butter chocolate my favorite) and have been using them with lots of nutritional success before, during and after my long runs. And, the Date Rolls are a Christmas tradition at my house!
Sleep & Stress Test from Everlywell:  This at-home test analyzes the daily fluctuations of three vital hormones needed for a good night's sleep and can give you answers to sleep challenges. Sleep is so important for workout recovery and muscle gains, so this is a thoughtful gift for a runner who really needs to calm down and catch some Zzzzs.  Everlywell has lots of other in-home tests, and you can save 10% on any or all by shopping HERE.
"Clean" Fast Food Gift Card: Any busy athlete would love a gift card to grab a nourishing lunch after a workout. Skipping a meal after working out jeopardizes all the gains made in the gym and makes it hard for muscles to bounces back. One of my favorite quick order-at-the-counter spots is Noon Mediterranean (formerly Verts), they dishes and build-your-own bowls that with both animal and plant protein choices.
What is on your holiday gift list? Have you tried any of these products on my Holiday Gift Guide for Sore, Tired, Hungry Runners? Do you have any recommendations? Please share in the comments, XOXO — Jennifer 
Disclaimer: I received products in return for my editorial consideration. But I sincerely love everything and use it myself. Also, this post contains affiliate links.