If you're tired and stressed out, a good drink might put you in a better state of body and mind. One sip of this Pineapple Express Smoothie and you'll be whisked away via taste buds to a tropical island resort — can't you just see yourself relaxing in a hammock with nothing to do all day except listen to the sound of the waves roll across the beach?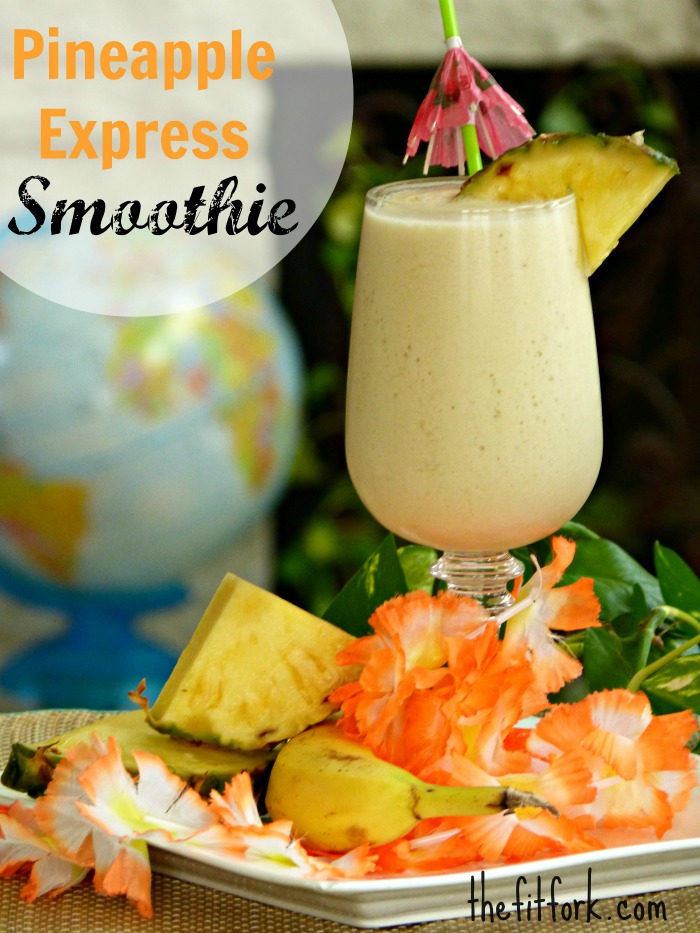 The recipe is simple, just blend 6 ounce chilled green tea and 4 ounces pineapple juice with 1/2 frozen banana and 1/2 cup frozen pineapple chunks. Add liquid Stevia drops and ice, as desired. The paper umbrella is mandatory!
So, if all that loafing around on your imaginary vacation has worked up your appetite, may I interest you in a burger? It is National Hamburger Month, after all! Sure, you could do a "burger" made with chicken, turkey, salmon or even beans – but nothing compares to the meaty satisfaction and siren song sizzle of a real beef burger.
Not that I don't love all the lean proteins just mentioned (because I do), but when I'm ready to fire up the grill and haul out the buns, this girl wants her hamburger a cut above! Pick your jaw off the ground (you'll need it for drooling over the recipe later), I'm here to share the news that a beef hamburger now, then and again is actually good for you – lean ground beef is an excellent source of protein, iron, b vitamins, zinc with only about 150 calories and less than 10g fat (depending on cut and cooking method) per 3-ounce serving. You could opt for super lean 95% ground beef for your burger, but I think that grind makes 'em a bit dry. I often use an 80 – 85% ground chuck for burgers and ensure that I'm allowing the extra fat to melt and drain off.  Sources say that after the fat is cooked off, the beef actually becomes about 10 – 15% leaner (so now the 80% is at least 90% lean, make sense?) and the burger is much more tender.
Now, I'm pretty famous in my family for taking my burger bunless, naked in all its God-given glory. Or, sometimes I'll dress up my burger with everything BUT a bun– check out my recipe for Hot Mess Hatch Green Chile Burgers on Calabaza Squash "Buns." That being said, I never turn down one of my Dad's homemade Jalapeno Cheddar Buns or burgers served on a "sweet" bun – like the King's Sweet Hawaiian Rolls used in the recipe for Mini Hawaiian Burgers from my friends at Beef. It's What's for Dinner.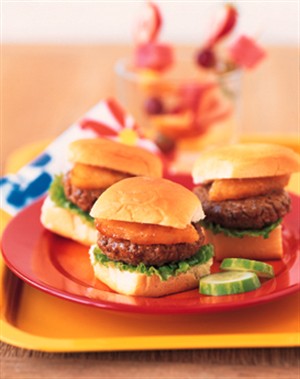 With summer on my mind and grilling season firing up, I knew this yummy, kid-friendly, island-inspired recipe for Sweet Hawaiian Mini Burgers would be perfect for a cooking demonstration I put on last night for a group of families and their elementary-aged children. This particular slider-sized burger was a huge hit, and I wasn't at all surprised that all but one of my audience members embraced their burger with the lettuce, pineapple, sauce and all! Of course, I had just talked up "trying new things" and "eating an abundance of fruits and veggies"!
Sweet Hawaiian Mini Burgers Recipe
Patties:
1 pound lean Ground Beef
1 tablespoon Worcestershire sauce
4 canned pineapple slices, drained
12 Hawaiian sweet or small whole wheat dinner rolls, split
Lettuce
Sauce:
1/4 cup barbecue sauce
1/4 cup pineapple preserves
1 tablespoon packed brown sugar
Combine ground beef and Worcestershire sauce in medium bowl, mixing lightly but thoroughly. Lightly shape into twelve 1/2-inch thick mini patties. Set aside.
Combine sauce ingredients in small saucepan; bring to a boil over medium heat, stirring frequently. Remove from heat.
Place patties on grid over medium, ash-covered coals. Grill, covered, 8 to 10 minutes (over medium heat on preheated gas grill, covered, 9 to 11 minutes) until instant-read thermometer inserted horizontally into center registers 160°F, turning occasionally.
Meanwhile brush pineapple slices with sauce and place on grid around patties. Grill pineapple 4 minutes, turning once and brushing with additional sauce. Remove pineapple, keep warm. Brush burgers with remaining sauce after turning.
Cut each pineapple slice into thirds. Line bottom of each roll with lettuce, top with burger, then with pineapple piece. Close sandwiches. Serves 4. Nutrition Information here.
(Recipe and photo courtesy of The Beef Checkoff www.BeefItsWhatsForDinner.com)