You'll make a splash with your next summer workout thanks to my Hydro Power Pool Workout. This series of dynamic moves uses the water-filled Kamagon Ball to incorporate the principle of Hydro-Inertia™. Rather than putting the fitness focus on isolated muscle groups, you'll be moving the targeted muscles along with your entire core as your body works harder to come into balance with the sloshing, destabilized weight inside the Kamagon Ball.  Even though it's lower impact,  this is NOT your mama's water aerobics!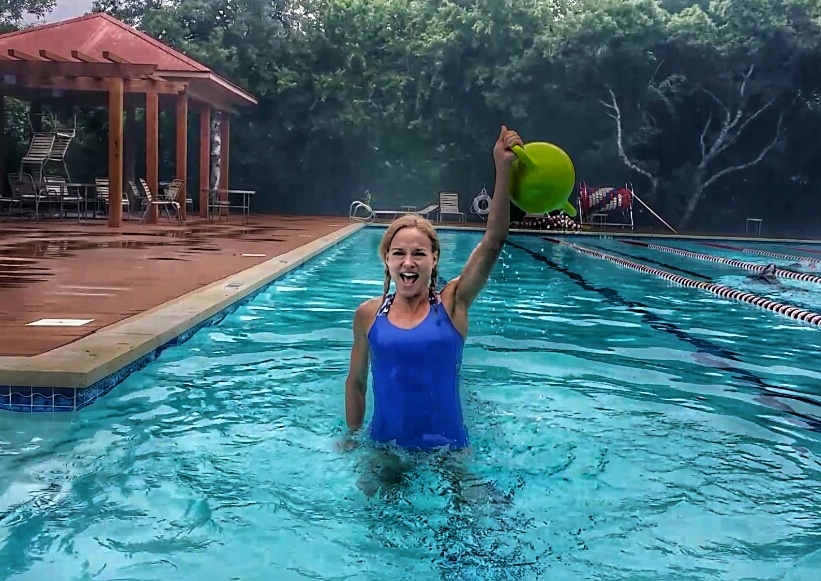 Add this water element to even more water (the pool!), and you've just boosted the resistance and effort. It's double the water, double the workout! Read on to find out more about the Kamagon Ball, get the entire workout and see the exercises demonstrated by video.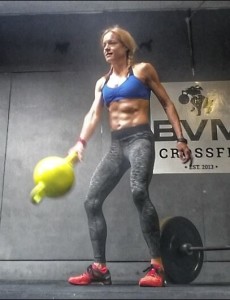 I've been a huge fan of Kamagon Ball by Hedstrom Fitness since last summer when I saw it at the IdeaWorld Fitness Convention – it's ideal for efficient, functional fitness! I was working at the Expo and was just so cold at my booth that I would pop over to their live workout demos to get warmed up. The equipment was fun, safe and delivered a challenging workout and I was hooked – now I'm an ambassador for Hedstrom Fitness and have used in in many of my "dry land" workouts. I also appreciate that their equipment is made in the USA and, if you sign up at Hedstrom Fitness, you can receive 10% off and free shipping.
This pool workout isn't your typical "aqua aerobics." It's high intensity and uses the dynamic water resistance in the Kamagon Ball combined with the drag from the pool to up your heart rate and workload. It's fun and it's functional! It's a great workout to do for a cool change of pace from the daily run in 100 degree weather or also a great option if you are nursing a running injury as the movements are lower impact in the cushion of water.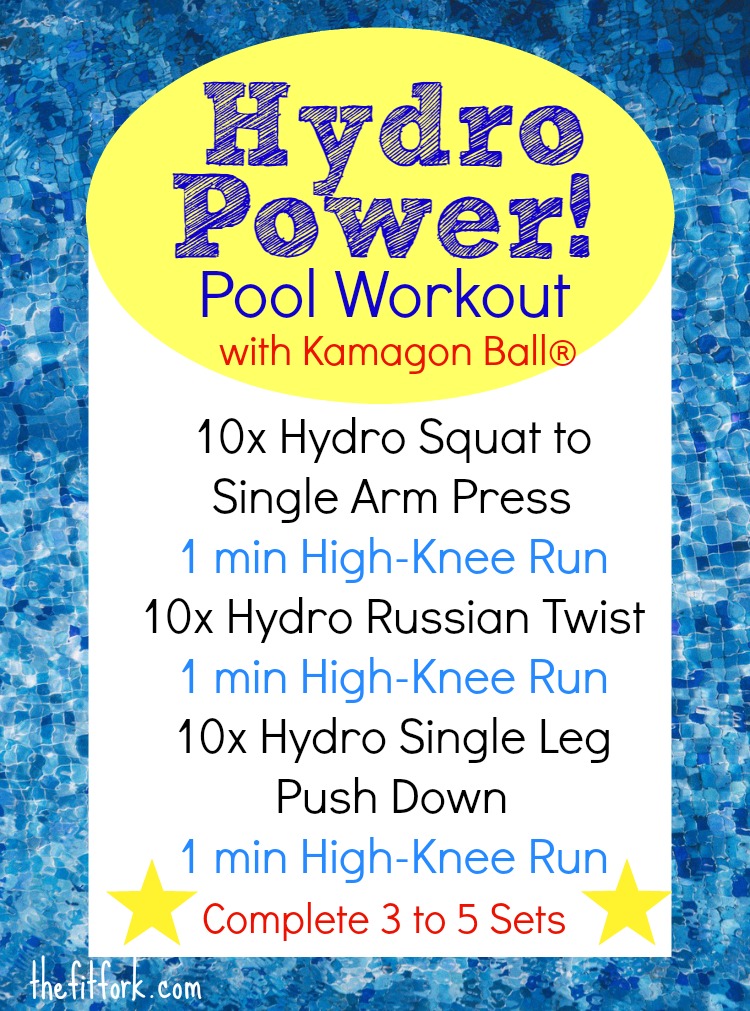 Explanation of Exercises (also demonstrated in each Video)
Hydro-squat to Single-arm Press: Stand in water waist deep, holding Kamagon Ball with one arm, shoulder high, elbow bent into the body. Squat lower body down into water and then move up out of squat while raising weighted arm into a press. Repeat on other side.
Hydro Russian Twist. Stand in water waist deep, hold Kamagon Ball between chest and waist using both hands. Simultaneously raise a knee, with hips flex outward, while rotating with upper body and head in the opposing direction. Move seamlessly into the alternate side position.
Hydro Single-leg Push Down: Stand in water waist deep, holding Kamagon Ball with both arms extended somewhat in front of you. Bend forward at hips raising a back leg and pushing down with arms on the Kamagon Ball to submerge it underwater as far as you can. Slowly move ball and body back up, while lowering leg. Repeat on other side.
If you like this workout, you'll also love the pool workout I put together with the Surge®. It's like small, handled slosh tube with water that crashes around inside.
Check out the H2O² Pool Workout with the Surge® 3.0. 
In the pool, do you swim for exercise, do water aerobics or aqua jogging, or just lounge on a float?  Two piece or one piece or depends on the activity? Best sunscreen that won't rub/wash right off?  Please share in the comments – XOXO, Jennifer