This post is sponsored by Airborne®. I have been compensated with free product but the opinions are mine.
You may already be familiar with Airborne®, it's the brain child of an inventive teacher who was looking for a way to support her immune system.  She worked in collaboration with nutrition experts and herbalists to develop  an immune system supplement that has become very popular with all types of people in all types of situations.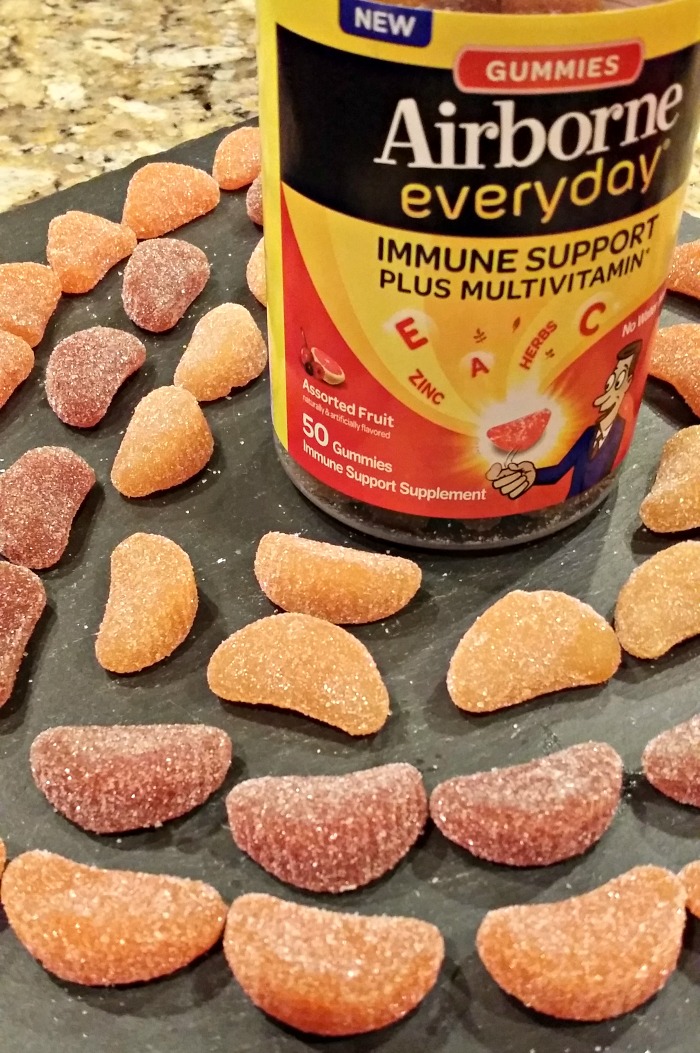 Well, I was super excited to find out that Airborne recently launched a new product called Airborne® Everyday Immune Support Plus Multivitamin , a new product that is designed to provide immune support 365 days a year. This Multi Vitamin gives you everything you'd expect in a quality, comprehensive multi-vitamin plus the perks of our Airborne proprietary blend of immune support. These vitamin supplements come in three forms – chewable, easy-to-swallow pills and delicious gummies.  I'm a fan of the assorted fruit-flavored gummies – who doesn't want to take a tasty gummy in the name of health?!  I'm giving away three bottles of the gummy variety – just enter at the bottom of the post.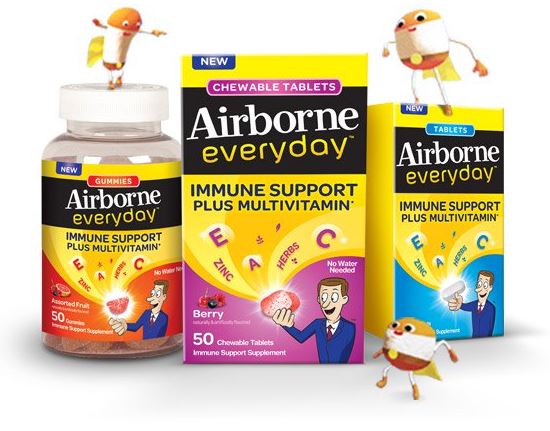 As an athlete and busy mom, I'm always looking for a way to support my immune system.  A poor diet, lack of sleep, stress and even over-training are just some of the strains on your immune system.  Training too little isn't great for performance nor is training too much – I always found the latter ironic! But it's a good reason to slow down and take care of yourself!  One way I take care of myself is by taking Airborne® Everyday Immune Support Plus Multivitamins – I get all the daily vitamins I need to supplement my diet along with a little immune system support.
I also think yoga is a great way to relieve stress and thus boost immunity – many of the poses open up the heart and stimulate other organs in a way that can benefit your immune system.  Here is a routine of 6 yoga poses you can do to relax and improve your immunity and overall health in the process. Now, I'm not an expert yogi by any means, just a runner and busy mom who likes to use yoga as a resource in her tool kit for healthy living – so if you see a tight-looking hamstrings or a stiff back, I'm still a work in progress!  And, if you have any questions or concerns, please contact your doctor or a fitness professional before starting a new workout routine.
Half Wheel Pose – Push hips up as far as possible.
Headstand –Both tripod or forearm balance works. Hold for no more than 10 breaths.
Headstand  Modification – Try this variation if you are still learning the headstand.
Camel – Use yoga blocks if too difficult to reach hands to floor or heels.
Plow – Roll back as far as possible. If toes won't touch floor, rest them on block or chair.
Child – Relax!  I like to turn head to each side for several breaths.
To enter giveaway for three bottles of Airborne® Everyday Immune Support Plus Multivitamins, please use the rafflecopter app below:
How do you relieve stress and stay well during your busiest days of the week?