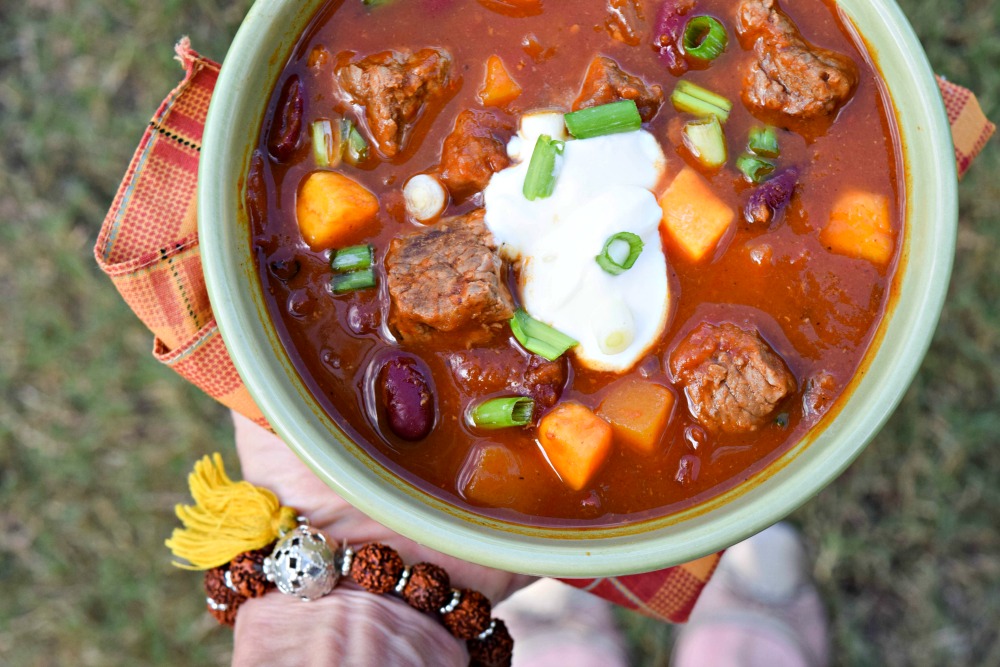 I felt it for a second, the cooler morning that is. So I pulled out fringy scarf, boots and slow-cooker – yeehaw, fall weather is here. But, it was a total fake out, ended up being 90 degrees that day. Even though I shed my fall finery, my Crock Pot creation was a dinner winner not about to be tossed.  Rich, meaty, hearty and amazing nutritious thanks to wholesome ingredients like lean beef, pumpkin, acorn and butternut squashes.
You absolutely must pin this photo below if you like healthy, hearty and helpful! 
I originally made this recipe for my friends at BeefLovingTexans.com, I almost tried to call it Chili but then remembered some Texans don't think beans belong in chili. Well, heck, I don't care – I think everything belongs in chili! This one has a bit of chipotle chili powder to add smoky spice, but feel free to tone it down or kick it up with your favorite chili seasonings. 
The beauty of this recipe is just dumping all the ingredients into a slow cooker and walking away. I prefer to sear my chili meat (I cubed up a sirloin steak) because that magical caramelization process that happens in the skillet creates a deeper, more complex flavor. But, if you are pressed for time, the stew still turns out dang delicious if you just dump the uncooked beef straight into the slow cooker crock.
I was worried the kids would be suspicious of the trio of winter squashes in the dish – pumpkin, acorn and butternut. But, they loved it and a new autumn family favorite was born – especially when paired with some cast-iron skillet cornbread. I can't believe I've never shared this recipe in photo below — it'll be served up on the blog next week! COME BACL!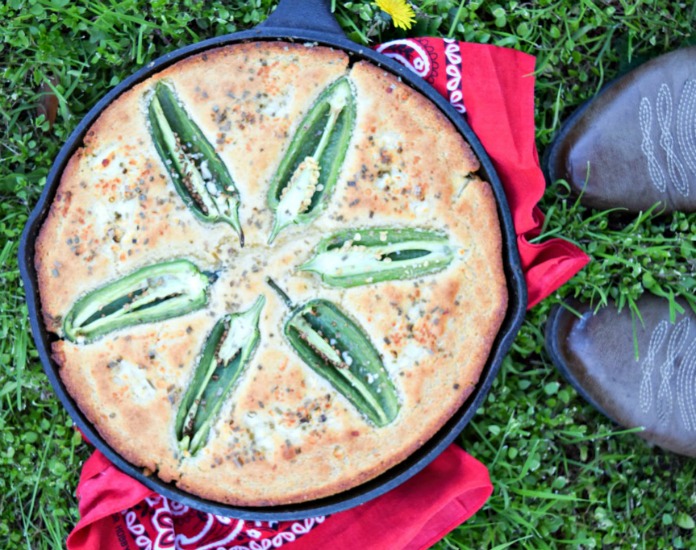 So, why don't you make this Steak & Squash Harvest Stew for supper this weekend – free yourself up some time to hang out with the family, hit a hay ride, visit the pumpkin patch, get lost in a corn maze.  It's also a great little warmer-upper for those chilly afternoons tailgating and talking all things football or for the neighborhood Halloween potluck!
So, do you have a special family chili (errrr, I mean "stew" recipe)? Doing any special fall activities this weekend? Please share in the comments below – XOXO, Jennifer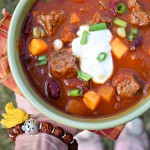 Fall in love with this healthy, hearty stew featuring pumpkin, acorn and butternut squash -- toss in slow cooker to skimmer all day, come home to dinner!
Servings

Prep Time

4 to 6

servings

10

minutes
Servings

Prep Time

4 to 6

servings

10

minutes
Fall in love with this healthy, hearty stew featuring pumpkin, acorn and butternut squash -- toss in slow cooker to skimmer all day, come home to dinner!

Servings

Prep Time

4 to 6

servings

10

minutes

Servings

Prep Time

4 to 6

servings

10

minutes
In a large skillet, heat oil over medium-high heat. Add chipotle chile powder and "bloom" in skillet by stirring around constantly for approximately 1 minute. Add stew meet and brown; add to 4 qt. to 6-qt. slow cooker.

To slow cooker, add onion, squash, beans and pumpkin. Stir in the tomatoes, broth, syrup, red pepper and salt. Cover and cook on low for 6-8 hours or until meat is tender.

Serve with desired toppings such as sour cream, cheese and green onions