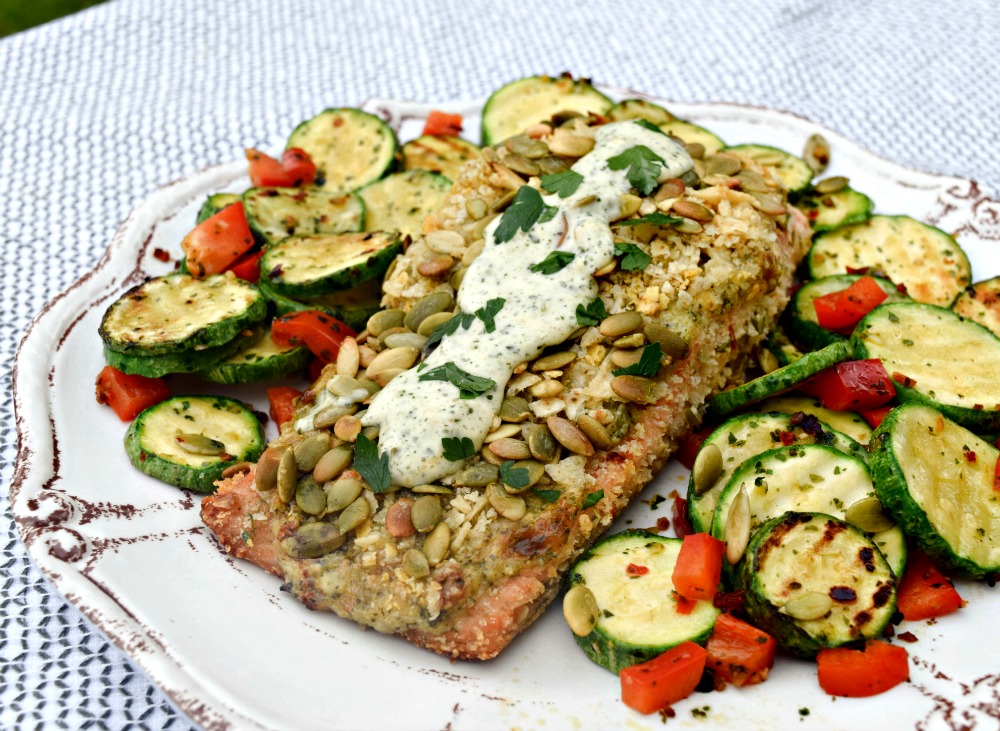 Cast your net beyond nachos, tacos and enchiladas, my Pepita-crusted Salmon with Skillet Squash is a yummy Mexican cuisine inspired meal that is guaranteed to reel in compliments. Even though salmon isn't found anywhere near the mild oceans and seas of Mexico, this seafood-loving culture enjoys fish from around the world – just like we do here in North America. So, it's salmon for dinner tonight!
This fish and veggie recipe will be a regular in your weeknight dinner routine, it's as easy as uno, dos, tres! First, spread with your favorite ranch or creamy dressing (I use Cotija Cilantro Ultra Premium Dressing) atop a salmon filet. Second, top salmon with crushed tortilla chips and roasted pumpkin seeds (pepitas), and then bake for 12 minutes. While fish is cooking in the oven, a quick skillet of squash comes together in minutes for a speedy yet stunning side dish generically called "calabacitas"  — I used Mexican-style zucchini but you can easily substitute with your favorite summer squash such as sunburst or crookneck.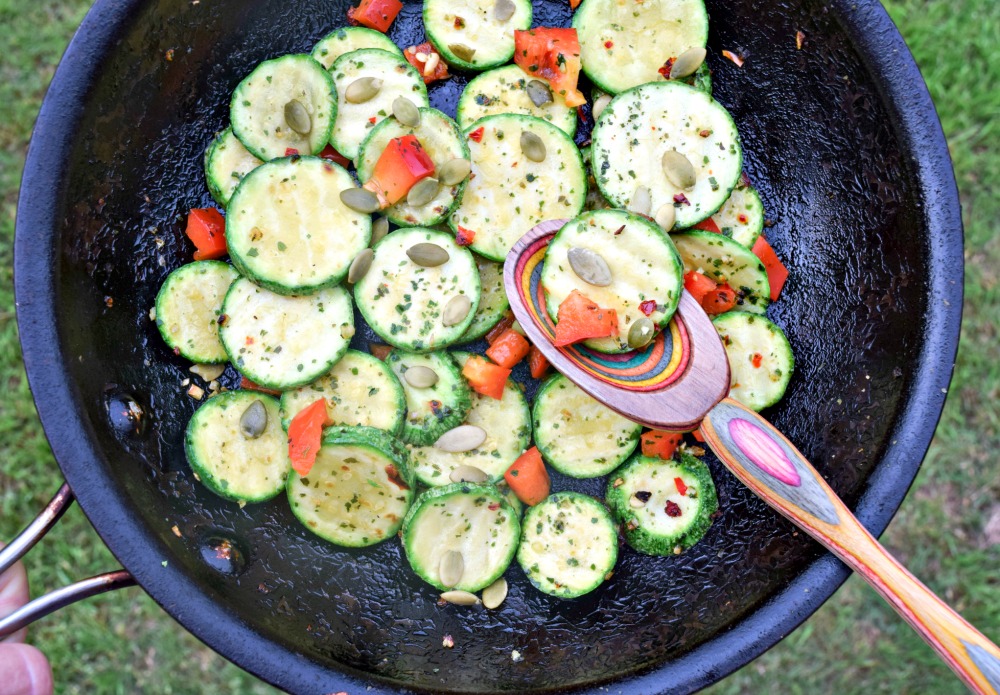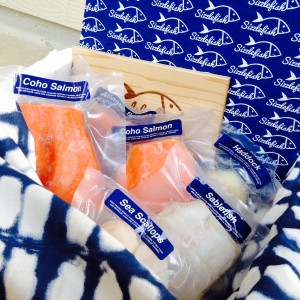 This recipe would also work well with a variety of meatier fish types, just swap for your favorite variety. I get my fish from Sizzlefish.com, they only source the best fish and I love how it's shipped straight to my door, flash-frozen in perfectly portioned, 4-ounce servings. It terms of protein intake for a healthy lifestyle, 4-ounces of most fish and meat proteins gives you 25g (more or less) of protein – which is the optimal amount for your body to process at any one time. So, no guesswork with how much to eat with here, just open the freezer and grab individually-packaged serving from Sizzlefish.  I also love the different "collections" of fish I can order (Paleo Prime Plus my favorite with Coho Salmon, Sokeye Salmon, Wild Gulf Shrimp, Atlantic Scallops, Sable Fish, Cod and Haddock).
Through the end of May, take 10% off your order at SizzleFish.com with the discount code FITFORK10 at checkout.
What is your favorite type of fish? What did you do this weekend? Please share in the comments below – XOXO, Jennifer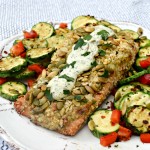 Servings

Prep Time

4

servings

10

minutes
Servings

Prep Time

4

servings

10

minutes
Servings

Prep Time

4

servings

10

minutes

Servings

Prep Time

4

servings

10

minutes
 Preheat oven to 400 degrees F. Line rimmed baking sheet with foil and lightly coat with cooking spray.

Add tortilla chips a zip top bag and crush to a coarse consistency with rolling pin. Add peptias to bag, shake to combine, and pour out mixture onto shallow dish.

Pat salmon filets dry with paper towels, place skin side down and sprinkle top with pepper. Brush each top with approximately 1 tablespoon creamy dressing. 

One at a time, pick up the salmon filets and press the coated side down into the tortilla chip mixture until evenly coated. Place the salmon tortilla side up on the baking sheet and sprinkle with additional pepitas, lightly pressing them down, if desired.  Discard the unused tortilla chip mixture.

Bake for 12 minutes, until the coating is crisp and fish begins to flake when pressed with a fork.

While fish is baking, add olive oil to large skillet and bring to medium-high heat. Add garlic, squash and bell pepper and sauté, stirring constantly, for approximately 4 minutes or until softened. Stir in cumin, oregano, red pepper flakes and salt, continuing to cook for another 1 minute. Remove from heat and toss with pepitas.

To serve, top salmon with an approximate 1 tablespoon dollop of creamy dressing with a side of the prepared squash.