Valentine's Day is sneaking up . . . do you have big plans? I doubt my husband and I will battle the crowds (or be willing to pay the bill) for a fancy dinner out, so I'll be preparing a memorable meal at home.  Plus, there are the kids . . . .and, I'm sure those non-stop eating machines will want to be fed as well!
With so many boys and men in the house (oldest son in almost 18 years!), there's not a lot of appreciation for decorating food in shades of pink for Valentine's Day.  But, I did find the way to their hearts with these darling (oh, I mean "manly") Heart-Shaped Oven Fries.  Oven fries are so easy and inexpensive to make and my guys gobble up this healthier dude food with "amoré" – give me "amoré,"Mom!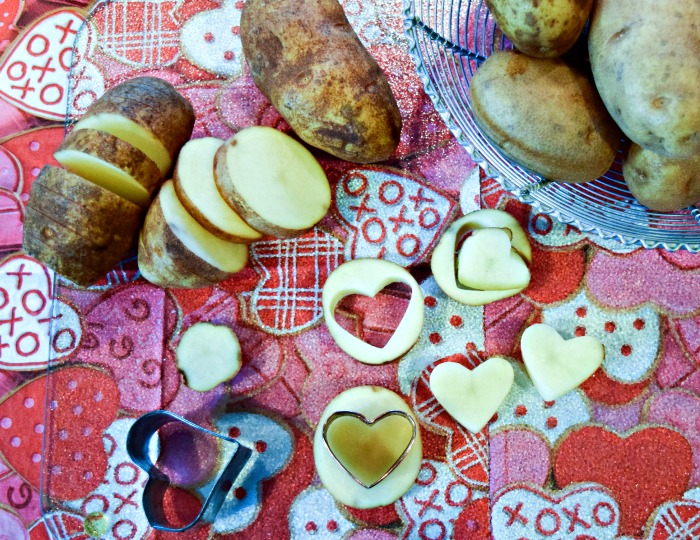 I used a heart-shaped cookie cutter and baked both the hearts and the remaining potato "circles" with the cutouts missing. I wish I would have taken a photo of those as they came out of the oven, but I was just so focused on the hearts! If you want to make these baked fries "regular," simply slice into think wedges for the same result.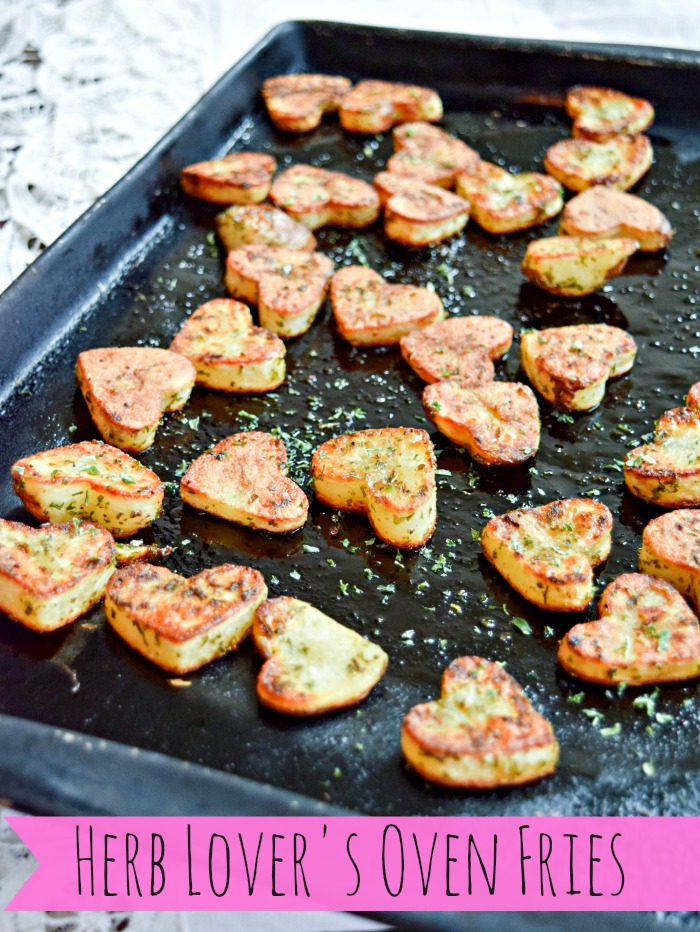 For Valentine's Dinner, I'll be serving this cute side dish with the Pan-Seared Tenderloin Steak with Roasted Balsamic Tomatoes I developed for BeefLovingTexans.com.  This steak dinner is a surprisingly easy way to beef up the romance on Valentine's Day and won't bust your budget – meaning more funds for wine, chocolate and other treats for your sweet!
If steak isn't in your budget, these baked fries would be adorable with a romantic burger!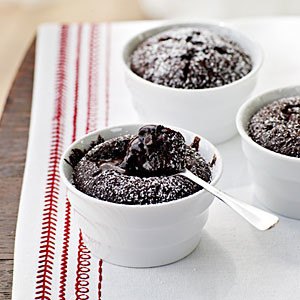 I still haven't decided what to serve for dessert yet – it will have to be something wonderfully chocolaty. After all, dark chocolate is a superfood that provides important nutrients that protect the heart! Cooking Light has a collection of 100 Lightened Chocolate Dessert Recipes that will make your heart skip a beat  — swoon-worthy but not sinful!
Personally, I've been stalking the recipe for Hot Chocolate Fudge Cakes . . . warm, gooey and individually portioned to prevent "accidentally" eating the whole cake. For Valentine's Day dinner, I think I would add some lush raspberries on top!
Heat oven to 450 degrees F and with rack in top.

Wash potatoes and cut crosswise into 1/2-inch-wide planks. Use small cookie cutter to punch out the center of each potato circle.

Put cut potatoes in bowl and fill with hot tap water, let sit for 10 minutes. When potatoes are done soaking, drain, and thoroughly pat dry with paper towels.

Add potatoes back to dried bowl and toss with olive oil, 2 teaspoons of the salt, pepper, parsley, sage and rosemary.

Spread fries out evenly across baking sheet and bake on top rack until fries are starting to turn golden brown, about 25 minutes. Use a spatula to turn fries and continue to roast until crisp on outside, about 15 - 20 minutes longer.

Remove fries from oven, sprinkle with remaining 1 teaspoon of salt, and serve while still warm.
Cut into 1/2-inch wedges, if preferred.