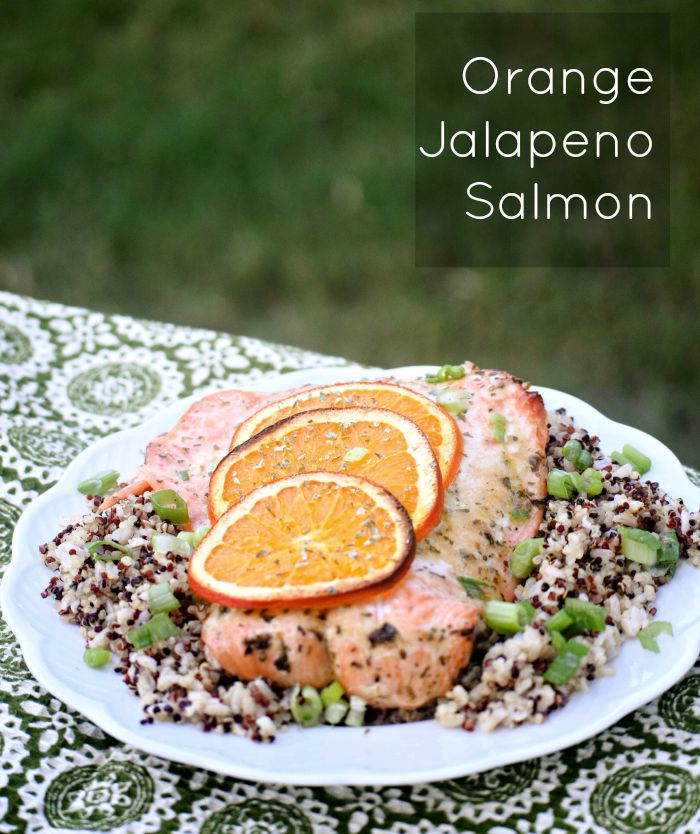 You can't beat salmon for a quick weeknight dinner — I probably eat it once a week and have fixed it up so many ways. I still can't stop thinking about that time I skewered up salmon filets, completely wrapped them in bacon and threw on the grill! That's when I was experimenting with fat-loading for a marathon. That's a whole 'nutha story.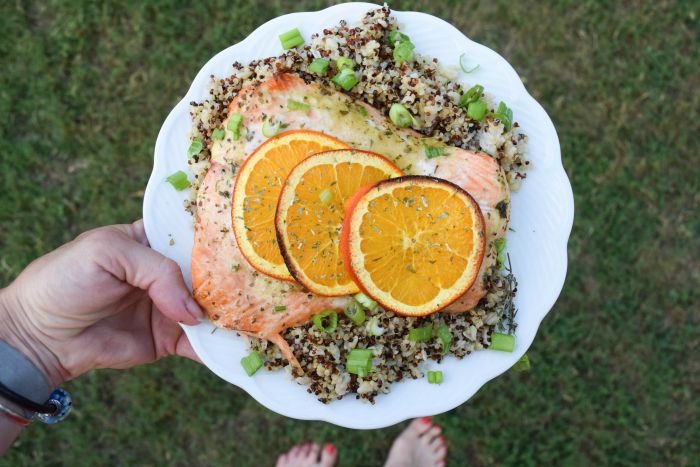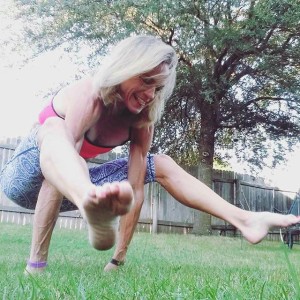 I'm not bringing bacon back today, but I am sharing a recipe for Orange Jalapeno Salmon that keeps the flavor kicked up with a punch of pepper. Many similar recipes do an orange marmalade in the sauce, but I've opted that out to avoid added sugar. This recipe is sure to become a favorite on fish day – plus it can be finished in 30 minutes, freeing you up to spend your late afternoons in more leisurely pursuits. Of course, "leisurely" is a relative descriptor, because the hour I spent trying to straighten my legs out practicing the yoga "firefly pose" was, errr, a little more challenging that leisurely.
If you're looking for other ways to eat this heart-healthy fish, check out the 100 Ways to Cook with Salmon from CookingLight.com — you'll never get bored with salmon again!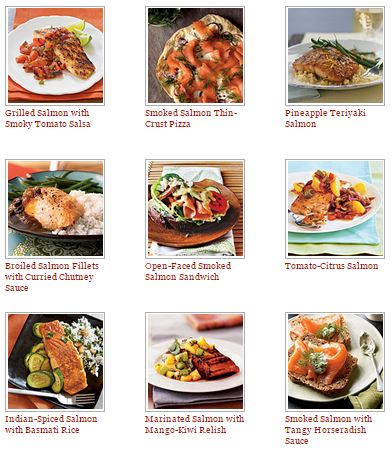 What is your favorite fish? Do you have a secret salmon recipe? If you had and extra hour of free time, what would you do?  Please share in the comments below — XOXO, Jennifer

Servings

Prep Time

4

servings

10

minutes
Servings

Prep Time

4

servings

10

minutes
Add orange juice, oil, jalepenos, cilantro, garlic, salt and pepper in a small food processor or blender and pulse for about 30 seconds to a minute until combined. Set aside.

Heat oven to 400 F degrees. Place salmon, skin side down, into 2" rimmed pan or oven proof skillet that has been rubbed with oil. Top with orange slices. Pour marinade over top and bake for 15 to 20 minutes, or until opaque.

Serve on a salad or favorite whole grain -- pictured with 50/50 mixture of brown rice and tri-color quinoa.