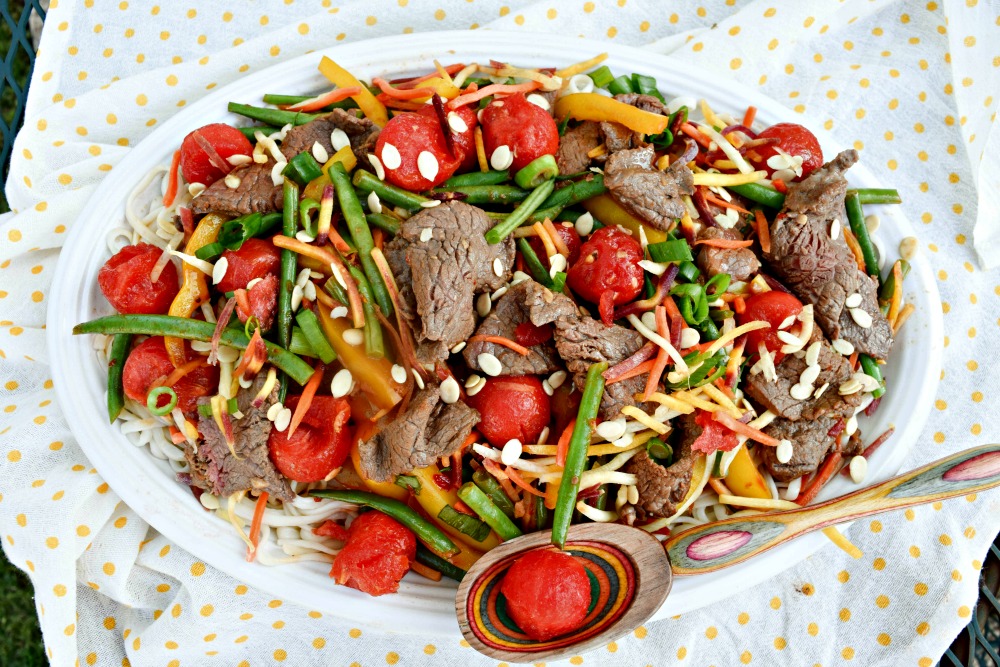 I have been waiting all summer to share this recipe – Beef, Veggie & Watermelon Stir-Fry!  –It's steak "meats" watermelon (and loads of fresh veggies) atop of a plate of slightly chewy, insanely satisfying udon noodles. Earlier this year, the Texas Beef Council asked me to come up with my personal take on a Texas food tradition. "Focus on pasta," they said, and "make it your own."
Most of us know by now what happens when I've been let off the proverbial leash like that – I can go a little wild. But, my creativity isn't random; it makes sense – to me, anyway!  My jam is merging together seemingly unlikely ingredients to make a beautiful recipe that not only comes together easily but also optimizes nourishment to support an active lifestyle.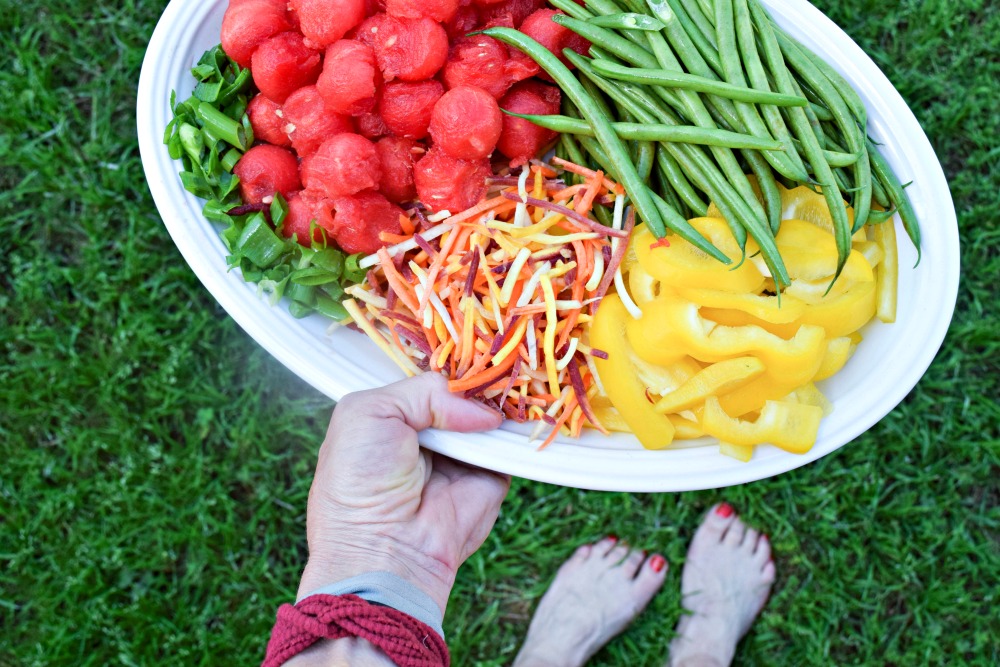 You might be wondering how my Beef, Veggie & Watermelon Stir-Fry a Texas "thang" – there's no BBQ sauce in sight!  The Texas spirit is found in the local lean beef and farmer's market produce sourced from these here Central Texas parts. It also has that far-out, Far East fusion flavor going on that's so popular with some of the food trucks found down in the hip and happening parts of Austin that do their best to Keep Austin Weird. Heck, I do my best to Keep Austin Weird!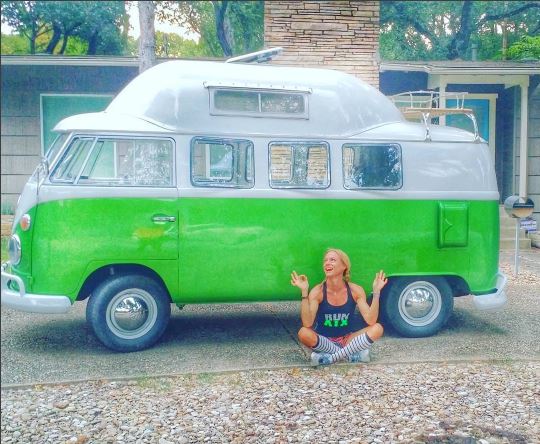 I'm especially excited how this fit and fresh dish pairs up BEEF with WATERMELON as these are two of my all-time favorite foods ever in the history of all time, period.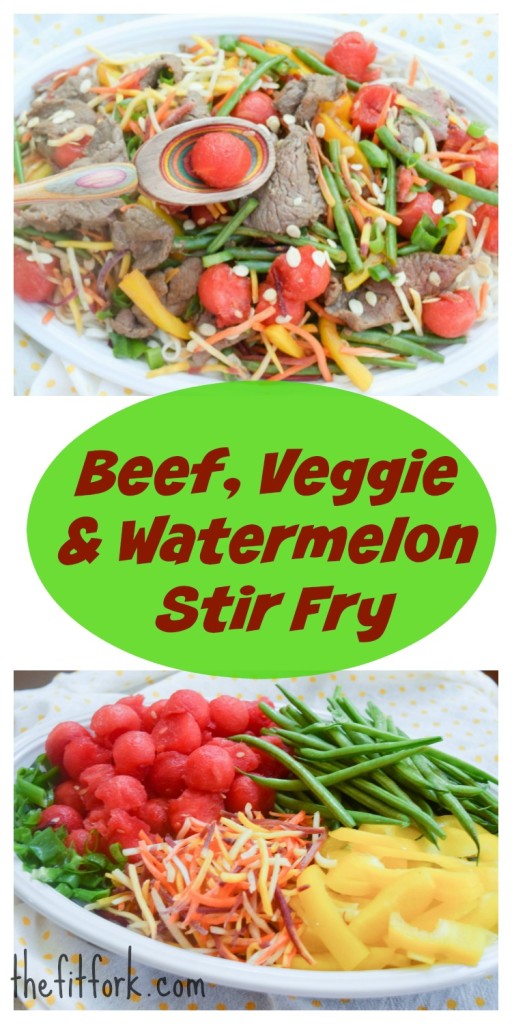 This 30 minute dinner recipe features Top Sirloin, a super-lean cut of beef that has only about 5g fat and 150 calories per 3-ounce serving (along with about 26g protein)! Eating a protein portion approximately this size (25 – 30g), three to five times a day, gives me the power to feel fuller longer, stay active longer, and maintain a leaner muscle-to-fat body ratio. Of course, my meals aren't always beef (variety is the spice of life, ya know), but lean beef is an AWESOME, nutrient-dense (think ZIP: Zinc, Iron, Protein) go-to choice that works beautifully in my life several times per week (or more).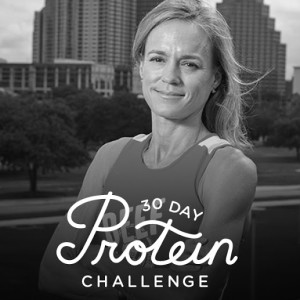 If you want to join the free Protein Challenge to learn more about how tweaking the protein intake in our life can help you feel and look better, sign up here.
What about the watermelon? Well, first off – it just screams summer in Central Texas.  I can't think of a picnic, river tubing trip or day at the lake spent without sharing a huge watermelon with family and friends. If you've not ever tried watermelon warm and spiced up a bit, get ready to live on the wedge! The sweet heat flavor is fantastic and the high water content of this juicy fruit (92% water) helps keep you hydrated on most blazing hot days. Plus, watermelon is low in calories and a great source of electrolytes and antioxidants that help support my lifestyle as an athlete. Oh, and you're going to LOVE the sprouted watermelon seeds sprinkled on the to — despite what your mama may have said, you CAN eat watermelon seeds (they're very nutritious)!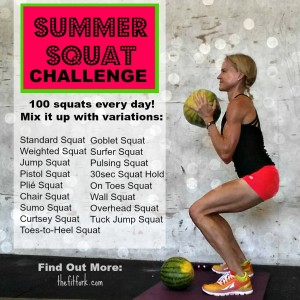 Learn much more about Watermelon for Fitness (uhh and don't miss my Watermelon Workout Videos) at Watermelon.org. Here's a little Watermelon Squat Workout I dare ya to try!
Note on the noodles: You don't necessarily have to use the Udon noodles, I like to incorporate them when I need a little more carb energy in my life for long runs and endurance events. A great gluten-free option would be Soba noodles (made of buckwheat which is gluten free) or rice noodles . . . or just rice. I'm also going to make this dish in the future and try it totally grain-free by using spiralized zucchini or summer squash!
What have you been stir-frying lately? Favorite Fruit? Favorite type of Squat? Noodles, rice or nothing?  Please share in the comments  – XOXO, Jennifer 
This post was sponsored by The Texas Beef Council and the Beef Check Off, however all opinions, comments, enthusiasm and weirdness are my own.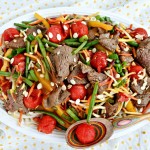 This fit and fresh dish features top sirloin, my favorite cut of lean beef, paired with farmer's market-fresh produce, flavors of the Far East, and some funky South Congress food truck fusion. Keep Austin weird!
| | | |
| --- | --- | --- |
| | | This fit and fresh dish features top sirloin, my favorite cut of lean beef, paired with farmer's market-fresh produce, flavors of the Far East, and some funky South Congress food truck fusion. Keep Austin weird! |
Toss together beef with garlic, water, soy sauce and sesame oil. Let marinate in the refrigerator for at least 30 minutes or up to 2 hours.

Meanwhile, stir together hot water with cornstarch until dissolved. Stir in watermelon juice, lime juice, 2 tablespoons soy sauce and 1 to 2 tablespoons Sambal Oelek according to personal preference for spicy heat.

Drain and discard marinade from beef. Heat 1 tablespoon oil in large skillet over high heat. Add one-half of beef to skillet and brown for 45 seconds without stirring. With tongs, quickly turn beef and cook additional 30 seconds or until barely browned. Take care not to overcook. Transfer to a warm plate immediately. Repeat browning with remaining 1 tablespoon oil and beef.

Add final 1 tablespoon oil in same skillet and bring to medium-high heat. Add green beans and peppers and stir-fry for 2 minutes or until crisp-tender. Add matchstick carrots and ginger and stir-fry an additional 1 minute. Add cooked beef and watermelon juice-chili sauce mixture and stir-fry another 1 minute, or until slightly thickened. Remove from skillet from heat and stir in watermelon.

Garnish with chopped green onions and sprouted watermelon seeds. Serve immediately with prepared udon noodles.