Well, first of all, happy Mardi Gras – Laissez les bons temps rouler! This day of eating, drinking and overindulging that can take quite a toll so, I'm sharing a healthy salad to help keep you fit and fierce for Fat Tuesday . . . or get you back on track later in the week!
You're going to love my Spicy Creole Shrimp Salad with French Quarter Croutons, it's like a healthier version of a Po' Boy sandwich that exploded with loads of lettuces and farm-fresh veggies.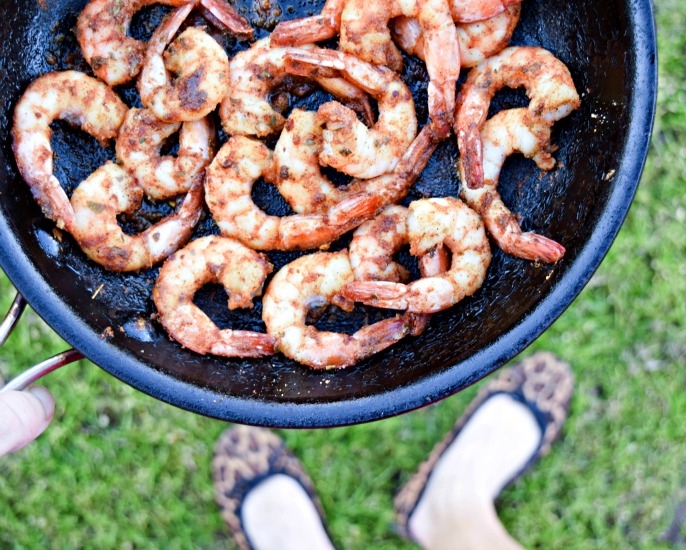 Instead of getting fried in oh-my-gawd grease, the succulent shrimp in this quick and easy recipe get a toss in Creole Seasoning before being lightly sautéed in heart-healthy olive oil.
Forget about bland Creole seasoning from grocery store spice aisle, kick up the taste and cut down on costs by making a big batch at home – in addition, making it from scratch lets you say au revoir to weird chemicals and preservatives and control the amount of heat. Often referred to as Cajun spice, this blend of peppers, paprika, thyme, oregano, garlic and onion powders creates the base of bold flavor on practically everything in my shrimp recipe – BAM! 
I also use Instantly Fresh Herbs  in my Creole Spice Mix, a generous recipe that makes plenty for the salad, dressing and croutons – store leftovers in an airtight jar for up to a year. Use this Creole Spice Mix in soups and gumbos, rub into catfish and tuna, mix into meatballs, and even sprinkle on grilled fruit – this Cajun food seasoning is crazy-good!
The dressing isn't loaded in fat either; I used the deliciously creamy Greek yogurt-based Ranch and jazzed it up a bit with Creole spices.
If you are looking for some other Cajun, Creole or otherwise New Orleans-ish, check out this collection of Crescent City inspired recipes from Cooking Light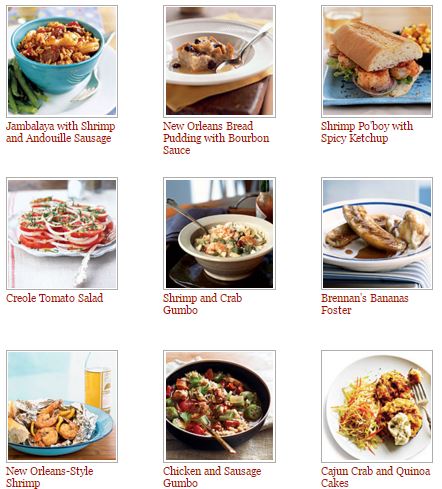 What are your Mardi Gras plans? What is your favorite Cajun or Creole recipes? Please share in the comments, XOXO — Jennifer

Let the good times roll while keeping it light with my New Orleans inspired entree salad featuring spicy sauteed shrimp and crusty French baguette croutons.
| | | |
| --- | --- | --- |
| | | Let the good times roll while keeping it light with my New Orleans inspired entree salad featuring spicy sauteed shrimp and crusty French baguette croutons. |
To make Creole Spice Mix, place ingredients in small jar with lid. Stir or shake to combine. May be stored in pantry out of direct sunlight for up to one year. Makes approximately ½ cup.

To make shrimp, heat olive oil and Worcestershire sauce in large skillet over medium-high heat. Pat thawed shrimp dry and toss with Creole Spice Mix. Place in hot skillet and sauté for approximately 2 minutes, or until heated through (take care not to over-heat since shrimp are precooked). Remove shrimp from heat to a plate while finishing remainder of dish.

To prepare salad, top lettuce with cabbage, radish and tomatoes on a large platter or individual bowls. For dressing stir, Creole Spice Mix in dressing until incorporated – use more or less depending on preference for spiciness.

For croutons, slice 8-inch length of baguette in half lengthwise. Next, slice each half in half at a long diagonal; place on baking sheet. Brush cut side of bread with olive oil and sprinkle with cheese and Creole Spice Mix. Set under broiler for 60 seconds (keep a vigilant eye) or until top beginning to bubble and brown.

To serve, place shrimp on prepared salad and add one big crouton per person; pass with dressing.