Even though I try to eat with my health in mind, I don't always say "no" to sweets – but I do try to clean them up a bit. For example, instead of a bowl full of cold, creamy ice cream topped with crumbled cookies, I eat plain Greek yogurt that I've sweetened with stevia and topped with a crunch protein-based chocolate cereal (Power Os from Love Grown Foods). I also top that with mini-chocolate chips, it's my go-to bedtime snack – it's still sweet, but more balanced with protein to boost my workout recovery and make muscles while I sleep!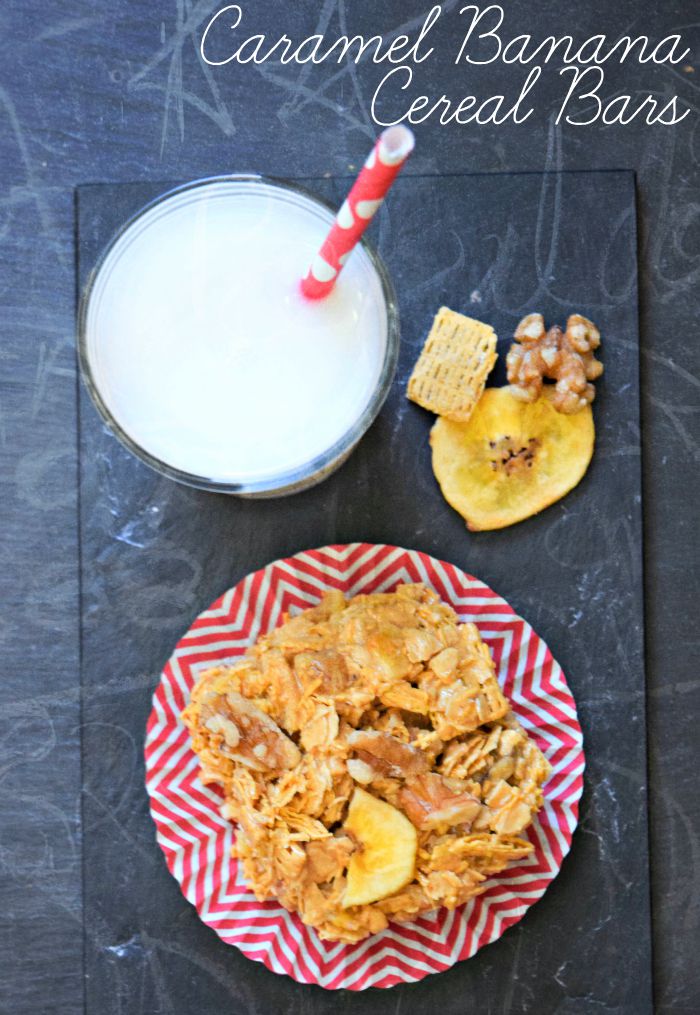 I also like to implement my "protein-hacks" in my kid's lunchbox desserts as well. A study has shown that children ages two to 18 years old get 40 percent of their daily calories from junk foods like sugary sodas and fruit drinks, cookies, donut, candy, fried foods and more – that's unconscionable. Kids of all ages want sweets, I get it – believe me I GET IT! I would try and trade the raisins my health-nut mom would pack in my lunch for a friend's Hostess Cupcake – she never would trade, but started bringing me an extra cupcake on the sly.
So, as a parent myself now for more than 18 years, I've allowed my kids to eat sweets so that they don't feel deprived but talked about limits and the effects of eating too much "less than quality food" – but that a small amount also be fine occasionally in the context of an overall healthy lifestyle. I also like to make our cookies and cakes at home, so I know exactly what is going into the recipe and into our bodies – choosing more nutritious alternatives when possible. Like heart healthy fats, sugar swaps, no chemicals or preservatives, organic when possible – you get the drift.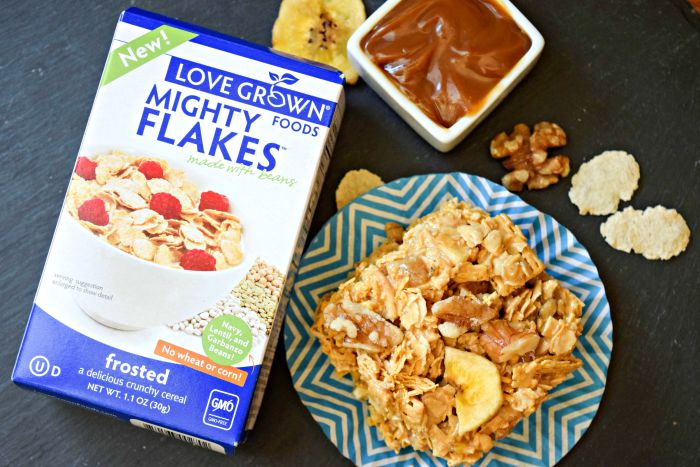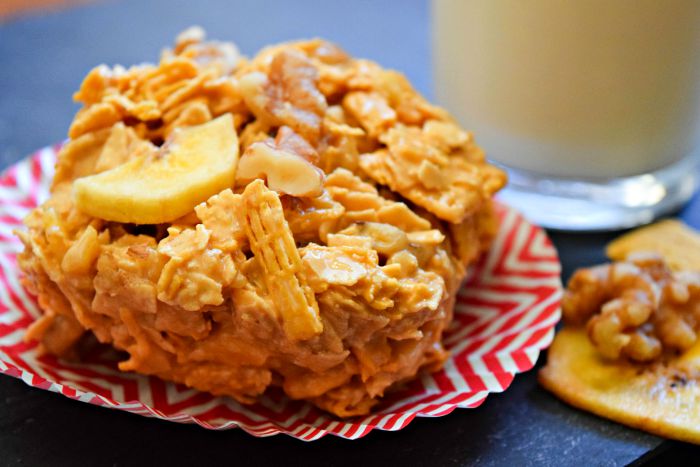 Today I'm sharing a healthier version of classic crispy yet chewy cereal bars. They are perfect for lunch boxes, backpacks, after school snacks, picnics, and pot lucks and bake sales! I used less butter and marshmallows than the traditional "crispie" recipe and supplemented with a reduced-sugar caramel and dried fruit for sweetness. For long-lasting energy, I threw in some nuts and a bean-based cereal for extra protein. Enjoy!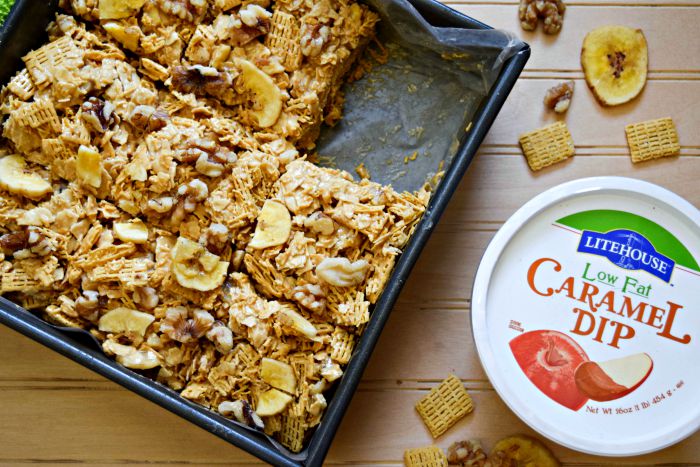 What was your favorite treat to find inside your lunchbox as a kid . . . or today? Please share in the comments below – XOXO, Jennifer

Add banana chips and walnuts to medium bowl and lightly break up into coarse chunks with mallet or back of spoon.

Add cereals to bowl with banana walnut mixture; toss to combine. Set aside. In large microwave-safe bowl, add marshmallows, caramel dip and butter. Microwave on 50% power for one minute, stir until creamy. Return to microwave and cook at 50% power for additional 1 minute; stir until creamy. If marshmallows aren't completely incorporated, continue and stir in 20 second blasts.

Add dry cereal mixture to caramel mixture and stir with spatula until everything well coated.

Line 8" x 8" baking pan with wax paper or spray with oil.

Press mixture down firmly into pan. Let cool for 5 minutes and then cut into 9 bars, or size of your preference.