Snapping peas, shucking corn, wandering through the woods in search of huckleberries – the chores of summer have me salivating!   Fresh fruits and vegetables are the cornerstone of my kitchen creations and the summer season offers so many fresh-for-the-picking possibilities.  In addition to the Any Way, Any Day Grilled Steak Salad recipe I share below, I've gathered up this collection of some of my favorite warm weather recipes that are ideal for outdoor entertaining! Enjoy!
Check out Just-Picked Possibilities! Summer Fruit & Veggie Recipes

by The Fit Fork at Foodie.com
If you are looking for a "no recipe" recipe that takes advantage of the season's freshest ingredients, then my Any Way, Any Day Grilled Steak Salad will delight you with its lack of details – but let me assure you this healthy salad is in no shy in sunny day, farm-fresh flavor!  You can fix up this entrée salad on a plate or platter for dinner tonight, or package up in a mason jar to take for the best lunch break ever.  Jar salads are genius in form and function – a vibrant rainbow of goodness layered in a handy container that can be taken "to go" en route to a picnic, concert in the park, the gym, or even work (sigh). When ready to dig into the salad simply give it a shake and then eat from the jar or pour onto a plate – because it is layered in the reverse order of a typical salad, the lettuce ends up on the bottom of the plate and the salad dressing on top!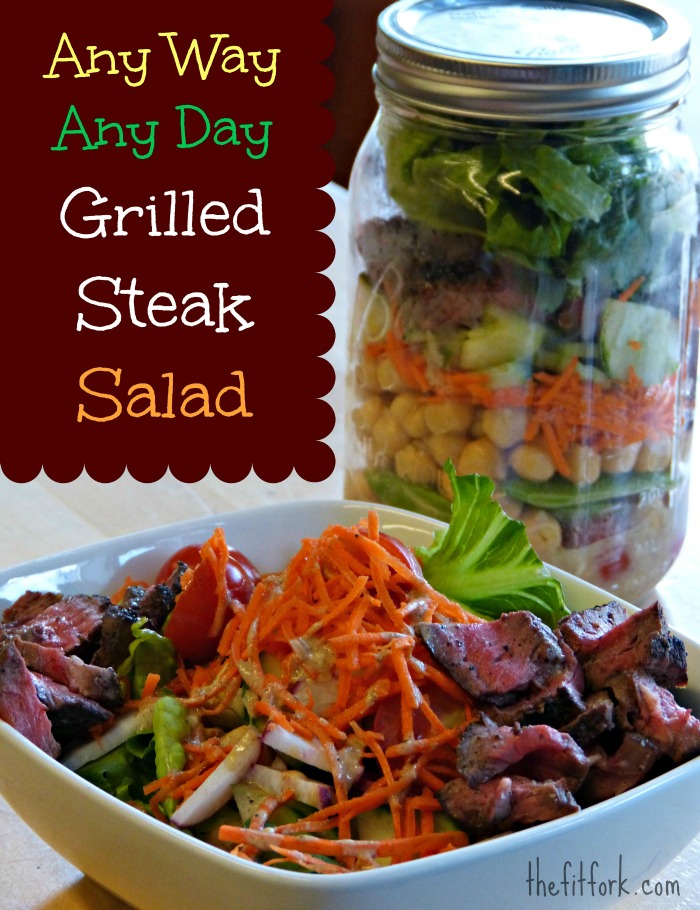 Any Way, Any Day Grilled Steak Salad Recipe
12 ounce top sirloin steak, 1" thick
1 tablespoon minced garlic
1 tablespoon olive oil
1 tablespoon coarse ground pepper
1 tablespoon coarse sea salt
8 cups chopped greens (like romaine lettuce, kale, spinach, an assortment)
 4 cup assortment of chopped or shredded vegetables of choice (like cucumber, snap peas, carrots, radish, celery, tomatoes, etc.)
1 (15-oz) can beans of choice, drained and rinsed (like black bean, chick pea, edamame, kidney, etc.)*
1 cup salad toppings (like pecans, almonds, feta cheese, dried or fresh fruit or assortment)
Dressing:
1 6-oz carton plain Greek Yogurt
1 tablespoon or equivalent "sweet" dressing component (honey, maple syrup, agave, etc.)
1 teaspoon "spicy" dressing component (Sriacha sauce, chipotle powder, Tabasco, etc.)
Preheat grill to 400 F degrees.
In small bowl, make a paste of garlic, olive oil, pepper and salt.
Use fork tines to slightly pierce steak all over the front and bottom. Apply paste liberally to steak, rub until well coated.
Grill steak for approximately 5 -6 minutes per side, flipping only once if possible. Remove when instant read thermometer registers 135 F degrees. Let rest for approximately 5 minutes (temperature should rise to 145, which is medium rare).
Slice steak into thin slices across the grain. If desired, then cut slices into bite-sized pieces.
In small bowl, whisk together yogurt and chosen dressing components.
To assemble salad on plate, start with lettuce, then vegetables, beans, beef slices, salad toppings and then dressing. For the jar salad, dollop dressing in the jar first and then layer with vegetables, beans, beef, lettuce and then salad toppings. Serves 4.
*If lettuces and other delicate ingredients are layered at the top of the jar (away from the dressing and juicy meat), the salads will remain fresh in the refrigerator for up to 3 days.  Make ahead for busy work day lunches!
If you like the idea of jar salads, don't miss these other two I love:
Chopped Ancho Chicken Jar Salad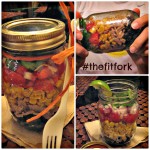 This post is sponsored by Foodie.com. However, all commentary, opinions and recipes are naturally my own.