Check out Recipes for a Fit & Flavorful Fall

by The Fit Fork at Foodie.com
If you take pleasure in eating the signature dishes of the season, fall is a particularly comforting time of year.  Just thinking about the bounty of upcoming Thanksgiving holiday and autumn harvest inspired recipes gives me that warm, fuzzy feeling of well-being of being at Grandma's house with all the family gathered round.
Pumpkin aside, the most iconic ingredient of autumn may be the sweet potato. Even though this practically royal root is actually enjoyed year-round to the tune of 2.6 billion pounds in the US, it makes the most of its popularity in October, November and December.  Think about it — if you haven't had sweet potatoes on your holiday dinner table, you may not be normal.
What is normal in my kitchen is to skip mucking up this orange tuber with marshmallows (why, WHY?!) and instead mash up and mix in other healthy ingredients – like the healthy greens, onions, coconut milk and wellness enhancing spices in my recipe for Kale and Caramelized Onion Sweet Potatoes below. If said it before, but I'll say it again – I love using the sweet potato as a way to fuel my distance running, it's the perfect choice for healthy carbohydrate loading. Not only does the sweet potato have a lower glycemic index than the traditional white potato (meaning it will be deployed as energy to your body at a more steady state), it is also packed with other nutrition that benefits athletes including vitamins A and C,  manganese, calcium, potassium, iron, vitamin B6 and fiber.
This Kale and Caramelized Onion Sweet Potatoes dish is the one I made earlier in the week to complement my Cinnamon-Rubbed Braised Lamb with Cranberry Ginger Sauce.  This recipe is so yummy, it's BAAAAA-d to the bone!  And, by the way — totally approved by all my Paleo diet friends.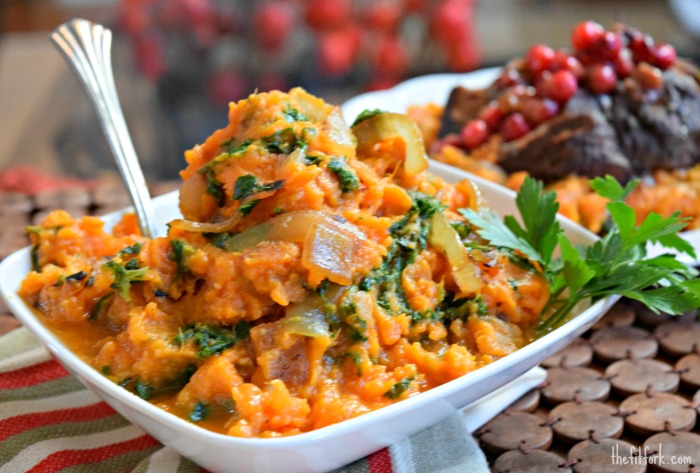 Kale and Caramelized Onion Sweet Potatoes Recipe
2 lb (about 2 large) sweet potatoes
2 tablespoons coconut oil
1 large sweet onion, finely sliced
¼ cup white wine (or broth)
4 cups shredded kale (or other winter greens)
2/3 cup coconut milk
1 teaspoon ginger
1 teaspoon cinnamon
Salt and black pepper, to taste
 Instructions:
Peel the sweet potato and cut into even sized 1 inch cubes. Place the sweet potatoes in a large pot filled with water. Boil uncovered for 15 minutes or until softened.
Drain the sweet potatoes in colander and set aside.
In bottom of same pot, add olive oil and bring to medium-high heat. Add onions and cook, stirring frequently, for approximately 15 minutes or until turning golden brown and caramelizing. Add wine to pot to deglaze pan and then quickly add kale or other greens and continue to cook for an additional 2 minutes, or until wilted. Turn off heat.
Add sweet potatoes, coconut milk, ginger, and cinnamon and mash everything together to desired consistency. If needed, add a splash more coconut milk. Season with salt and pepper to taste.
Serves 4.
What is your favorite sweet potato recipe? 
This post is sponsored by Foodie.com – however, all comments, opinions and recipes are my own.