This post is sponsored by Now Foods via Mamavation.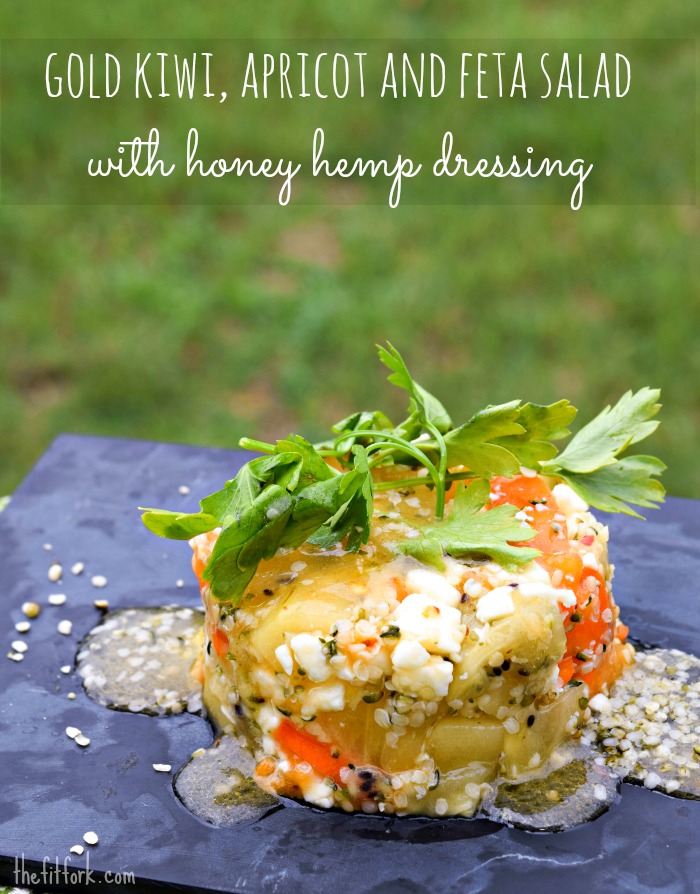 One of the best things about summer is the abundance of amazing fruit at every turn. Watermelons, berries, stone fruits, and exotic discoveries like golden kiwis! While everyday green kiwis are pretty darn good, the golden kiwi is especially exceptional. It's a bit bigger and bursting with supersized flavor – so sweet!  My recipe for Gold Kiwi, Apricot & Feta Salad with Honey Hemp Dressing takes advantage of the season's best offerings – and a yummy salty-sweet taste!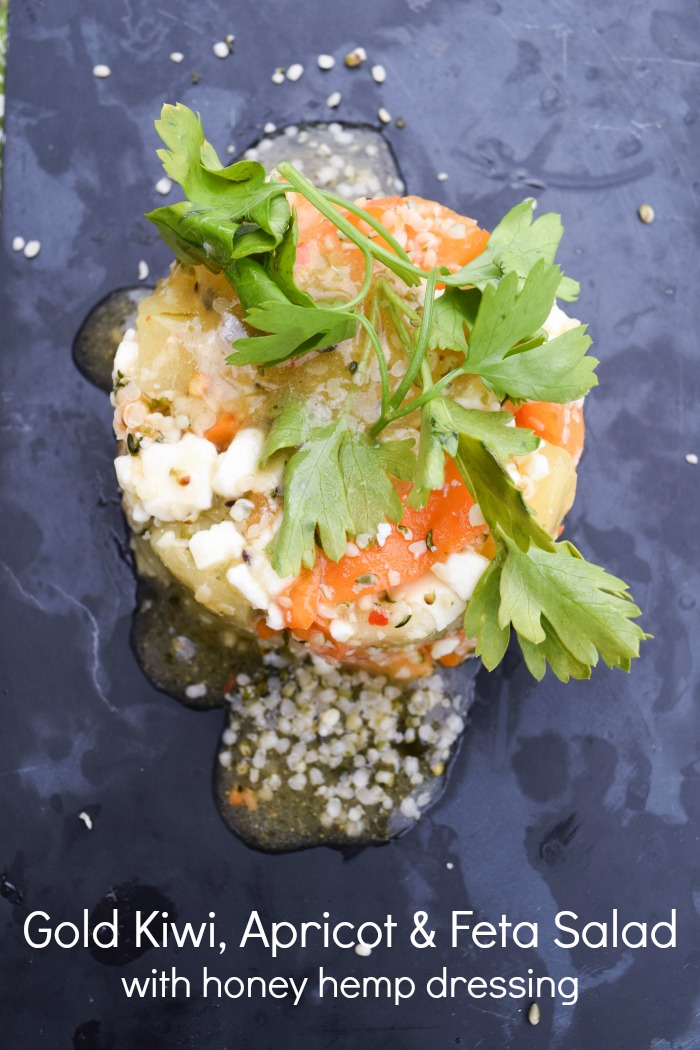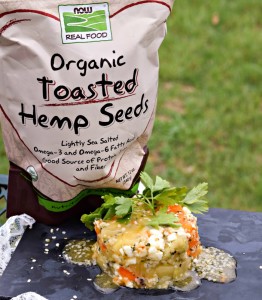 If you're not familiar with hemp seeds, let me introduce you! Hemp seeds have so many nutritional benefits – this superfood is an excellent source of heart-healthy fats, is a complete protein providing all eight amino acids, and is rich in numerous vitamins and other essential nutrients. A tablespoon or so a day is the perfect nutrition boost for everyone, but an especially great option for those following a vegetarian or vegan lifestyle.  I've used NOW Real Food® Organic Toasted Hemp Seeds in my fresh and fit recipe – this seeds are lightly toasted and sprinkled with sea salt to enhance their nutty flavor.
Gold Kiwi, Apricot & Feta Salad with Honey Hemp Dressing Recipe
Peel kiwi and chop into small bits. Peel and seed apricot and chop into small bits.
To small bowl, add chopped kiwi, chopped apricot, feta cheese crumbles and 2 tablespoons of the hemp seeds. Gently stir until combined
Divide mixture and press mixture into two 6 ounce ramekins. Place small plate on top of ramekin and invert quickly; gently tap to remove fruit.
In small bowl, whisk together avocado oil, lime juice, honey and cumin until combined. Drizzle over top of salads and garnish with fresh herbs. Serves 2.
Here are some other wholesome ingredients from NOW Foods that I have been enjoying this summer in my healthy recipes: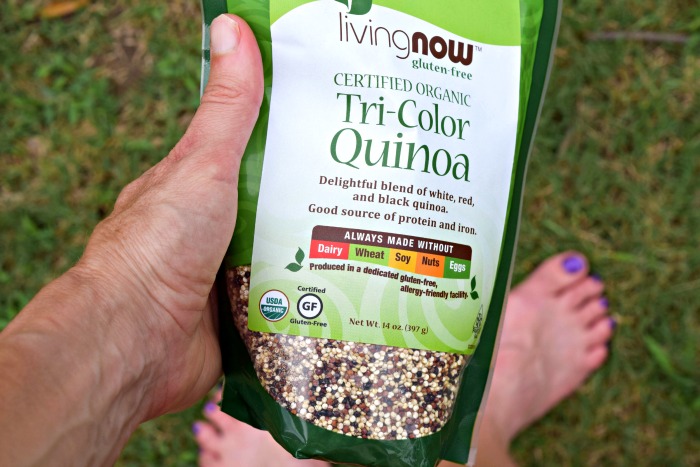 Tri Color Quinoa – I'm a big fan of quinoa, especially on those nights when I'm making a meat-free meal.  This product in the wholesome LivingNOW line features a pleasing blend of white, red and black quinoa and is certified organic and made in a dedicated gluten-free, allergy-friendly facility. Quinoa is a great source of protein and iron, making it a hearty and healthy meal when mixed with seasonal fresh produce.  One of the easy salad dishes I like to make in the summer is my recipe for Triple Berry Quinoa Salad – it would be perfect for the 4th of July!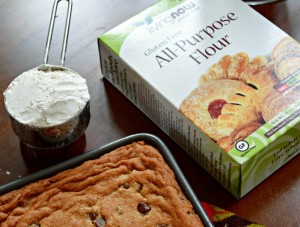 All-Purpose Gluten Free Flour – Have gluten allergies? You can get out your mixing bowl and start baking again. This gluten-free baking flour uses ingredients that are free of gluten and eight of the most common food allergens.  The texture is surprisingly light and fluffy, making it perfect for cookies, coffee cakes, bread and more!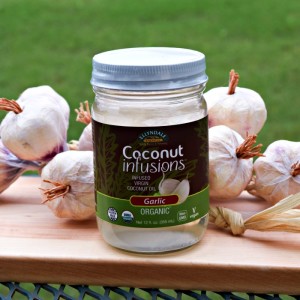 Ellyndale Organics™ Coconut Oil Infusions – Enjoy the rich taste of coconut oil (along with the health benefits) AND a punch of garlic with this oh-so-yummy oil. It's great for sauteeing thanks to a high smoke point, but it's also good on salads and . . . wait for it . . .POPCORN made in the microwave with a brown paper bag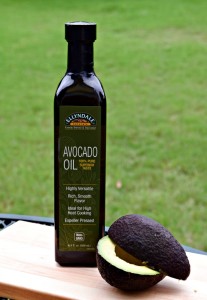 Ellyndale Naturals™ Premium Avocado Oil  Did you know Prevention Magazine named this versatile oil to their list of "100 Healthiest Packaged Foods"  — it's all the healthy monounsaturated fats and Vitamin E! Perfect for sautéing and stir-frying thanks to the high smoke point of approximately 520°F! Avocado Oil is ideal for high-heat cooking such as sautéing and stir-frying – or just drizzle on your salads and other raw dishes for butter-rich deliciousness.
Stock up on these Pantry Staples:
What is your favorite fruit of summer? Have you ever tried hemp seed, how did you use it? Please share in the comments below! XOXO -Jennifer