This post is sponsored by EverlyWell.com, however all opinions, experiences and enthusiasm are my own.
Turn on the television or flip through a magazine and you'll be bombarded with the news that stress and lack of sleep causes health problems. Honestly, these reports stress me out! With three kids, a full-time job (I'm self-employed and typically work from home . . . flexible but often frantic) and a never-ending email inbox, I sometimes feel like my head is going to explode. Add to that a heavy training schedule to stay competitive in the sports I have a passion for, and I am often worn down at the end of the day. And the more tired I get, the less I sleep – it's a cruel joke that being a middle-aged woman compounds even further.
Learning to treat stress more like my dog — if you can't eat it, play with it, pee on it . . .then turn around and walk away!
I've been fighting with this sleep and stress problem for several years now, it's a constant issue.  Often, I wonder just how bad off I'd be if I didn't already eat well and exercise. I recently look a Sleep & Stress Test from EverlyWell.com a convenient medical testing company where you perform the tests on yourself in the privacy of your own home and then mail off the data (which things such as urine samples, finger-prick blood draws, vital signs, etc.) to a lab – the results are then delivered in about a week.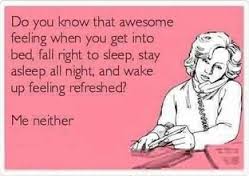 I recently received my results via email. It wasn't surprised to learn that my sleep and stress hormones were elevated, I just had no idea that they would come back "sooooo" off the charts. Yeah, I'm an overachiever – haha!  So the EverlyWell Sleep & Stress Test examined four hormones and how they relate to each other (cortisol, cortisone, melatonin, and creatine) throughout the course of a 24-hour period.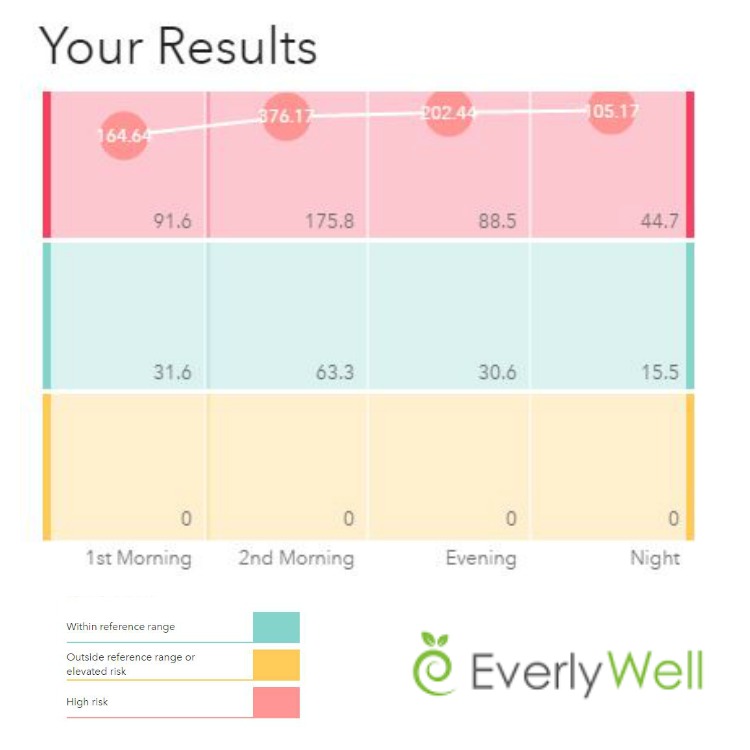 So, this is a screen grabs of one of my test results, mainly I am sharing so you can see how the results are super-simple to interpret – an easy "visual" chart approach rather boring, confusing columns of black and white numbers.  So, as you can see, I've gotta problem – out of 4 tests with 4 measurements each (for a total of 16 data points), I've got 14 data points in the "high-risk category"  (most at the top of it) and 2 data points at the ceiling of the "elevated risk" category.
So, what does this mean and what does Everlywell.com say I should do to bring these numbers down? So, first off, let me just focus on the Cortisol today, it may be the most important. While cortisol levels do fluctuate throughout the day (and can be affected by exercise), they should come back down to a normal level by the next testing period. Sustained elevated cortisol levels have been shown to impair cognitive performance, dampen thyroid function, cause sugar imbalances, decrease bone density, disrupt sleep, decrease muscle mass, elevate blood pressure, lower immune function, slow healing and pack on fat around the abdomen. Oh, yippee – said no one ever!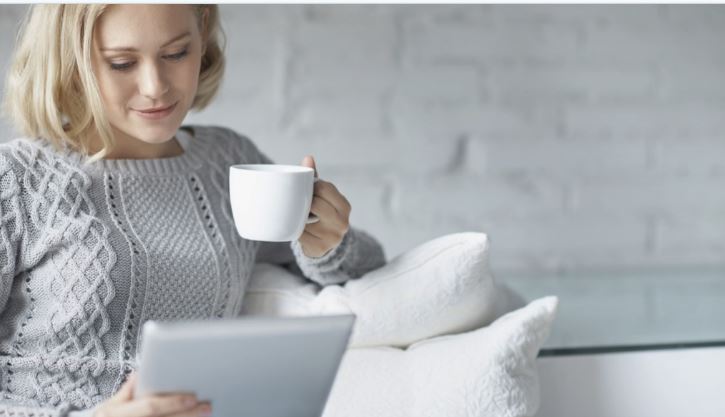 While EveryWell.com doesn't make diagnoses (just the lab facts, ma'am), all test results are reviewed by a board-certified medical doctor and they do advise that I consult with my own personal physician. While I wait for an appointment, I can peruse medical articles that they've provided for me that address whatever my pressing issue might be – in this case, Cortisol & Adrenal Function and Cortisol: It's Role In Stress. I also have the opportunity to ask their Chief Medical Officer a question by filling out a web-based form.
I'm also dialing in my already pretty healthy diet to focus on cortisol-reducing foods, pretty much anything considered "anti-inflammatory," or high in zinc, folate, Omega3s, vitamin C, theanine, lyphenols, flavonols and all sorts of other soothing and stress-busting nutrients.  Here is a list of 25  Stress-Busting "Comfort" Foods if you want to get some of these on your shopping list – but, hey, don't stress out about it!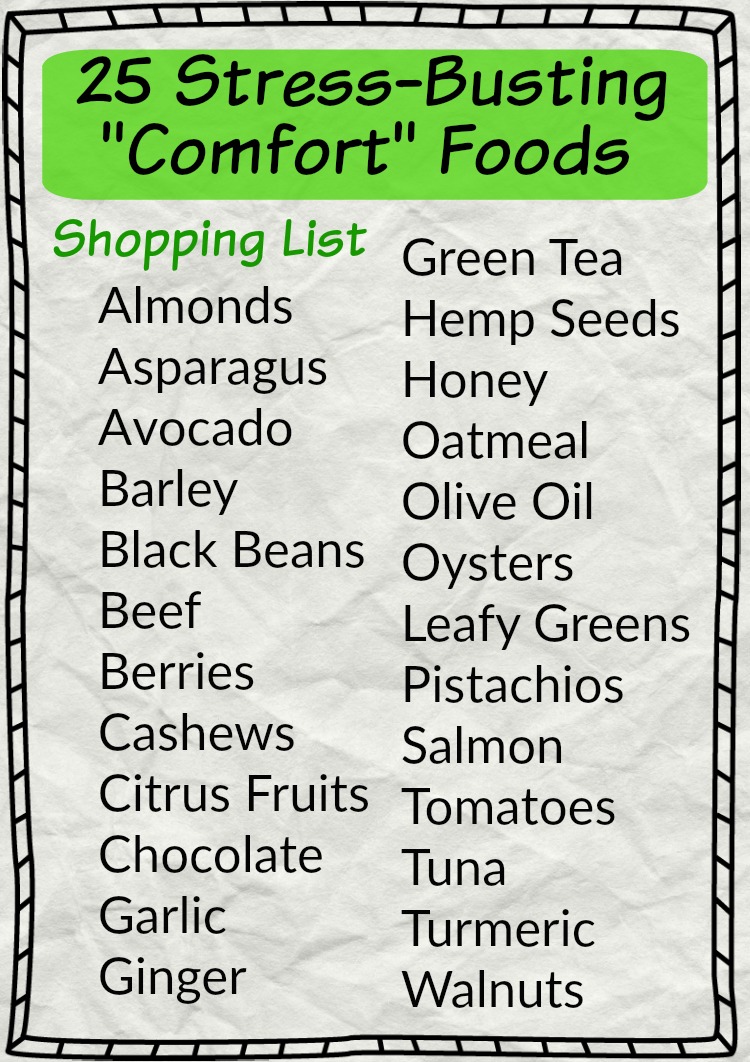 Thanks to EverlyWell, it was simple and convenient to get the info I need to put together a plan to get the sleep and stress relief I need. They have all sorts of other regulatory-compliant home tests including Food Sensitivities, Cholesterol & Lipids, Heavy Metals, and more. I'll be posting a full review and the findings from my Sleep & Stress Test in a week or two – but, in the meantime, if you want to save 10% use the code EVERLY10 at checkout. #KnowYourNumbers #EverlyWell
Another thing I just did to help improve my sleep – ordering these Anti Blue Ray Reading Glasses that obliterate the blue rays emitted by electronic devices (like computers, phone screens, television) that experts say can disrupt your ability to sleep. So far, I love them and I think they are helping! Available in a huge array of magnifications (I take a 2.0x) and frame colors.
***EverlyWell offers lab testing for wellness monitoring, not to diagnose or treat disease, or replace a physician's consultation. Testing not available in NY, MD, RI, or NJ due to regulatory restrictions. EverlyWell does not provide medical advice and suggests sharing results with primary care physician. 
Do you have trouble managing your stress or sleeping enough? How do you get relief?  What is your favorite food from my Cortisol "Comfort" Food List? Please share in the comments – XOXO, Jennifer