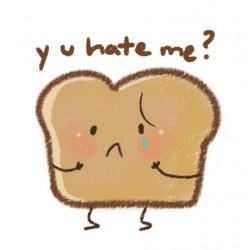 Bread is not necessarily the enemy. True, some people have Celiac disease and legitimate allergies to gluten and really cannot consume it without serious health repercussions leading to malnutrition. I understand. Recently though, I've noticed a wave of worriers, let's call them gluten alarmists, who won't touch traditional bread, pasta or other foods containing gluten with a 10-foot pole – in public, anyway. These folks might truly believe they are taking the healthy and virtuous high ground, but little do they realize that some (not all) of the processed gluten-free products marketed to them are filled with more calories, sugars, fillers and carby stuff.  You're better off just eating the bread or making your own gluten-free goodies (check out this chocolate chip cookie I make for a special kid with allergies).
I also don't have a problem with "carby" stuff – people always think I'm no-carb, low-carb, Paleo diet, Atkins, the Zone or whatever. True, I do typically eat a lower carb and higher protein diet, but not exclusively. I eat a what seems like an elephant's portion of complex carbs daily in the form of vegetables and fruit, but when I want a sandwich, I eat it on bread. When I eat a burger, I have it on a bun. Okay, sometimes just one side of the bun, I'll admit – but that's so I can enjoy the sweet potato fries too! Plus, as an athlete, I require carbs as a quick source of energy – when the book The Paleo Diet for Athletes: The Ancient Nutritional Formula for Peak Athletic Performance came out, the authors finally acknowledged that the right carbs have a time and place.
Unless it's a medical concern, let's not worry so much about the gluten or the carbs. Instead, the best bet for a long life of living well focuses on a balanced diet that includes an allowance of carbs . . . and this means bread! When choosing breads, select whole grains whenever possible – whole grain products are higher in fiber and other nutrients than their bleached white counterparts and have been shown to play a role in the reduction of diabetes, heart disease and other chronic issues.  I was shocked to find out that only 3 percent of adults and 8 percent of kids are getting the recommended 3 servings of whole grains per day. Even though I already was a fan of whole grain bread, I completely switched over to serving whole wheat pasta and brown rice about five years ago and this just seems normal to the kids now.
Here's one of my favorite easy, weekday bread treats: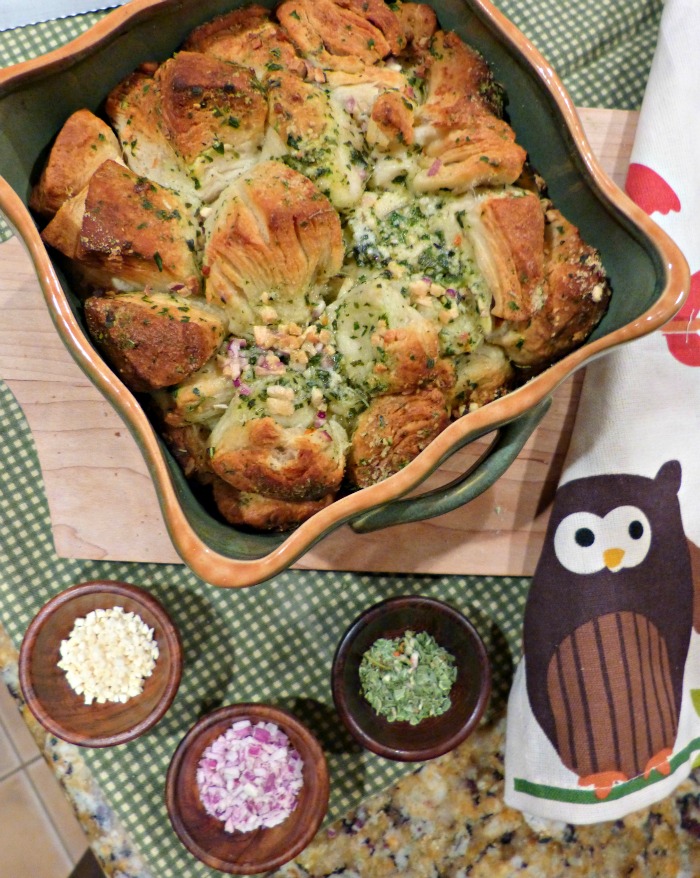 Herb Parmesan Whole Wheat Monkey Bread Recipe
2 14-ounce cans "grand" or "jumbo" style refrigerated whole wheat biscuits*
3 Tbsp. Italian Herb Blend*
2 Tbsp. finely diced red onion
1 Tbsp. finely diced fresh garlic
½ cup grated Parmesan cheese
¾ cup butter
1. Cut each biscuit into quarters and separate pieces.
2. Mix all herbs and parmesan cheese in a bowl. Add dough pieces and toss around to coat evenly.
3. Layer pieces in a 9" x 9" baking dish or Bundt pan.
4. In microwave-safe dish, melt butter on and pour over dough pieces.
5. Bake in 375 F degree oven for 25 – 30 minutes or until golden brown.
 *Granted, these are only made with "some" whole wheat flour – but still a good compromise to scratch baking or going with an all bleached and enriched convenience product.
 **I am fond of Litehouse Food's Instantly Fresh freeze-dried line of herbs and herb blends.